97%

of recent customers
recommend this business
Deterding's Classic Pool & Spa

2121 2nd Avenue
Kearney, NE 68847
Phone: 308-234-6161

See our other locations:
Kearney, NE
For over 40 years Deterdings has been committed to offering customers distinctive merchandise at all price ranges to match any budget. We have high quality products that are not offered in the discount "one size fits all" mentality. We also have the professionally trained consultants to help customers make the right choices, matching each individual need with the product offerings available. When you choose Deterdings you can also be assured of the availability of our professional service and installation of all our products.

Our goal is to have satisfied customers who have the opportunity to enjoy their homes and backyards with the selections they have made. Let Deterdings help you to express your unique personality and create a fun and comfortable "oasis" for your "one of a kind" home.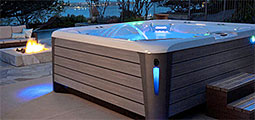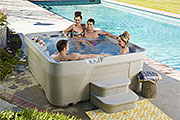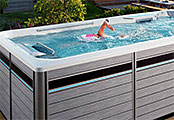 Business Profile of Deterding's Classic Pool & Spa - Kearney, NE
Office Type:
• Service & Sales
• Delivery & Installation
Hours:
• Mon-Fri 9am–530pm
• Sat 9am–4pm
• Sun Closed
Inventory:
• New & Used Hot Tubs
• Swim Spas
• Pools
• Saunas
• Fireplaces
• Patio Furniture
View All...
Manufacturers:
• Big Green Egg
• Covana
• Dimplex
• Endless Pools
• EverFresh
• Finnleo
View All...
Serving Areas:
• Kearney
• Grand Island
• Mason City
• Willow Island
• Cambridge
• Franklin
• Fairfield
Customer Reviews
Thanks Tim and the installers! Knowledgeable and professional! Couldn't ask for better service!!! It's working great.
Verified 10/21/22 Steve & Tina (Ravenna, NE)

Very helpful, knowledgeable, friendly staff. Always ready to answer questions and help if needed. Always friendly when visiting the store.
Verified 5/16/22 Martin & Shelly (Wood River, NE)

Through the years Deterdings has responded quickly and well to our needs.
Verified 5/9/22 Sherry (Holdrege, NE)

Very satisfied! Great brownies. Thank you.
Verified 3/1/22 Doug & Marcia (Smith Center, KS)

Knowledgeable staff. Good installation support.
Verified 2/22/22 JOEL (Broken Bow, NE)

Salesman Tim had a great demand of all products and the estimator Randy confirmed the install would work. Shannon lined up the install that was completed in a timely manner. Good job!
Verified 12/28/21 Roger & Bonnie (Ord, NE)

They are always responsive when I have questions
Verified 11/2/21 Pam (Phillips, NE)

You know your product and have great customer service.
Verified 9/20/21 Jim & Denise (Kearney, Ne)

Deterding's simply has an exemplary reputation. Initial inquiry calls were very helpful- exceptional staff! We love our insert! Thank you!!
Verified 6/26/21 Bruce & Tammie (Minden, Ne)

Consistently poor comms. Lengthy delays. Stove burns (by design) too hot, will not hold fire overnight. I don't like being God-blessed.
Verified 5/10/21 Allen (Arnold, Nebraska)

We have done business with Deterding's several times, and have always been treated as valued customers. When we decided to purchase a fireplace, they were our first choice. They have excellent service and an excellent staff.
Verified 4/2/21 Sam & Lacy (Curtis, NE)

Dusty did a great job explaining all of the options available to us.
Verified 3/20/21 Andrew & Karrie (Marquette, NE)

Great local business with competitive pricing and knowledgeable sales staff. They really know how to treat their customers right!
Verified 3/17/21 Kris & Amy (Kearney, Ne)

Great local business with competitive pricing and knowledgeable sales staff. They really know how to treat their customers right!
Verified 3/17/21 Kris & Amy (Kearney, Ne)

Our pool quit heating will my husband was hospitalized with Covid. I stopped in and talked with Dustin and he gave me a few suggestions but pool still would not heat. After waiting for a part that was back ordered, Dustin drove 100 miles on his day off to install part. Couldn't ask for any better service
Verified 3/14/21 Janiece K (Burwell, Nebraska)

Process from sales, purchase, installation was very good.
Verified 11/29/20 Dale (Hastings, Nebraska)

We ordered our hot tub in June, but because of Covid we did not get it until end of October, This was NOT Deterdings fault. Dusty kept us informed, the whole time we were waiting. Thank you Dusty!....... The delivery people were top notch, they took the time to answer every question we had about set and maintenance. They also cleaned up after they were done. Very impressed with them. Thank you Deterdings, your employees knocked it out of the ball park.
Verified 11/5/20 Richard (FAIRFIELD, NE)

Good price and local service
Verified 8/4/20 Brian & Michelle (Kearney, NE)

You can't go wrong with the brand Lapi -- this is our 3rd stove. The installers that put ours in were great, they did a great job.
Verified 7/28/20 Tim & Dot (Anselmo, NE)

Thanks for the brownies - great! Everything was great except for communication with us as we waited. Bought in Sept. but not installed 'til Dec. I had to call to find out progress on installation.
Verified 7/28/20 Leland & Linda (Kensington, KS)

Fireplace installer was impossible to work with.
Verified 6/24/20 Randall (Paxton, NE)

Store and products have a good reputation.
Verified 5/11/20 Shawn & Kara (Grand Island, NE)

Dusty was very smart and knew what he was talking about, and has went outside the box to help us with any and all questions about our spa. We love our new spa and appreciate the great customer service. Thankyou for the great service, and it felt good to be treated like a person for a change and not just a sale.
Verified 4/2/20 Darrel (DANNEBROG, nE)

We had been shopping for a heater that was small and efficient. We were pleased with Allen's helpfulness and knowledge of the products that met our requirements. Dusty installed it for us, he did an excellent job. The propane stove is just what we needed.
Verified 3/4/20 Hank (Phillips, Ne)

Very well satisfied with product and service. Service man measured it perfect to fit.
Verified 2/5/20 Gerald and Carol (Scotia, NE)

We bought this stove in October, we've called them three times. They say they will call back and never have. Our stove still doesn't work properly and we paid a lot of money for a good stove. We don't usually do reviews but this has gone on long enough. We are very dissatisfied and intend to go to Better Business Bureau tomorrow...
Verified 1/7/20 Margie (Stromsburg, Nebraska)

Every question was answered. Dealt with knowledgeable Matt (he was awesome :) ). Doug was personable and seemed genuinely interested in our satisfaction.
Verified 10/28/19 Kenneth & Janell (Gibbon, NE)

From sales to the delivery, the whole experience was great! Tim was very knowledgeable. Great customer service.
Verified 10/5/19 Al and LaVon (Republican City, NE)

Wonderful service and very nice people! We love our Jetsetter, very nice to have after a long day of work to look forward too!
Verified 10/1/19 Amber

Quality product
Verified 8/12/19 Jeff & Susan (Odessa, NE)

Great service. Very helpful in set up of hot tub.
Verified 7/29/19 James (St. Paul, NE)

Was very knowledgeable on the question we had was great to know how they took good care of us
Verified 7/25/19 Harold (Glenvil, Nebraska)

Knowledgeable staff. Good customer service after the sale.
Verified 7/20/19 Nate & Christina (Grand Island, NE)

Recommended by a friend.
Verified 6/17/19 Justin & Brendie (Kearney, NE)

Friendly, helpful, honest. Good follow-up & installation. Good history in the community.
Verified 5/20/19 Brad & Alynn (Elm Creek, NE)

Affordable and good service
Verified 5/18/19 Mark & Sharon (Central City, NE)

I so appreciate your kindness in explaining things--checking water quality--and commitment to serve. I am very happy with my experience.
Verified 5/13/19 Cynthia (Kearney, NE)

We checked out all of the options for a fireplace gas insert in the local Hastings, Grand Island and Kearney area. It was clear that Deterdings had the units that would function best in our specific application. We chose the Mendota product since it had a greater variety of choices for appearance and heating options. We've been very pleased with the installed product. Installation was handled professionally and the insert looks very nice in our family room. Allen was patient with us as we worked through the various choices.
Verified 4/30/19 Roger and Diane (Hastings, Nebraska)

Checked you out because other customers were very satisfied with your service. Also you have hearthstone wood-burning stoves.
Verified 4/26/19 Art & Karen (Amherst, Ne)

Deterdings did a fantastic job and we love our new hot tub!
Verified 3/29/19 Troy (Hastings, NE)

Very personable people, convenient, affordable.
Verified 3/12/19 Bob

Good service.
Verified 3/12/19 Bruce

Quality product. Liked business appearance.
Verified 3/11/19 John

Awesome team!
Verified 3/11/19 Andrew (Hastings, NE)

Helpful salesman and nice showroom
Verified 3/1/19 Larry T.

I bought the new Beam from Dusty and Ricky at Deterdings!! It's an amazing hot tub!! Very relaxing and the sound system is awesome!! The owner Doug and his staff were great with helping me get everything set up and ready! Highly recommend their products!!
Verified 10/15/18 Kyle

We had a great experience working with Dusty and Ricky on the sale end and installation of our new hot tub. They were very courteous and professional though the whole process and we look forward to having their support in the future.
Verified 9/28/18 Todd

Great place with great service!
Verified 8/23/18 Sara

I just bought a hot tub from Dusty, He does a great job on explaining on how everything works and if you have questions, everything is answered quickly! I also bought a big green egg grill about 5 years ago from Dusty, best grill on the market. Thanks Dusty and Deterdings!
Verified 8/22/18 Bob

Deterdings of Grand Island, is absolutely amazing. I would recommend them to anyone. Extremely friendly, and so knowledgeable. We have been getting our pool needs from them for years. Makes owning a pool stress-free. We recently purchased a Hot Tub and couldn't be happier with the service and product :) I HIGHLY recommend doing business at Deterdings. They will NOT disappoint you! Thank you!
Verified 7/8/18 Georgeann

Have been using these guys for about 3 years now. They are always very friendly and helpful with any questions we have when getting chemicals and supplies...40 mile drive for us. Now they've made it even simpler...we text a pic of our test strip and they tell us what to add...simple and done!! Thanks guys!!
Verified 6/27/18 Brad

Very knowledgeable and helpful about water quality/chemicals
Verified 7/17/06 Kirk & Hilary (Kearney, NE)

Thanks!
Verified 7/17/06 Sharon and Ben (Lexington, NE)

Are you a customer of Deterding's Classic Pool & Spa?
Write Your Own Review