99%

of recent customers
recommend this business
Clearwater Spas Inc.

226 Churchmans Rd.
New Castle, DE 19720
Phone: 302-325-8800

New Castle, DE
Clearwater Spas has been providing award-winning customer service for over twenty years. We serve Delaware and the surrounding states from our new location in New Castle, Delaware. Our professional, friendly staff, with over sixty years' combined experience, takes pride in providing quality products with an unsurpassed attitude towards customer service.

Our mission is to provide you with the finest quality therapeutic health and leisure products available today. Clearwater carries the world's best selling brand of Spas and Hot Tubs, Caldera Spas & Nordic Hot Tubs. Enjoy the ultimate in relaxation with our hydromassage systems which are featured in all of our portable spas and hot tubs.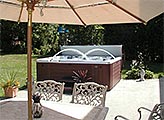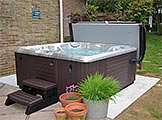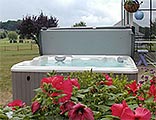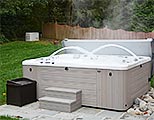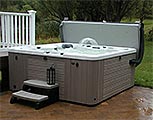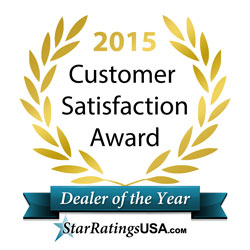 Congratulations to Clearwater Spas!
Based on their record of success in meeting customers' needs and demonstrating the highest quality of service, Star Ratings USA is proud to recognize Clearwater Spas, Inc., with our 2015 Dealer Of The Year award! They have earned our highest honor as a business focused on customer satisfaction, and we wholeheartedly recommend them to prospective clients. Read more details...
"The entire Clearwater Spas team appreciates being recognized for excellence in customer service. We thank our valued customers for supporting us over the past 31 years. Our goal every day is to match our customers with the right product and provide the information they need to enjoy their experience. They can count on our team to be there whenever they need us."
- Don Adams, President, Clearwater Spas, Inc.
Customer Reviews
The entire purchase process with Clearwater Spas was nothing short of fantastic. From the moment we stepped in the showroom we felt at ease and comfortable. Don is very knowledgeable about all of the spas available and had great suggestions based on our needs and our budget. After purchasing our Marino spa, we had our site visit with Martin and he was very helpful in making sure that we were well prepared for delivery and set up of our spa. We appreciated the "all inclusive" aspect of the purchase and felt that we got an excellent value for our money. It was the best purchase! We will recommend Clearwater to all of our friends and family!
Verified Customer Frank & Melissa (Pilesgrove, NJ)

Quality and service that can't be matched. Great team and group of people.
Verified 6/9/18 Rocco (Mantua, NJ)

Having dealt with the staff over many years with our previous hot tub there was never any doubt that when it came time to purchase a new hot we would do so at Clearwater Spas. the staff is very knowledgeable on all aspects and a pleasure to deal with.
Verified 6/4/18 JOHN (Bear, Delaware)

Scott was very knowledgeable and walked me through everything.
Verified 5/22/18 Jimmy (New Castle, DE)

Don and staff are very knowledgeable and were critical in helping us decide on the make model. Don worked with my electrician and patio folks to ensure everything was in place prior to install. Martin and Scott are experienced pros and the installation and instructions went very smoothly. Would recommend Clearwater to anyone looking for a quality spa and outstanding service!
Verified 5/2/18 Scott

The staff at Clearwater was top notch! The ymet every date promised, and made sure the installation was high quality. I would highly recommend them!
Verified 4/23/18 Bill (Newark, DE)

This was such a no pressure, positive experience. There was exceptional product knowledge, and we were guided to the best tub for us. Great Experience.
Verified 4/16/18 Alicia (Newark, DE)

Not many businesses offer good, old-fashioned customer service anymore with professional and knowledgeable staff. They are a first rate organization.
Verified 4/1/18 Steve (Middletown, Delaware)

My experiences with Don, Karen and Martin are more than I ever could have asked for. They are & were patient, non-pushy, knowledgeable and courteous every time I spoke with them before and after the sale!! I Could not be more pleased.
Verified 3/25/18 Steve

Love our hot tub and the staff really helped us get our hot tub.
Verified 3/23/18 Joanne (Elkton, MD)

Best purchase ever made, great pain relief, best therapy!!!
Verified 3/13/18 Thomas (Newark, DE)

No matter when I called, Don Adams was always helpful. Thanks, Clearwater Spas, for your service.
Verified 2/5/18 Joe and Sharon (Bel Air, MD)

Service is Excellent, and staff is very knowledgeable.
Verified 1/15/18 Bill and Suzanne (Rising Sun, MD)

Clearwater Spas said what they would do, and did what they said. No hitches.
Verified 12/28/17 George (Hockessin, DE)

Very Happy!
Verified 11/28/17 Lisa and Bob (North East, MD 21901)

We had a great experience, from the initial visit to the showroom,through installation, and start up. The follow-up to make certain we are completely comfortable with operation, and maintenance of the spa has been excellent as well.
Verified 11/27/17 Bob and Jennifer (Wilmington, DE)

Thank you!
Verified 11/20/17 Shawn and Carrie (Landenberg, PA)

As a long time customer of Clearwater Spas, I have always received nothing but the best quality products, advice, and prompt courteous service. Thank you!
Verified 10/23/17 Michael (Wilmington, DE)

Great spa business in our local area, who support their product with decades of experience.
Verified 10/23/17 Randy and Carol (Hockessin, DE)

A quality, caring organization, from initial contact through flawless professional installation, to continuing maintenance, and guaranteed product and service. 100% Satisfaction.
Verified 10/23/17 James (Wilmington, DE)

Very professional,knowledgeable. Delivery and set up flawless. Convenient location next to my office. Responsive to email questions,
Verified 10/11/17 Guy and Linda (Avondale, PA)

Very knowledgeable and helpful with questions. No pressured sales pitch.
Verified 10/11/17 Lewis and Sherri (Bridgeton, NJ)

We had a wonderful experience at Clearwater. We knew what we wanted, and Don did not try to sell us something different. It was a relaxed and enjoyable experience.
Verified 10/11/17 Tom and Sheila (Lincoln University, PA)

Each and every time I have had contact with the staff has been a great experience. Always helpful and very knowledgeable. Always a pleasure.
Verified 9/28/17 Sheryl (Saint Georges, Delaware)

Great service, extremely knowledgeable, super service.
Verified 9/24/17 Cynthia (Hockessin, De)

Spur of the moment purchase that became a fantastic transaction start to finish. The installation location was challenging to say the least, but Don's crew made it happen like they did it 1000 times. I think this was my best purchase of 2017... love it!
Verified 9/18/17 Scott A. (Landenberg, PA)

Love are Spa and the great service that came with it...before Martin left he made sure we understood everything...highly recommend these guys and Clearwater Spas.
Verified 9/10/17 Robert (Middletown, DE)

Pleased with the service!
Verified 8/29/17 Ken and Olga (Middletown, DE)

Don was patient, informative, and knowledgeable. He seemed as concerned about our purchase decision, as we were. Excellent company, excellent staff.
Verified 8/29/17 Brian and Marie (Newark, DE)

Knowledgeable sales persons, worked hard to help me find the product that fit my needs. Helped me find modifications to suit my site and my physical abilities.
Verified 7/29/17 Jill (Newark, DE)

Don and Martin and Scott are great at what they do. Very happy with our hot tub and the whole purchase, delivery and set up experience. Don and Martin even helped plan my site setup and location, and instructed me on how to build a good pad. I definitely recommend all the folks at Clearwater Spas to help with buying and setting up hot tubs.
Verified 7/24/17 Robert M (Newark, DE)

Working with Don and the Clearwater team was an exceptional experience. Our HotSprings tub is amazing! Our installer, Martin, was extremely friendly and knowledgeable. This company is clearly focused on maximizing customer experience.
Verified 7/23/17 Kyle (Bel Air, MD)

Clearwater Spas in New Castle, DE was very professional from showroom to delivery! Very impressed with the team. I have a hot tub heating up now! Very Nice!Don K. Newark, DE
Verified 7/10/17 Donald (Newark, DE)

Went to 3 stores. This one cost more than all of them. But, I felt good with owner, so I bought it. Well worth it. Thank you.
Verified 7/8/17 Robert and Denise (Bear, DE)

The overall buying experience was enjoyable, due to the knowledgeable staff. There was zero pressure to buy, making me trust Don completely through the entire process.
Verified 6/26/17 Jamie (Wilmington, DE)

So far we are loving our tub!
Verified 6/14/17 Robert and Pat (Milford, DE)

Excellent customer service! Friendly and very helpful with the purchase of my Caldera hot tub.
Verified 5/31/17 Jamie (Wilmington, Delaware)

Too Happy!!
Verified 4/25/17 Sandy

What a fantastic experience working with Don. Our family is in our beautiful Caldera spa, once or twice a day - relaxing, laughing and just being together. Thank you Don!
Verified 3/8/17 Mark and Megan (Chadds Ford, PA)

We love our new hot tub! The staff was very friendly and the set up crew were really helpful explaining the controls and maintenance of the hot tub.
Verified 3/6/17 Mike (Bear, DE)

Our whole experience was easy, and painless. Great follow up after sale. Very professional installation.
Verified 1/30/17 William and Bobbi (Rock Hall, MD)

Don was extremely helpful and knowledgeable throughout our hot tub purchasing process. We love our Caldera spa and would highly recommend Clearwater Spas to anyone in the market for a great hot tub!
Verified 1/29/17 Christopher (Middletown, DE)

We love our new hot tub! It is deep and spacious with plenty of room to accommodate three couples and a child. We shopped for this major purchase for several months. None that we looked at were as sturdy or as well constructed as our Caldera Spa. There's a beautiful choice of colors and we were very pleased with the service. It has beautiful color changing lights on the outside and the inside top surface and also under the water, a feature that we love. We're also very fond of the waterfall, the kids love it too. The lid assist is magnificent it is so easy to handle, I can do it myself with only two fingers, a wonderful feature. But a hot tub is all about the jets and boy are they magnificent! They are so relaxing! it's like a free massage every night after I get home from a hard day at work. Best decision I ever made for myself! I always said the next major purchase I made would have lid, silly co-workers thought I meant a casket...Boy were they wrong!! So glad we treated ourselves to a little bit of living the good life while we're still here. It lowers my blood pressure the instant I sink into that hot bubbly water. Love it!!
Verified 1/19/17 Janet

Purchasing a hot tub from Clearwater was extremely easy and stress-free! Don was wonderful to work with and throughly explained the process as well as taught me how to use the chemicals. He took time and care to make sure everything was exactly as I wanted it. I really appreciate everything he helped me with and would 100% recommend Don and Clearwater to anyone!
Verified 1/17/17 Wendy (Wilmington, DE)

Wonderful, personalized service. Went over and above the call of duty in helping me get my new cover home. They are great at remembering their customers and greeting them - just like "Norm" at Cheers.
Verified 1/12/17 (Newark, DE)

31 years experience these folks have and it shows. Don asked us our needs and requirements and although we could have purchased a much larger spa/hot tub, he showed us ones that fit us perfectly. We love our hot tub and his way of working with us. We met him on his closed day, looking through the window. He came from out back and opened his show room to,us. And I am...we are ....glad he did. I know we are going to be happy with this purchase. Thank you and your professional,instal staff!
Verified 1/11/17 Rodger (Middletown, Delaware)

Could not have any better customer service, than Clearwater! From Day 1 it has been a positive experience, and we have already been recommending Clearwater to friends!
Verified 1/3/17 Carla and Frank (West Deptford, NJ)

My only regret is not buying the hot tub years ago. I use it many times per week. Clearwater was a very good place to do business with.
Verified 1/3/17 Don (CHADDS FORD, Pennsylvania)

We are two time customers of Clearwater Spas, and have been very pleased both times. Can't imagine going anywhere else! Don and "crew" are wonderful.
Verified 12/29/16 Dand and Diane (Harbeson, DE)

Great Service and great people to do business with!
Verified 12/27/16 Charlie and Patti (Newark, DE)

Follow up service in incredible. Very responsive after the sale for service.
Verified 12/20/16 Michael (Newark, DE)

I have been dealing with Clearwater for several years from a service perspective on a hot tub that came with our house. They have always done such a great job that when it came time to replace the tub I would not go anywhere else. Just took delivery and as always extremely satisfied with their service. If you are looking for a hot tub, this is the place to go.
Verified 12/10/16 William (Newark, De)

What a pleasure to deal with such nice, knowledgeable people.
Verified 11/21/16 Marsha (Wilmington, DE)

I ordered my first hot tub from Clearwater Spas. Perfect choice!! Total professionalism, courtesy, knowledge of product. No pressure. Product was delivered ON TIME with a smile. Don and Martin were just as excited about my new tub as I was. Martin needed to be called back to check out something. He was at my home within an hour. Don was VERY thorough about the treatment of the water and I was told to call ANY TIME if any questions. I received a beautiful product with the BEST customer service ever. I would refer everyone I know to deal with Clearwater Spas.
Verified 11/17/16 Christine (Wilmington, DE)

-No Pressure -Excellent Information -Great Selection -Very Knowledgeable -Open to lots of questions
Verified 11/15/16 Steve and Susan (Newark, DE)

Having never owned a hot tub before, I was cautious about making this investment. The day I walked into Clearwater Spas for the first time was the day I bought my new hot tub -- we were put at ease immediately due to their no pressure, informative, friendly business manners. I was impressed with the huge selection of quality hot tubs for all needs and budgets. It was a great buying experience to include the site survey and delivery. In fact, despite some challenges with my backyard layout, the delivery could not have gone better and we were in our new hot tub that very night! We feel we got the best hot tub from the best store! Thank you, Clearwater Spas!
Verified 11/14/16 Lisa (Havre de Grace, MD)

Clearwater Spas was a pleasure to do business with. After reviewing other brands and dealers we decided to go with them based on how knowledgeable and customer focused the staff is.
Verified 11/12/16 Woodie (Elkton, MARYLAND)

Clearwater is the Bomb! :)
Verified 10/24/16 Tom and Susan (Wilmington, DE)

The knowledge and professionalism was evident from the time I entered the store up until delivery of my Nordic hot tub. Scott was extremely helpful throughout the entire process.
Verified 10/24/16 Gary (Newark, DE)

A+ Hot Tub Store. Can't go wrong!!
Verified 10/18/16 Jennifer and Vince (Middletown, DE)

My purchase of my Caldera Paradise Series spa was a wonderful experience. Scott and Martin are the best in the business!! I couldn't have asked for better men to get me up and running. Also, Karen, at the front desk at the store, has been helpful in purchasing products for my spa. If you don't purchase you spa from Clearwater, you're crazy!
Verified 10/18/16 Ann Marie (Middletown, DE)

Great Hot Tub ! I use it on a regular basis - perfect size for me. Sales staff are excellent.
Verified 10/18/16 W. E.

OUTSTANDING SERVICE FROM THE MOMENT WE WALKED THROUGH THE DOOR WE WERE GREETED WITH EXCEPTIONAL CUSTOMER SERVICE, THEIR KNOWLEDGE AND EXPERIENCE WAS INCREDIBLE. CANNOT SAY ENOUGH AMAZING THINGS ABOUT CLEARWATER SPAS AND THE ENTIRE STAFF. THE ENTIRE PROCESS FROM START TO FINISH WAS PHENOMINAL. WE LOVE CLEARWATERS SPAS!!!!
Verified 10/16/16 DEANNA & KEVIN (NEWARK, DE)

The staff at Clearwater Spas are the most knowledgeable and courteous I have encountered. This is my 2nd spa/hot tub and I wish I'd purchased them both here. To me their service after purchase is unmatched. I had a small issue and they were right out to fix it. Everyone I have had contact with in their store is extremely knowledgeable of there products. I often don't recommend places but I truly do recommend Clearwater Spas for the purchase of a spa/hot tub. It truly was a pleasant experience from start to finish. Plus our spa is great!
Verified 10/15/16 David (Carneys Point, NJ)

150 % Satisfied!! Don and his team were great. From the very first time we walked into the showroom till now. He's always there answering our questions and is a big wealth of knowledge when it comes to hot tubs. We couldn't of asked for better service when want we received. Two thumbs up.
Verified 9/26/16 Vince & Jenn (Middletown, DE)

What a great experience! We love our new hot tub, and appreciate the personalized expertise we got from Martin and Clearwater Spas. Thank you!
Verified 9/13/16 Ryan and Renee (Landenberg, PA)

Clearwater Spas is an old fashioned business. The owner know the products thoroughly, from a technological perspective. They really want your business, and do everything possible to make ownership of hot tub much better than one could expect.
Verified 8/30/16 Renee and Robert (Chadds Ford, PA)

Great Job!! Love the tub!
Verified 8/16/16 Robert and Constance (Wilmington, DE)

The entire experience could not have been better. Exceptional. In addition, the product is first rate quality.
Verified 7/28/16 Louis (Oxford, PA)

Amazing experience. By far, the most honest and knowledgeable spa professionals we ever met, and we went to 5+ dealers! Meticulous delivery and set up in a difficult situation. And, our spa is easy to maintain and use. Gladly recommend to any potential customers. 100% satisfied.
Verified 7/21/16 Kim (NEWARK, DE)

THE BEST
Verified 7/13/16 Janet (Newark, DE)

Great Sales, and Great set up. Love our new tub!
Verified 7/8/16 Paul Bailes and Julie (North East, MD)

Love the spa love the service very professional. thanks Karen
Verified 6/22/16 Brian (Newark, De)

Very pleased with our purchase. Excellent customer service! Will highly recommend to anyone interested in hot tubs! Thank you!
Verified 5/18/16 Terry and Jay (Havre de Grace, MD)

We wanted a high quality hot tub, and felt we were guided to the right spa for our needs.
Verified 5/11/16 Nancy Dean and Tom (West Grove, PA)

Very pleased with the whole experience!!
Verified 5/10/16 Michael (Wilmington, DE)

We bought our first spa from Don in 1994 (Marquis Quest). Just returned and bought (Caldera Marina) Because of their outstanding service. Jeff& Michelle Newark
Verified 5/7/16 (Newark, De)

Sales people were nice and knowledgeable. The delivery install guys were awesome! The tub is perfect although I am still waiting for it to get to temp. Can't wait to climb in. Overall a great experience.
Verified 4/25/16 Julie Kirk and Paul (North East, MD)

Excellent service. Very knowledgeable and friendly.
Verified 4/9/16 Mark and Kathy (Wilmington, DE)

Pleasurable experience with a well informed and courteous staff.
Verified 3/16/16 Chris

Sales, Service was excellent. Product delivery and installation were timely. Would recommend your business to all.
Verified 2/22/16 John and Valerie (Rehoboth Beach, DE)

We went to the store to just look at and get a feel for buying a Hot Tub and were so impressed with the stores knowledge and the product that we purchased one. Great crew of employees at this store.
Verified 2/12/16 Michael (Wilmington, DE)

All products are high quality. The staff is very friendly.
Verified 2/2/16 Glenn (Rising Sun, MD)

As first time buyers, we are very appreciative of the knowledge and guidance of the team at Clearwater Spas. Every question was answered and we were very appreciative of the no pressure sales environment. From our initial visit to purchase and then delivery, we received top notch customer service. We are super pleased with our experience!!!!
Verified 2/2/16 Kristin & Sean (Middletown, DE)

We purchased a home with a tub from Clearwater Spas. And,were so impressed with the service, that we went to Clearwater Spas, when it was time to replace the 20 yr spa. This company stands by their product, and treats their customers well.
Verified 1/26/16 John Poulton and Lisa (Landenberg, PA)

We love our Caldera hot tub! Outstanding product! Don and his staff were professional throughout the process and delivered as promised. Did I say we love our hot tub...
Verified 1/18/16 Dennis (Middletown, DE)

We love our new Nordic spa! I have used it every evening since we got it and am very happy to finally own a hot tub. Was the best purchase ever!
Verified 12/7/15 Sandy and Linda (Wilmington, DE)

Some people say they provide superior service. Clearwater Spas actually does! Thanks.
Verified 12/4/15 Tony and Fran (Kennett Square, PA)

Great purchase experience with working with Don, Martin, and Scott. Definitely will recommend their services to anyone that I know that is looking to purchase a spa or receive service for their existing spa.
Verified 11/30/15 Curt (Middletown, Delaware)

I was very impressed with the selection in the store, as well as the knowledge of the different spa types. Very personable sales associates, who communicated with me throughout the purchase, and installation process.
Verified 11/17/15 Debbie (Upper Chichester, PA)

A great experience from start to finish!
Verified 11/12/15 Gwenn and John (Chesapeake City, MD)

Clearwater Spas was the first and only hot tub showroom we visited. Don spent a lot of time with us answering all our questions and didn't seem to mind our two toddlers climbing in and out of all the hot tubs in their store! Within an hour, we knew this is where we would be buying from. Their prices were fantastic. The best part though is that they include EVERYTHING in the price. No extra charges for steps, cover, delivery, set up, chemicals, etc. Don was very knowledgable and not the least bit pushy. We never felt any pressure to buy at all. Everything about the purchase went smoothly from the deposit to the installation and set up/training. They even referred us to an electrician who completed the necessary electrical work for us.
Verified 11/10/15 Elisa (Media, PA)

Superior product and terrific pre-sale information provided. Excellent pre-planning engineering help.
Verified 10/3/15 Jack (West Chester, PA)

Excellent buying experience. Service was exceptional, and staff very knowledgeable. Being my first time purchasing a spa, they put me totally at ease. Staff was very accommodating and answered all of my questions.
Verified 9/8/15 Juanita and Donald (Newark, DE)

Very professional and easy transaction. Don was very helpful with us making our decision on the selected hot tub.
Verified 9/2/15 Kenneth (Wilmington, DE)

Working with Don was first rate through the entire selection, purchase, delivery and setup experience. I would highly recommend Clearwater Spas
Verified 8/29/15 Scott (Newark, DE)

Working with Don to help us decide which hot tub to buy was highly informative and we're thrilled with our purchase.
Verified 8/6/15 Scott and Tammy (Newark, DE)

Extremely knowledgeable, fairly priced, local service, and dependable.
Verified 7/13/15 Linda Miller/Richard (Middletown, DE)

Very impressed by the way Don and staff handled our order. They worked to fit our landscaping schedule and even sold us the new model they wanted to keep in the showroom. All around a great experience!
Verified 7/8/15 Henry

Great Experience...Start to Finish!
Verified 7/1/15 Justine (Newark, DE)

we were referred by friends and now we know why. Wonderful, honest, sales staff. No high pressure, and a terrific installation crew. Martin took great care of us and Karen always followed up and kept us up with delivery details.
Verified 7/1/15 Kathy and Steve (Wilmington, DE)

We are extremely pleased with the purchase, installation, and the product. Staff was very helpful.
Verified 6/23/15 joel and Gen (Elkton, MD)

We are extremely pleased with the purchase, installation, and the product. Staff was very helpful.
Verified 6/23/15 joel and Gen (Elkton, MD)

Everyone was very courteous and timely with service, etc.
Verified 6/5/15 Debbie (Wilmington, DE)

Don gave exemplary customer service. And the spa, well its absolutely gorgeous! My family and I enjoy getting in along with the occasional Barbie dolls. I couldn't be happier with my purchase and experience with Clearwater Spas!
Verified 5/13/15 Julie (Newark, DE)

I am 71+ yrs. old. I have a "personal" spa for 40 + years, (my wife never used). I recently purchased my latest at Clearwater. Don and his staff, including the service dept. were professional, knowledgeable, on time (in this day and age) & FRIENDLY. I use my spa approx. 365 days a year (except during lightning), umbrella during rain. In addition to a great spa, efficient service and helpful advice, I had a ball! This was the most fun I ever had while buying something and during the follow up. My wife enjoys this spa! P.S. I referred my (spa owning) nephew to Don only to find out he is already a Clearwater customer.
Verified 5/10/15 Myles(86) and Diane(99) (Newark, DE)

Lana was great to work with. Answered all our questions. No pressure, and kept us informed of status. We love our Spa!
Verified 3/17/15 Maureen and Derek (Newark, DE)

The staff at Clearwater Spas, Inc. are amazing. We have been looking at hot tubs for about 2 years now and they have been a tremendous help to us. They are very knowledgeable about their products and are dedicated to making the experience great. Thank you!
Verified 3/5/15 Steve (Wilmington, DE)

Will recommend Clearwater Spas to anyone-very happy with our new hot tub. Was a pleasure dealing with Clearwater, from start to finish. You all made it easy to get a hot tub! Thanks.
Verified 2/6/15 Bill and Kathy (Garnet Valley, PA)

We were blown away by the service we received at Clearwater. We had a complicated install and they made it a breeze.
Verified 2/6/15 Rick (Wilmington, DE)

Don made our first hot tub purchase extremely easy! His knowledge and ability to explain the differences in each of his hot tubs was outstanding. No doubt that when we purchase our next hot tub it will be from Don or Clearwater Spas. The installers were professional and provided step by step details on operating the hot tub.I would highly recommend Clearwater Spas to all my friends.
Verified 2/1/15 (Port Deposit, Maryland)

I purchased my spa 12 years ago! These folks STILL care care of me. I had problems last night with my spa and Scott was out this morning to fix it! This is the place to get your hot tub
Verified 1/27/15 Patricia

I purchased my spa 12 years ago! These folks STILL care care of me. I had problems last night with my spa and Scott was out this morning to fix it! This is the place to get your hot tub
Verified 1/27/15 Patricia

The perfect therapy! Thank you.
Verified 1/22/15 Dale and Deborah (Middletown, DE)

Unbelievable staff. Everyone friendly and knowledgeable... from sales, delivery/setup and owner.
Verified 12/30/14 John and Sharon (Wilmington, DE)

We are very happy with our purchase. They were very professional with the installation, and with providing technical support. This is our second hot tub purchase from Don!
Verified 11/19/14 John and Cathy (Clayton, DE)

Couldn't be happier with the whole process. Had a few learning issues with balancing the water after the initial delivery and startup. Called on a Saturday and got some advise. Don called on Sunday from his home to follow up with me to see how I was making out. That is outstanding service.
Verified 10/6/14 Gary K (CHESAPEAKE CITY, MD)

Totally satisfied with Clearwater Spas' staff, from showroom personnel to sales, to delivery, and lastly to the staff member who provided one-on-one tutoring on how to maintain our hot tub. Thanks for such great service!
Verified 10/1/14 Eileen R. (Woolwich, NJ-New Jersey)

Great Service, and concern for customers
Verified 9/27/14 Jim (Elkton, MD)

It was a great experience. Friendly, knowledgeable, and a quick delivery.
Verified 8/25/14 Maria (Bear, DE)

It was a pleasure working with Lana in the store but the delivery guys were exceptional! They were very knowledgeable and did an outstanding job.
Verified 8/22/14 Jules (Oxford, PA)

I very happy with my purchase of my hot springs tub. Clearwater spa exceeded my expectations from the start of the sale to delivery. Don & staff were very professional with all my needs and questions, I had after the sale & delivery. I would encourage any one looking to buy a hot tub to buy from Clearwater spa. Quality hot tubs with excellent sales and service and avoidable price.
Verified 8/21/14 Larry W. (New Castle, Delaware)

Clearwater Spas is THE only place to buy a spa. They sell and service quality spas. A spa is only as good as the service you receive. Service here is top-notch from the decision-making process to redelivery onsite inspections to deliver & setup. We couldn't be happier. During a recent power outage, we were worried about the pipes freezing. They put our mind at ease by agreeing to come out to drain and winterize if the power was out for one more day. Where do you get service like that? At Clearwater Spas--thanks for such excellent service!!
Verified 7/3/14 Roberta (Avondale, PA)

Highly recommend-Don follows through on the delivery and work.
Verified 6/24/14 rick (avondale, PA)

Excellent service,from beginning to end. Everyone we encountered was knowledgeable and helpful.
Verified 6/20/14 Tom and Ann (Wilmington, DE)

It has been a year since we purchased our hot tub from Clearwater Spas. Without a doubt this purchase ranks as the all around best buying experience we have ever had. Our salesperson, Karen, was very knowledgeable,answered all of our questions and gave us the information we needed to select the hot tub that best fit our needs. The installation team was professional and addressed every detail to get us started. Over the past year we have enjoyed our hot tub countless times summer, fall, winter, and now spring and we continue to ask ourselves why we waited so long to enjoy the unique hot tub experience. That positive experience is all the better knowing that we have Don and his team always available to answer questions. if needed.
Verified 5/17/14 Ed and Joanne (Landenberg, Pennsylvania)

Our association began totally by accident. My wife and I had purchased a hot tub from another dealer in the area and we were waiting for a set-up date. Questions came up in our minds and we were unable to obtain answers from the selling dealer. We visited Clearwater Spas once, found the answers we needed and from the way Don and his staff impressed us, along with their product/service line, we cancelled our initial purchase and went with Clearwater. The set-up process and all pertaining to this first Spa Experience went better than ever coulkd have been expected. In two (2) months we shall have our second anniversary with this spa, and with Clearwater Spas... we have only GOOD EXPERIENCE with the product we purchased and the wonderful service we receive. We would not hesitate recommending Clearwater Spas to anyone... they are "Fantastic"
Verified 5/5/14 Peter (Newark, Delaware)

Good Service. Friendly/Accommodating sales people.
Verified 4/26/14 Jim and Jackie (Newark, DE)

We are very happy with the service. And the entire buying/delivery service. Great people! Good Experience!
Verified 4/2/14 Maureen (Wilmington, DE)

Great Service! Quality product.
Verified 3/26/14 Suzanne (Newark, DE)

Big showroom with many models to choose from. Was not automatically steered to the most expensive models. Received good advice on picking the right model. Couldn't be happier with the whole experience, including the delivery and set up.
Verified 3/14/14 Darryl (Landenberg, pa)

Very professional-No pressure to buy.
Verified 2/4/14 David (Elkton, MD)

Great Customer Service. Always answered questions and returned calls.
Verified 2/4/14 Tom and Vicky (Wilmington, DE)

We are very happy that Clearwater Spas was recommended to us. Their staff is excellent, very knowledgeable. Took their time answering ALL our questions. We tell everyone about them.
Verified 2/4/14 Paul and Lisa (Bear, DE)

Incredible service. Always answered and helped with phone calls. Great people! Big purchase, but, they eased all questions. I'd recommend them anytime.
Verified 1/13/14 Todd and Debbie (Newark, DE)

Clearwater Spas is a first rate company, offering the best service, attention to detail, and knowledge of product.
Verified 12/30/13 Anne (Chadds Ford, PA)

Showroom display is Excellent, & Sales staff is knowledgeable, & friendly.
Verified 12/16/13 Clint and Ro (Landenberg, PA)

Clearwater Spas was a pleasure to work with. They helped us find the perfect hot tub for our family. And, delivery and service were excellent.
Verified 12/4/13 Matt (Wilmington, DE)

Great Experience!
Verified 12/3/13 Pam (New Castle, DE)

"Professional, Helpful, Knowledgeable. Clearwater Spas exemplifies the epitome of a Spa dealer. The customer service continues even after they have your money. Buy your spa here. You won't be sorry."
Verified 12/2/13 Gari and Peter (Wayne, PA)

Our experience from beginning to end was fabulous. Everyone we were in contact with were pleasant, helpful, and knowledgeable. We feel there was nothing you would not do for us. Amazing service!
Verified 11/23/13 Gary and Sherrie (Oxford, PA)

Excellent Experience. Great selection of products/spas on display. Knowledgeable sales people. Low key and informative during sales visit to store.
Verified 11/14/13 Max and Kathleen (Kennett Square, PA)

Clearwater's service is excellent! This is our first spa and they taught us all we needed to know to take good care of it. We would definitely recommend them to our friends and co-workers!
Verified 9/26/13 Will and Pat (Newark, DE)

One word "PROFESSIONAL".
Verified 9/25/13 George,Pat (West Grove, Pa)

You folks are great to work with, both before and after the sale
Verified 5/8/13 Peter and Rayanne (Pennington, NJ)

One of my "Top Ten" purchases of my lifetime.
Verified 5/8/13 Richard and Phyllis (Clayton, DE)

Although I don't know of one who is in the market at the present time, you will get referrals from me in the future.
Verified 1/8/08 Lou (PA, 19311)

Wer are delighted with our new spa and knowing we have support is a call away
Verified 8/28/06 Len and Barb (Wilmington, DE)

Thanks! Nice job! Great service!
Verified 9/16/05 Don (Elkton, MD)

I wanted to buy a spa for a long time. I am very pleased with my selection and your staff. Everything worked out great. Thanks again.
Verified 7/12/05 Sally (Wilmington, Delaware)

The entire experience in dealing with Clearwater left me thinking, that there certainly are alot of nice and competent people in the world.
Verified 5/10/05 Gary (Elkton, MD)

Excellent Follow-up service & assistance which continued after the sale
Verified 10/15/04 Jill (Newark, DE)

Don Adams spent alot of time with us even after hours explaining in great detail all we nedded to know about our spa purchase
Verified 9/13/04 Todd (Kennette Square, PA)

I am very particular when shopping, especially when making a large purchase, I have no complaints and am very pleased with my entire experience.
Verified 8/12/04 Jeff (Newark, DE)

We really enjoy our spa and would recommend others to your store Thanks you for all of your time spending with us and helping us!
Verified 8/10/04 Mike & Joyce (Smyrna, DE)

Everyone was very nice & helpful. Keep upi the good work!
Verified 4/23/04 Jackie (Newark, DE)

Excellent experience, very pleased with product... look forward to continued business
Verified 3/25/04 Dane and Cindy (Newark, DE)

Keep up the good work! One of the most satisfying large dollar purchases we have ever made. Installation crew was excellent!
Verified 7/16/03 Keith & Judy (Wilmington, DE)

Great sales staff and delivery crew. Answered all my questions and then some. Never felt rushed or pressured. We are really enjoying the spa. Thanks again. Very happy customers
Verified 6/27/03 Frank & Elizabeth (Wilmington, DE)

Are you a customer of Clearwater Spas Inc.?
Write Your Own Review