97%

of recent customers
recommend this business
Sunset Spas of Henderson

7705 Commercial Way #150
Henderson, NV 89011
Phone: (702) 850-7727

See our other locations:
Henderson, NV
Sunset Spas is Arizona's #1 customer's choice and source for MAAX Spas, barbecues, and custom spa surrounds. We have two Nevada locations to serve you in Las Vegas and Henderson. Let us help you custom design your hot tub to suit your needs and save 30-60% off retail by buying factory direct. MAAX Spas has become a quality leading hot tub manufacturer with over 45 years' experience and are manufactured in Chandler, Arizona.

At Sunset Spas, we're about treating our clientele with a unique level of customer service. One-on-one designer assistance, creative design concepts, and the highest quality hot tubs in the Phoenix metropolitan area. Discover how easy it is to buy a spa and let us take care of the details. Our services include initial spa setup, used hot tub removal, and spa chemicals and spa care education.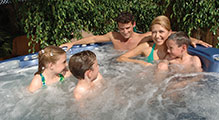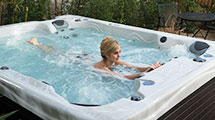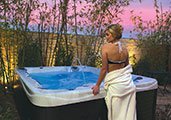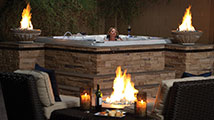 Business Profile of Sunset Spas of Henderson
Office Type:
Service & Sales
Hours:
• Mon - Sat 10 AM - 6 PM
• Sun 11 AM - 4 PM
Owner:
David & Nicole Rempfer
Manager:
Todd Bates
Inventory:
• Hot Tubs
• Swim Spas
• Spa Accessories
• Spa Chemicals
Manufacturers:
• Vita Spa
• American Whirlpool
• Visscher
• Covana Covers
Serving Areas:
• Las Vegas
• Spring Valley
• Paradise
• Henderson
• Greater Las Vegas Area
Customer Reviews
Super Honest Reliable company. Joe is the man to see. Great prices. Great service. David Satz
Verified Customer Dr. David

Quality products, Joe was very professional.
Verified 7/29/20 Alexander (North Las Vegas, NV)

Highly recommend this company to our friends & family.
Verified 7/20/20 Rick (Pahrump, NV)

Todd was great!
Verified 7/13/20 Cindy & Mike (Las Vegas, NV)

Great purchasing experience, the staff were very courteous and professional.
Verified 7/9/20 Elena (Las Vegas, NV)

Don was a knowledgeable & trustworthy salesman without being pushy. Delivery was easy & professional. Joe from the Henderson Warehouse was helpful after the sale.
Verified 7/2/20 Dan

Answered all my questions about the spa. Was able to get it set up in one week (after being built).
Verified 6/30/20 Glenn E. (Las Vegas, NV)

Thanks for a great experience and timely delivery. Appreciate you all. Spa is great! :)
Verified 4/27/20 Sandro (Las Vegas, NV)

Todd was very knowledgeable about the prduct line and we were able to find a spa that fit the budget and had most (if not all) of the features we wanted. In addition, the Sunset contract with AG Spas proved to us we were working with two companies with high standards. Appreciated their commitment to complete customer satisfaction.
Verified 4/20/20 Michael & Cassandra (Las Vegas, NV)

So happy we purchased our spa from sunset. No pressure sales was a refreshing experience. We are loving spa!
Verified 4/4/20 Louis (Boulder City, NV)

I purchased my first spa from Sunset Spas in 2007 and recently replaced that spa with a VITA JOLI spa from Sunset Spas. My salesman was friendly and knowledgeable. Every detail of my purchase and delivery of my spa was without any negative issues. I highly recommend Sunset Spas.
Verified 3/27/20 Chester (Las Vegas, NV)

Really enjoying our Vita Spa. Sales staff was great no pressure. I can't find my receipt and forgot my salesperson's name but he was awesome I think it was dave.
Verified 2/23/20 Louis & Sandra (Boulder City, NV)

Lots of options at a great price.
Verified 2/6/20 Rhonda (Las Vegas, NV)

Great features & service.
Verified 1/28/20 Charla (Henderson, NV)

Delivered on everything promised. Love our new hot tub. Thank you!
Verified 1/27/20 Robin (Las Vegas, NV)

Went into the store just looking for a hot tub. Our sales person, Todd, was very knowledgeable, friendly, and listened to what we wanted. Lots of selection and the price was reasonable. Great experience.
Verified 1/14/20 Kimberly (Henderson, NV)

No sales pressure, and great pricing.
Verified 1/9/20 Brandon & Amanda (North Las Vegas, NV)

Great spa so far!!
Verified 12/23/19 Allan & Maureen (Henderson, NV)

Exactly what we wanted and were promised. Knowledgeable staff. Very happy with our investment.
Verified 12/11/19 Greg & Michelle (Las Vegas, NV)

Dependable service and advice with a great price.
Verified 11/13/19 Timothy (Las Vegas, NV)

It was a pleasure buying our hot tub from your store. Great people. Great products. Great price. Thanks!
Verified 11/12/19 Danny (Henderson, NV)

Initial experience was great. No pressure on the sales floor. Easy, courteous install. A little confusing after purchase who to call with questions since we purchased at AG Spas but call Sunset. Overall happy and love our spa.
Verified 11/12/19 Dan (Las Vegas, NV)

John and Todd were wonderful and made sure everything was perfect!
Verified 11/12/19 Todd Hayes & William (Las Vegas, NV)

Good price, warranty, and quality.
Verified 11/12/19 Tom & Sam (Las Vegas, NV)

Great service by all -- sales person and service people. Thanks!
Verified 11/9/19 Jerry (Las Vegas, NV)

The value and comfort of the product and ease of care are exceptional.
Verified 11/9/19 Michael (Las Vegas, NV)

Quality product and affordability.
Verified 10/28/19 Logan & Ashley (Las Vegas, NV)

Great selection, nice people, great value! Thanks!
Verified 10/24/19 Vincent (Henderson, NV)

Good fulfillment of all promised services!
Verified 10/22/19 Aimee (Mt Charleston, NV)

Great honesty for salesperson, USA made product.
Verified 10/1/19 Barbara (Las Vegas, NV)

We appreciated that we can call Todd whenever we have questions.
Verified 9/10/19 Janet & Daniel (Pahrump, NV)

Everyone was so nice to me and told me all that went with the spa.
Verified 9/7/19 Sandra

Good prices and salesperson.
Verified 9/5/19 Michele (Henderson, NV)

Loving my Vita Jolie. I got a very nice price on a floor model and that makes it even better. Thanks for all your help Rob!
Verified 9/4/19 Debra (LAS VEGAS, NV)

Good price and quality
Verified 8/29/19 Donald & Lynn (Las Vegas, NV)

Quality spa. Affordable
Verified 8/27/19 Alex (Las Vegas, NV)

As far as the purchasing part of it, the only negative thing was as the spa was being delivered I received a call from the manager asking how the delivery was going and when I planned on paying the remaining $6,500.00 balance. I told him I had no idea what he was talking about, since the balance was paid off 2 weeks prior. The manager said he didn't see it in the system and asked who I dealt with. I gave the associates name, the email address that the paid in full receipt came from and told him we had already showed the delivery person the receipt because he had asked us the same question. Manager said thank you and we never heard from him again. We needed electrical work done, and Sunset Spas recommended Blue Apple. It started out as a great experience, but ended with me getting ready to call the BBB. The initial worker came out and did all the talking, but when it came time to do the work, a new employee was sent out, who seemed like he had no direction. The work was not satisfactory, so we called to have the work done properly. After the 1st day, we had workers out 2 more days. My husband ended up having to take almost 19 hours off of work. Then when it came to the permit/inspection - that was a joke. I felt like we just handed them $275.00, to knock on our door. The inspector came out twice - both times not at the designated times, so we were not home. Then the last inspector proceeded to say he couldn't find the paperwork (if he had opened the power box he would have found it, since it was tucked into what needed to be inspected). Blue Apple put on the initial paper work we were having plumbing work done and the next time put the wrong voltage. We were never provided a final approved permit and my husband ended up going to North Las Vegas permit department to get a stamped copy. We kept calling Blue Apple for written approval, and after a few weeks of going back and forth we were provided, with an email that only said yes we were at this address, on this date and your inspector was XXX. When we asked for something on a letter head or a stamped approval we were told times have changed and North Las Vegas doesn't do that . We started the process in June and just finished last week - 2 months later. There were many times we said we wished we never bought the jacuzzi because of all the hassle. Now that everything is finalized, we love it. We have had an issue with the inside of the spa feeling like sand paper. We went to the store and they were very helpful, with ideas on what it could be and how to fix it. They have also been very helpful with any questions we have when we call or stop in. We received a very nice box of brownies, as a thank you, which I thought was very nice.
Verified 8/26/19 Tiffany

I wish we never wasted our money. We've had nothing but aggravation loss of enjoyment. Been 3 months. Jets didn't work lights - headrest was broken. People came out broke side panel, used tub caulk to put panel on! I wish I went somewhere else.
Verified 8/23/19 JD & Rebecca (Henderson, NV)

I had a spa for 18 years and it died. I missed it and your sales person showed me all you had and told me all about what comes with the spa and I was so happy to get my new spa. It was delivered and the men were so great getting it in my back yard. I LOVE IT.
Verified 8/16/19 Sandra (Henderson, NV)

These guys were really nice. Had a very good experience.
Verified 8/14/19 William (Boulder City, NV)

Purchasing our hot tub with Sunset Spas was a pleasure! The delivery of the tub came sooner than expected, which was a plus! A great overall experience!
Verified 8/8/19 Sean (Las Vegas, NV)

Robert is the man! American Whirlpool Rocks!
Verified 8/1/19 Lawrence (Las Vegas, NV)

Joe was friendly, helpful, and knowledgeable. We have enjoyed our new spa many nights this past winter.
Verified 8/1/19 Cathy (Las Vegas, NV)

Excellent service & friendly & knowledgeable staff.
Verified 7/26/19 Ron (Las Vegas, NV)

Good price. Enjoyed Todd once we got to know him. Excellent service.
Verified 7/16/19 Cathy & Jeff (Henderson, NV)

You can tell David believes in and stands behind Sunset Spas. Both he and Todd were great to work with and a wealth of knowledge.
Verified 7/11/19 Andrea (Henderson, NV)

Sales personnel, price, etc: All Good!
Verified 7/5/19 Gregory (Las Vegas, NV)

Amazing quality, service and staff! My wife and I recently purchased a spa/gazebo combo and we could not have asked for a better experience. I made the mistake of not properly verifying the measurements and my pool deck wasn't large enough for the gazebo to fit properly. Todd Bates, Brian and the rest of the crew corrected that problem immediately. They adjusted the gazebo to where it could fit (and even altered the gazebo panels to open up higher so I could fit underneath better as I'm 6'5''.) They go above and beyond to make the customer happy and I honestly cannot recommend them enough. Thanks Todd, Brian and the rest of the amazing staff at Sunset Spas.
Verified 7/4/19 Mike (Henderson, NV)

Best product, best price, super friendly people!
Verified 7/3/19 Matt & Lola (Henderson, NV)

Joe was very helpful and knowledgeable on all aspects of our spa.
Verified 7/2/19 Jimmy (Las Vegas, NV)

Wonderful Experience. Fast, Efficient, Friendly.
Verified 5/14/19 R. Scott (Las Vegas, NV)

Modern Controls. Ease of access for maintenance
Verified 4/29/19 Robert (Las Vegas, NV)

We are extremely happy with our Spa. Joe and Todd were wonderful to deal with and made the whole process very simple. Thank you Sunset Spas for our little slice of paradise in our backyard!!
Verified 3/13/19 Michelle (LAS VEGAS, NV)

Quality product and service
Verified 2/28/19 Ron & Carrie (Henderson, NV)

Everyone was extremely friendly and was not overly pushy. It was a relaxing experiencing. Everyone who works here takes a family approach and we felt like we became part of their family which made us want to do business with them. They have a great product at a reasonable price, but the people who work here is the difference. It was an absolute pleasure working with them and we look forward to seeing the same friendly faces for years to come.
Verified 2/26/19 Chris (Las Vegas, NV)

Great job folks. Everyone did a fantastic job from the time we walked in through set up. Thanks from my aching lower back.
Verified 2/1/19 William (Las Vegas, NV)

One of the best purchase experiences I ever had. Todd Bates went way above and beyond to make sure I was satisfied. Everyone at the store and delivery and post-delivery were all great. The hot tub is really nice too and has a lot of great features and is well built. Thanks Sunset!!
Verified 1/19/19 Brett (Las Vegas, NV)

Todd Bates is great. Quality product. Convenient location.
Verified 1/17/19 Jennifer (Las Vegas, NV)

Joe had the facts and didn't push me to buy.
Verified 1/14/19 Robert B. (Las Vegas, NV)

Great experience, smooth transaction, smooth installation and without any negative issues. Highly recommend Sunset Spas.
Verified 1/3/19 Greg (Las Vegas, NV)

Can't say enough good things about sunset spas. Very knowledgeable staff. Top quality spas. This is my first spa and we love it. Glad we went to sunset spas.
Verified 1/1/19 Frank (Las Vegas, NV)

Todd was great! Delivery people on the other hand not so good. They were here very early as Expected. It was a Saturday morning. But the guys delivering were very loud for early on a Saturday morning. Also cursed constantly and loudly this is not courteous to our neighbors. Also our Hydraulic cover and left didn't arrive with the hot tub. It's now been two weeks later and still do not have it. But have a cover for now that works so no big deal.
Verified 12/25/18 Ludovic (Las Vegas, NV)

Very happy with service Todd provided. Professional, friendly, knowledgeable, he was great to work with. Love our new spa!
Verified 12/24/18 Terri & Alan (Las Vegas, NV)

We love our new spa. It does have a crack on the corner which is supposed to be replaced when we get our new owner orientation. We still have not heard from anyone about scheduling our orientation, but I will chalk that up to the Holidays. I do hope to hear something this week. We have had it about a week and have already used it 3 times.
Verified 12/24/18 Cathy (Las Vegas, NV)

Had the size, features, and look I wanted at a good price. Brownies were great!
Verified 12/3/18 Jim & Lisa (Las Vegas, NV)

We appreciated the quick responses from Todd at Sunset Spas when we called or texted! Straightforward and honest salesperson. Thank you for the beautiful hot tub. We love it! :)
Verified 11/14/18 Dee (Las Vegas, NV)

It was such a pleasure purchasing a spa with Sunset. Todd was extremely wonderful to work with. After visiting Sunset we traveled to a couple other dealers and instantly came back to Sunset spas that same day to complete our purchase. They help with delivery and cranes. They also provided a free orientation to help me familiarize myself with the unit. This place is unbeatable if you are looking to purchase a new spa. PS we have loved ours so much.
Verified 11/5/18 Amber (Las Vegas, NV)

I originally put a deposit on a spa at the home show from the previous owners. I came in a year later and Dave set me up. As I was getting an inground pool built, I tried to order it a month out. With delays, the new spa sat in Sunsets store room for a few extra weeks and they were totally cool about it. AG spas on boulder highway were on the job when it came time to deliver it. Prompt, courteous, we had the crane put it in position in 5 minutes and it was slick as a whistle. I'd surely recommend Sunset Spas to others as they do say what they do and do what they say.
Verified 10/19/18 tim (henderson, nevada)

Knowledgeable staff. Trustworthy. Service & Support is top notch. They treat you like family.
Verified 10/6/18 Kristoffer (Las Vegas, NV)

You cared about our experience in selecting a hot tub & afterword. You were in our price range.
Verified 10/5/18 Jacob (Las Vegas, NV)

Great Staff.
Verified 10/3/18 Jackie & Phillip (Las Vegas, NV)

Chose Sunset Spas because of your ratings and service.
Verified 10/1/18 Ken & Susie (North Las Vegas, NV)

Sunset Spas have made my experience as a first time spa owner easy.
Verified 9/27/18 A

My husband and I decided that we were not ready to give up on our dream of having a pool, but we also knew that to do so would be financially irresponsible right now. And so, we decided to entertain the idea of getting a spa. We learned a lot in a very short time by conducting research and visiting every major retailer in the valley. In truth, we liked all of them. It is nice to know that Las Vegas attracts some good business people. However, when we met Todd at Sunset Spas and saw the American Whirlpool brand, we knew it was a perfect decision. Our spa was the only one that had seats of different depths, such as for a husband and wife of different heights. It was as if it was designed for us. Once you compare the specs, that is the amount of horsepower with the number of jets, combine that with the price, no one could beat Sunset Spas. Now that it is in our backyard, I am more than happy! In fact, it is by far a better decision than a swimming pool for us. Furthermore, the warranty is two years longer than any other dealer we encountered. Across state lines and across the web, Todd and his sales staff at Sunset Spas has an impeccable reputation which cannot be beat. Thank you, Todd! We are incredibly elated.
Verified 9/23/18 Carrie (Henderson, NV)

Good quality and price
Verified 9/19/18 Norma (Las Vegas, NV)

We are very pleased.. The jets are very powerful
Verified 9/10/18 Vic & Marian (Las Vegas, NV)

Our 3rd purchase with you. Quality products. Good selection. Great service. Thank you.
Verified 8/27/18 Garaldine (Pahrump, NV)

Joe at Sunset Spas was friendly and knowledgeable. We visited several spa vendors and Joe was our favorite. He was low pressure and answered our questions with ease. Sunset Spas also had the spa we wanted--sie, quality, and price.
Verified 8/27/18 Joseph (Las Vegas, NV)

Quality product and helpful staff.
Verified 8/27/18 Johnnie & Tina (Las Vegas, NV)

Todd was great!
Verified 8/25/18 Nicolette (Las Vegas, Nevada)

Very user friendly.
Verified 8/23/18 Dolores (Pahrump, NV)

Quality product. Good price.
Verified 8/6/18 Daniel & Michell (Las Vegas, NV)

Very happy. Product is top notch and the customer service is excellent as well.
Verified 8/6/18 Kristoffer (Las Vegas, NV)

The purchasing of our new spa was amazing even fun Todd was so knowledgeable and helped us to pick the correct spa just for us We would recommend sunset spas Todd and Joe to everyone We want to thank them so much for everything they did for us we love our spa
Verified 7/28/18 John & Linda (N Las Vegas, NV)

The entire experience was great. Would highly recommend my salesman, Todd, to anyone!
Verified 7/16/18 Dave (Las Vegas, NV)

We did a lot of research prior to making our spa purchase. Todd and Joe were both incredibly knowledgeable and helped us pick the perfect spa for our needs. The quality of the Whirlpool Spas is superior to everything else on the market. I highly recommend Sunset Spas in every category: quality, customer service, buying experience. Purchase from them and you will be glad you did! Don't forget to get your free rubber duckie!
Verified 7/11/18 Michelle (Las Vegas, NV)

Quality product. Todd was great to do business with. Very Satisfied.
Verified 7/9/18 Bob (Henderson, NV)

I have heard many horror stories from people who have purchased spas.--We did not experience this.--They were great and really stood behind their spas. Great service and helpful.
Verified 4/10/18 Tom (Las Vegas, NV)

Helpful employees. Love our tub.
Verified 4/3/18 Graeme (North Las Vegas, NV)

Crane operator who delivered did a good job.
Verified 4/2/18 Darrel (Henderson, NV)

Straightforward sales people. Nicole was also Very helpful.
Verified 2/18/18 LARRY JONES AND WENDY (LAS VEGAS, NV)

Love your place and staff. The salesgirl was amazing! She took good care of us.
Verified 2/2/18 Sheila (Las Vegas, NV)

Nicole is great!!!
Verified 12/2/17 David (Las Vegas, NV)

Joe was great, we must have visited the show room 3 times and then hit the home shows Joe told us about. After doing all of our homework we came back and worked with Joe and his staff. They were very professional and answered all of our crazy questions being first time spa owners. We will recommend Joe and the company to all of our neighbors! Michelle and Andy Zaner
Verified 11/20/17 Andrew and Michelle (Las Vegas, NV)

Nicole Buchanan and Don McIver made this purchase very easy. They have exceeded our expectations in customer service, communication and reliability. Nicole set up our delivery and listened to all our questions and fulfilled her promises. We will definitely recommend Sunset Spas to our neighbors and friends.
Verified 11/18/17 Dick and Melissa (Las Vegas, NV)

Best customer service ever!
Verified 11/15/17 Judy (Las Vegas, NV)

Are you a customer of Sunset Spas of Henderson?
Write Your Own Review