100%

of recent customers
recommend this business
Mountain Mist Pool & Spa of Greeley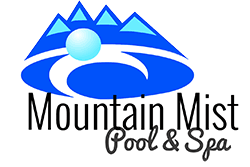 3632 W 10th St
Greeley, CO 80634
Phone: (970) 352-7727

See our other locations:
Greeley, CO
Selling, delivering, and servicing hot tubs isn't just a job for those at Mountain Mist; it's their heritage. Since opening, Mountain Mist Pool & Spa has had the privilege of serving tens of thousands of customers in Colorado.

Tyler & Jill Smith, the latest generation of Mountain Mist Pool & Spa owners, bring energy and vigor to the company as well as a tremendous amount of experience. They are proud to offer a huge selection of spas, hot tubs, saunas, BBQ equipment, and accessories, with a service department that can assist you with any issues. Stop by their store in Longmont, Colorado, for great value on products that will suit your lifestyle.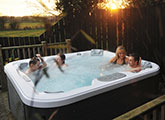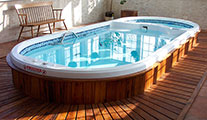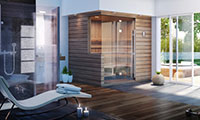 Customer Reviews
All the guys at Mountain Mist, Longmont ROCK! I have been a steady, loyal customer going on 6 seasons now. All of them, especially Jesse, have educated me, helped me, and never try to make me buy anything I don't need. They are excellent at making sure I understand my pool issues and how to correct any out of balanceS. I turn to them for my equipment and chemicals! And the Store is always fun to wander through! The beautiful displays of spa's and green eggs! I moved 30 miles away but, I make the trips to Longmont for testing and supplies because I trust them All to take good care of me and my pool needs. Keep Rockin Mountain Mist Longmont!!! Cheers to SUMMER!!
Verified Customer Marion (Westminster, CO)

Staff was knowledgeable. Service was Excellent. We love our new SwimSpa. These guys were great to work with.
Verified 1/18/19 Jack (Longmont, Colorado)

Chose to do business with you for your trustworthiness and convenient location.
Verified 11/16/18 Chuck (Mead, CO)

Tyler and his team have been taking care of my pool on a weekly basis for over 10 years. Without exception, their care and concern has been exceptional. Recently, my wife and I decided to buy a hot tub. The decision of who to buy from obvious. Tyler, Matt, Michael, and Junior made sure the entire experience (pre-sale, sale, delivery, implementation) went perfectly. Experience it for yourself. I know you will be delighted with Mountain Mist for all of your pool and spa needs.
Verified 2/11/18 dave (longmont, CO)

Tyler at Mountain Mist Pool & Spas was great to work with. He was accommodating to my requests and shared plenty of information on the spa we purchased. He also reviewed pictures of where our spa was going to be place and gave recommendations on how to best setup the area prior to the delivery. The delivery team was on time and walked me through how they were going to move and lift the hot tub into the enclosed space at my house. Overall the buying experience was wonderful, I would recommend Mountain Mist Pool & Spa to my friends.
Verified 11/9/17 Troy (Golden, CO)

BEST experience I've ever had I recommend this company over anyone else!! You guys won't be disappointed!
Verified 6/6/17 Tami

I have been a long time customer and have worked with a number of different people through out the years that work for Mountain Mist. I have not always had the best experience. But over the past few years Jesse has been exceptional. Now I make it a point to go to Mountain Mist for all of my spa needs and I ask for Jesse specifically. He is courteous, professional, extremely knowledgeable and goes to all lengths to ensure he has answered by questions and helped me with my issue. Go to Mountain Mist and ask for Jesse....you can't go wrong!!!!!
Verified 6/29/16

We had a small problem with our purchase and Jesse C not only came out and fixed it straightaway, but he did so on a Saturday too. Thanks so much! Super professional and great service.
Verified 6/11/16 Alison

The staff at Mountain Mist in Longmont, CO has never let me down. Always knowledgeable, friendly and genuine in their interest in meeting my needs. Further, staff is quick to identify time and money saving measures to keep my pool looking great all summer long. My hat is off to Jesse and the whole staff.
Verified 5/7/16 (Longmont, CO)

This was our first spa purchase so we had a lot of questions but Jesse was great helping us with the process we were very pleased with Jesse and the whole staff. We would definitely recommend the store and the staff in Longmont.
Verified 5/5/16 David (Frederick, CO)

Are you a customer of Mountain Mist Pool & Spa of Greeley?
Write Your Own Review