99%

of recent customers
recommend this business
Montana Hot Spring Spas
2217 Grand Ave.
Billings, MT 59102
Phone: 406-652-7727

Billings, MT
Imagine gliding into soothing tranquility of your own hot tub... a warm, swirling massage creating a sense of weightlessness. Welcome to a place of total relaxation and wellness.

If there's one thing Montanans strive for, it's a sense of balance between work and play. And while our natural surroundings offer many opportunities to get away, a hot tub or sauna is a great way to stay at home. Even better, your hot tub or sauna will bring family and friends closer while you enjoy quality time together. Plus, your hot tub or sauna can refresh both mind and body---day after day, week after week---in the convenience and comfort of your own backyard. Montana Hot Spring Spas delivers to Red Lodge, Sheridan, Cody and Powell.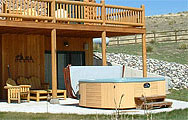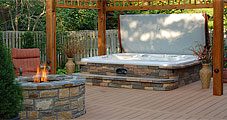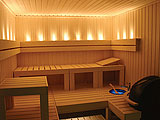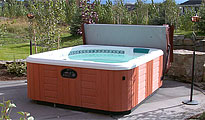 Customer Reviews
Love it! Can't believe we lived without one 'til now. Could not be more satisfied! Thank you!
Verified Customer curt & dani (billings, mt)

Scott never forgot who I was once he met me. Everyone @ HotSprings Spas is very friendly.
Verified 8/2/18 Les (Wolf Point, MT)

Everyone was very friendly & helpful I think they went beyond service with the delivery.
Verified 8/2/18 Nancy & Barney (Roundup, MT)

I was absolutely thrilled with my experience. Having a very busy work schedule, Cody and his crew were flexible, patient and extremely helpful. I received all of the information I needed, and could not be happier with how everyone went above and beyond. I was very impressed and could not be happier with my purchase. Really, a terrific experience thanks to terrific people!
Verified 7/21/18 Jeana (Billings, Montana)

Our experience was awesome! Thanks enjoying it a lot.
Verified 7/17/18 Greg & Jill (Glasgow, MT)

The manager is always present & very cordial as are all employees. We do business over the phone & this is handled well. 20% discount is appreciated. Send in our warranty for us.
Verified 6/21/18 Louise (Glasgow, MT)

From shipping to delivery and after the sale, MT HotSpring is 100% customer service orientated. They will go out of their way to take care of their customers!!
Verified 5/25/18 Kristen (Sheridan, WY)

Cody treated us great & was knowledgeable and respectful. He honored his word 100%
Verified 5/22/18 Jill & Ryan (Dillon, MT)

This is one of the best businesses I have ever had the pleasure of dealing with. From the time we walked into the store to buy a USED hot tub, to the point when we left and purchased a NEW hot tub, to the delivery 145 miles away, we were treated with courtesy and professionalism that was beyond superb. I was so impressed with my in-store experience, but the delivery crew was just as amazing and knowledgeable. You have a great thing going!! Thank you!!
Verified 5/11/18 Carol (Miles City, MT)

This is my 3rd hot tub, and second HotSprings brand. Scott and his crew have been my go to place for years for my supplies and technical help when needed. Whenever I walk in I'm greeted by name and always have a nice conversation with the staff. Day of the install was snowing and cold, the crew was AMAZING. Not once did they try to rush the job because of the weather, they stayed until everything was perfect- my hats off to an amazing company and crew! KEEP UP THE GREAT WORK!!
Verified 4/19/18 Joseph (Billings, MT)

Great experience from beginning to end! Very professional & knowledgeable staff. Thank you! Janet
Verified 4/6/18 Janet (Billings, MT)

This is the kind of hot water everyone should want to be in- excellent service, follow-up and continued communication. Thank you
Verified 4/3/18 Jennifer (Billings, MT)

Friendly, helpful service
Verified 2/22/18 nancy (blgs, mt)

Thanks for exchanging saunas for me.
Verified 2/22/18 dave (worden, mt)

Have already recommended you.
Verified 2/22/18 greg & karen (blgs, mt)

Montana Hot Spring Spa has always been a great store for all aspects of service. Very helpful and knowledgeable. Everyone in the store is so friendly and always remember you. Love you guys!
Verified 2/22/18 neil & karen (absarokee, mt)

Outstanding knowledge and delivery and set up was very professional. The guys were great.
Verified 2/22/18 antonio (shridan, wy)

Wonderful Spa. We love it. The professional service made the research and purchase seamless!
Verified 2/22/18 jim & marie (billings, mt)

Knowledge of product. Fast delivery.
Verified 2/22/18 dave & suzi (blgs, mt)

Honest. Customer satisfaction
Verified 2/22/18 lee (blgs, mt)

Quality/durability. Good service.
Verified 2/22/18 larry (blgs, mt)

Knowledgeable, kind staff. Thank You!
Verified 2/22/18 tony & jenna (blgs, mt)

Quality & Affordability
Verified 2/22/18 tate (powell, wy)

Cody is amazing. From the moment we walked into the store he answered all our questions and we did not feel pressured. I called MT HotSprings & he called me back which promted our visit. He knows his product and we felt we got the best deal for our $10,000 investment. We do recommend MT HotSprings to all our friends!
Verified 1/25/18 Gail Pomeroy & Mike (Billings, MT)

Great Company Great Products Great Service
Verified 1/19/18 Steve & Jan (Absarokee, MT)

We wouldn't do business with any other hot tub company. Our customer service has been some of the very best we have ever experienced. We are lucky to have Scott & Julie in Billings!
Verified 1/19/18 Greg & Shannon (Billings, MT)

Your personal hand written Thank You - impressed me! Thank You
Verified 12/23/17 Janie & Will (Billings, MT)

We had always take about buying a hot tub, but always thought they were too expensive. We have no had ours for two years and still kick ourselves for not purchasing one sooner. Montana Hot Springs was the only we looked at, but have never looked back or regretted it. Scott and Cody are friendly, knowlegible and always willing to help. Would do it again in a heartbeat and would not consider anyone but thea guys.
Verified 12/12/17 Rocky (Billings, Montana)

We thoroughly enjoy our spa and knowing it's backed by such great customer support makes it that much better. We totally recommend MT Hot Spring Spas to anyone in the market for a spa!
Verified 11/28/17 Dave & Gwen (Billings, MT)

My purchase was done via e-mail/phone. i could not be happier with the service I received. Cody was able to work the delivery right into my schedule. Thanks
Verified 11/27/17 Chris & Mary (Red Lodge, MT)

Repeat customer enough said!!
Verified 11/24/17 Thomas (Greybull, WY)

Getting the electrician made it way easier for us living in Red Lodge.
Verified 11/21/17 Brian & Kathy (Red Lodge, MT)

I called to see if they had a filler for some hair line cracks on our 4 year old hot tub. They said no and brought us out a brand new hot tub. A great product and warranty they stand behind!!!!
Verified 11/8/17 Roy & Sue (Billings, MT)

We have enjoyed our first two weeks of soaking! Thank you.
Verified 10/30/17 Doug & Kathy (Billings, MT)

Ahhhh... first soak in my new hot tub, and it was wonderful. Cody found me a used tub in exactly the style I wanted, at a price I could afford. He made me feel that my comparatively modest purchase was the most important thing on his mind and was never impatient or pushy. Jeff and his crew were also very pleasant and patient while we determined exactly the right place to install the tub, and they were very careful not to damage the newly-renovated floor in my indoor sunroom. Jeff carefully went over the use and care of the tub, and left written instructions. All the staff encouraged me to call with any questions or problems I might encounter. I'm happy to give this company a five-star rating.
Verified 10/27/17 Diana (Billings, MT)

Would do business with HotSprings Spas again, again & again. Friendly, knowledgeable staff and great service department!
Verified 10/26/17 Dave & Suzane (Billings, MT)

You are a great salesman! Very informative and very polite! This is an awesome business!
Verified 10/23/17 Megan & Alex (Billings, MT)

For us, this was an all-around fun, hassle free purchase. Cody and delivery team were spot on. Thanks!
Verified 10/20/17 Don & Diane (Shepherd, MT)

The tub is beyond our expectations! My knees love it!
Verified 10/20/17 Corey & Michael (Red Lodge, MT)

My husband and I could not be happier. This purchase has been the best decision we have ever made. We use it regularly with our children. the customer service and quality is the best around. Thank you!
Verified 10/17/17 Ben & Lindsey (Red Lodge, MT)

MT HotSprings is a quality business, vey well run by their employees. Questions answered and expectations met. Highly recommended!
Verified 10/14/17 Pamela (Billings, MT)

none
Verified 9/25/17 kathy (billings, Montana)

Cody was on the spot with his knowledge about what would work for us. We had recently gotten rid of a larger tub, and with only two in the house, there was no need for any other tub but the 3 seater. It filled up in half the time that the old one took, runs efficiently, and is a great relief for my arthritis and back issues. We had one issue after set up, and the crew was there the day we called. Kudos to Scott, Cody, and the whole crew.
Verified 9/20/17 Mark (Billings, MONTANA)

Very nice experience. Everyone I dealt with were very helpful and pleasant to deal with. Very professional group of people!
Verified 9/14/17 Bob & Nancy (Cody, WY)

I already had picked out what tub I wanted a year ago online while working overseas. When I returned for a job in Montana, I called the store and spoke with Cody. I told him what I wanted and he and the delivery team were a pleasure to work with and got me exactly what I wanted and great financing option. I love the tub and no issues at all since installation. I highly recommend Montana Hot Spring Spas. Excellent!!!
Verified 9/6/17 Cindy (Colstrip, MT)

This is our third Hot Springs spa purchased from Montana Hot Springs Spa in Billings. The first was a Classic that lasted us 13 years. The second was a Vanguard that lasted 11 years (maybe a bit shorter because we moved it twice). We liked the new features and fit of the new Vanguard so much that we just purchased out second one. We are sold on the reliability and spa experience we have gotten from our Hot Springs spas. And Scott and Dom have been treating us well for 25 years--whether it is answering questions or purchasing maintenance chemicals. We have complete trust in the experience we have gotten from their business. You cannot go wrong working with them!
Verified 8/29/17 Peter (Buffalo, Wyoming)

You guys are nice and you know what you're talking about. Need to advertise with us in Roundup. Mike on KLMB 99.9 FM
Verified 8/28/17 Loretta & Mike (Roundup, MT)

Our first hot tube was purchased over 20 yrs. ago from Montana Hot Springs Spas. We just had a new tub delivered from MT Hot Springs. Oh, baby... Everyone that we dealt with were Wonderful! We live 150 mi. from Billings. The old tub was removed and new one installed. Everyone that delivered the tub was GREAT!!!! Thanks again.
Verified 8/28/17 Gary C. & Jolene C. (Roy, Montana)

Cody Tucker was very friendly, professional, and knowledgeable during the sale. He did not pressure me to buy any particular model, and seemed genuinely interested in meeting our hot tub ideals. Our installation experience with Jeff Davey and crew was also very professional, quick, and courteous. We absolutely love our tub as we use it every night to relax. The guests that we had come over so far enjoy the Flair as well.
Verified 8/21/17 Tonya & Greg (Red Lodge, MT)

We've been a couple of years with no hot tub. The last two nights soaking have been glorious. We're looking forward to many more! Thank you so much!!
Verified 8/13/17 Nan & Brian (Powell, WY)

From the moment we entered the store to delivery, we experienced nothing but exceptional service. We love our hot tub and will not hesitate to tell everyone to go to Montana HotSpring Spas!
Verified 8/12/17 Kelly (Billings, Montana)

EVERY ONE WAS WONDERFUL, COULD NOT BE HAPPIER!!
Verified 8/1/17 RUTH E (BILLINGS, MT)

Nothing but good things to say! Everyone from the owner to delivery crew where professional and more than willing to do the job correctly! I feel they realize this is a huge purchase for most people and are patient and not pushy! It probably took about 5 months for me from start to finish and they were polite and helpful through the whole process! I would recommend them to anyone!
Verified 7/19/17 Jeremy (Billings, MT)

I will write at length later on your website, but in short, my quality of life has increased a hundred fold since Saturday when I first used my indoor spa!! In the early morning hour, when all is calm, the spa rejuvenates me to start my busy day! Thank you Cody for walking with me on the purchase of my spa!
Verified 7/18/17 Carole (Billings, MT)

This is my second hot tub with Hot springs Spa, the first I had for 10 years. I was very satisfied with my experience the first time and even more this second time around. Everyone at Hot Springs, Scott, Cody, Mark, Jeff, Kevin and Greg work as a team and follow up and follow thru. I apologize for anyone else at MT Hot Springs that I didn't mention because I am sure they are as helpful as those mentioned.
Verified 7/9/17 Brian & Robyn (Billings, MT)

Keep up the great work
Verified 6/7/17 Sean & Rebecca (Billings, Mt)

We were very pleased with our entire purchase experience of our Hot Spring Tub. Highly recommended!
Verified 6/7/17 Sean & Rebecca (Billings, Mt)

From a small purchase to a large purchase,even while browsing, we have always been treated like valued customers...
Verified 6/6/17 Ron & debra (Powell, Wy)

My husband and I were in the market for a hot tub for quite some time. We stopped in to Montana Hot Springs at the beginning of winter checking things out. We talked to the owner, Scott, and his knowledge of the product as well as the way he interacted was fantastic. We looked at other stores in town, but the customer service and job knowledge led as right back to Montana Hot Springs. They have the best prices in Billings as well as the best customer service. If you need a question answered or maybe the way the equipment works explanied to you this is the place to go. Thanks so much for taking care of us and giving us an awesome experience.
Verified 5/1/17 Alex (Billings, MT)

You always provide excellent service and info/help. Thank you
Verified 4/29/17 leah & macen (shepherd, mt)

We intended to shop other stores as this was our first stop but were so impressed we didn't feel the need to look any further.
Verified 4/7/17 Steve & Tammy (Billings, Mt)

I felt at ease and comfortable asking my questions and the laminated guide was a big help. Cody is available and goes beyond his duty to make sure our purchase was right for our needs. He is very organized and so professional! Thank you so much.
Verified 4/4/17 Cheryl & Larry (Forsyth, MT)

this is my third tub purchase from this group and all expectations were met and then some... in fact this last unit has my wife raving... perfect size and beautiful... we did a down size upgrade and Dom was the master behind the success... and delivered earlier than promised thanks
Verified 4/2/17 Howard (Billings, MT)

Exceptional experience
Verified 3/28/17 claudette (laurel, mt)

All staff were very personable and professional. Extremely knowledgeable about their product as well as the competitors. Delivery people knew the best approach to bringing the spa inside my home without any risk to my home, protecting carpet, doorways and floors. I wish all in home installations were so professionally handled.
Verified 3/28/17 claudette (laurel, mt)

Both in store and set up crew were great. Everyone took their time to make sure we knew what to do and what we were getting into.
Verified 3/16/17 sandi

Thanks for the brownies. They were great. Nice touch.
Verified 3/16/17 martin & judy

They do what they say they will and you can trust them.
Verified 2/12/17 Daniel (Park City, Mt)

This is our second purchase from Dom and the Billings crew. Love them and have referred many folks to them.
Verified 2/12/17 Daniel (Park City, Mt)

Montana Hot Spring Spas was easy to work with. They arranged delivery and install quickly and efficiently. They did a wonderful job explaining all aspects of what we were getting and how to use it.
Verified 1/23/17 ernie (billings, mt)

Great service & quality tub. Professional & fast install!
Verified 1/4/17 Dawn Shrunerie

Very professional, friendly, efficient and love the product
Verified 1/3/17 noreen (big horn, wy)

Cody was very helpful and knew the products he was selling. He answered all our questions and let us have time to make the decision.
Verified 12/27/16 lisa & ryan (billings, mt)

Mountain Hot Spring Spas goes beyond expectations in every area. Their products are excellent, and their service even better!
Verified 12/27/16 martha (billings, mt)

We are returning customers.
Verified 12/16/16 brian & tanya (billings, mt)

We both have health issues that have benefitted from our hot tub.
Verified 12/14/16 julie & robin (billings, mt)

Everyone was so nice and answered all my questions! I love my hot tub! Thanks for the awesome fudge too! Ate 1/2 while writing this in front of the post office. :) Sincerely, Patty
Verified 12/14/16 patty & bob (thermopolis, wy)

We needed a deck built before we could have a spa. I especially appreciated that Cody could recommend a company who could get the job done--quickly and professionally. All Decked Out created a perfect deck for our spa and knew very well the requirements necessary for the model we chose. It's beautiful! :)
Verified 12/14/16 candace & steve (columbus, mt)

MT Hot Springs is superior at so many levels. Thanks for all that you do and keep doing. :)
Verified 12/12/16 joe & erica (billings, mt)

Cody was great to walk through the sales process with. He communicated very well. Jeff, Derek, and the rest of the delivery crew were very helpful and knowledgeable. The follow up service has also been great.
Verified 11/28/16 jay (laurel, mt)

I found Montana Hot Spring Spas pleasant, honest, and nice to do business with.
Verified 11/21/16 carol (billings, mt)

The people are wonderful, knowledgeable, and passionate when sharing their product. There was no pressure to buy, just a genuine love of their product, its quality, and enjoyment factor.
Verified 11/18/16 jay ginger (billings, montana)

We very much enjoyed our experience with Scott and his team. Their product has made a wonderful addition to our home.
Verified 11/18/16 jay ginger (billings, montana)

Great Product & Service. Knowledgeable & Honest.
Verified 11/14/16 frank (billings, mt)

Amazing service - Staff VERY knowledgeable! Thank You! :)
Verified 11/9/16 melissa & forrest (billings, mt)

We are beyond thrilled with our purchase!
Verified 11/5/16 Jon (Glendive, MT)

Every person that works there is committed to making the hot tub opportunity happen for their customers. Dom was great at working with us and the delivery crew were an awesome, knowledgeable group. Love love love the tub and Montana Hot Springs.
Verified 11/5/16 Jill (Billings, MT)

This group of people don't stop customer service once you purchase the product. They are committed to you forever. As we will be to them.
Verified 11/5/16 Jill (Billings, MT)

Great customer service. Knowledgeable sales staff. They followed up after the sale to make sure we were satisfied.
Verified 9/5/16 Steve

Awesome Service
Verified 8/29/16 Christopher (billings, mt)

Excellent to work with. Friendly and helpful.
Verified 8/24/16 jon & kim (powell, wy)

Staff is professional, polite and very knowledgeable with the high quality of Hotspring Spa. The entire purchase process was a pleasure.
Verified 8/19/16 Kyle (CODY, WY - Wyoming)

Staff answered all my questions which was very helpful as a first time buyer.
Verified 8/19/16 Kyle (CODY, WY - Wyoming)

What a wonderful experience we had! Second to none! Friendly service & cared about our family as customers.
Verified 8/17/16 scott & jessica (laurel, mt)

Amazing! Our hot tub is fantastic - at a great price! All your people are nice and very helpful - this is our first hot tub! They called and checked on us and answered my questions.
Verified 8/17/16 mike & jeanna (billings, mt)

Scott and Cody called me to see if everything was ok. Thank you for the candy.
Verified 8/15/16 lance (red lodge, mt)

We had a great experience and are loving our spa. The staff was great and delivery was on time. Thanks Dom.
Verified 8/14/16 mary (Billings, MONTANA)

You guys Rock! Cody was a very professional salesman! So were the technicians!
Verified 8/13/16 catherine (roberts, mt)

Professional and courteous service and a beautiful showroom with a wide array of options.
Verified 8/11/16 jeremy & kristine (billings, mt)

Cody knew his "stuff", didn't over-pressure us to buy. Very accommodating during pick-up. Had what we wanted in stock, able to take delivery same day.
Verified 5/23/16 mary & john (billings, mt)

Excellent service, prompt delivery
Verified 5/14/16 Adam (Billings, Montana)

We love our hot tub. We use it every day and it is paradise.
Verified 4/30/16 gary (billings, mt)

Excellent in every way - we highly recommend them
Verified 3/25/16 Becky (Powell, WY)

This is our second Hot Springs tub. The first lasted 15 years. I love the new upgraded model. It's the best relaxation you can buy. Thanks!
Verified 3/21/16 dan & sherrie (billings, mt)

We are very happy with our spa and use it almost every day. it's great therapy after a long day.
Verified 3/19/16 mark & amy (billings, mt)

Good owner. Good salesman. Great delivery crew. Friendly people all around. :)
Verified 12/23/15 bob & connie (billings, mt)

We have had a hot tub for 35 years and several with Hot Springs. We are very happy with the sales and installation staff and highly recommend Montana Hot Spring Spas
Verified 12/21/15 Mike (Billings, Montana)

Delivery was Great! Thank You!
Verified 12/20/15 fred & monty (billings, mt)

Easy process...staff kind and courteous.
Verified 12/14/15 Mike (Billings, MT)

Good selection of hot tubs. Good sales info. WOuld be nice to have a consistent service schedule for Sheridan.
Verified 12/14/15 chris & brandi (sherdian, wy)

Sales staff and delivery personnel were very courteous and knowledgeable! It was a real pleasure. Thank you SO much for the fudge! What a Treat!
Verified 11/14/15 chuck & carol (billings, mt)

Cody was amazing! We started looking over a year ago and didn't find anything that worked for us. he kept in contact and didn't try to sell us something we didn't want! Great customer service!
Verified 10/26/15 jessica & rob (laurel, mt)

Mountain Hot Springs Spas offers a quality product along with knowledgeable and personable staff to assist you in your spa purchase.
Verified 10/25/15 shelly & jay (glendive, mt)

Montana Hot Spring Spas staff were great! The whole buying experience went smooth from our first visit to the install and set up! Thanks!
Verified 10/24/15 tom &'karen (huntley, mt)

Great purchase experience. We're really enjoying our new spa.
Verified 10/21/15 bruce (cody, wy)

We are repeat customers, satisfied in the past, and satisfied currently.
Verified 10/4/15 Andrea (Molt, MT)

We love our hot tub! Montana Hot Springs stands behind their product. Customer service is excellent!
Verified 9/14/15 john & hertha (billings, mt)

Salesman & delivery team all did an excellent job. Salesmen very friendly, honest, helpful. The hot tub is a wonderful, convenient, relaxing experience!
Verified 9/9/15 wally & carolyn (powell, wy)

Excellent! Allowed us to take our time, answered all of our questions, non-judgemental, informative.
Verified 9/2/15 mike & michelle (colstrip, mt)

Excellent product and service. Good people to work with. Thank you! We love the tub!
Verified 8/12/15 art (billings, mt)

We regretted selling our last Hot Spring Spa with our previous home. However, the spa closed the deal! It took 8 years to get another one and we are thankful we came back! Thanks for your professionalism and friendship as a customer. We wouldn't go anywhere else for our spa!
Verified 7/27/15 Chris

Dom did a great job.
Verified 7/22/15 chris (billings, mt)

I thought the staff of Montana Hot Springs, especially my sales rep, Cody, were very professional and helpful.
Verified 7/20/15 Kris

I would never go anywhere else to a buy a spa. Excellent service from everyone!
Verified 7/17/15 kim (billings, mt)

I was surprised at the family time the hot tub has brought us. We enjoy talking, and laughing, and looking at our beautiful view while we are in our hot tub. no TV! Love it!
Verified 7/16/15 justin & chris (laurel, mt)

Very informative. Professional. Answered all questions. Making sure we were satisfied. Cody is a Great Employee!
Verified 6/20/15 edwin & connie (billings, mt)

Thanks much - Cody and delivery guys super. Greg in service - always super.
Verified 5/24/15 kevin (blgs, mt)

Very good service, would recommend. Great quality time with kids
Verified 5/15/15 Ron

The first question that Scott did was ask us what we were wanting in a spa, our most important factors. He didn't even show us a spa until he learned about our needs, which was really important to us. We didnt waste time looking at a spa we couldnt afford or that was too big for our deck. He narrowed down the selection based on our budget, space and family needs. We found the perfect spa (the first one he showed us) and have been in love with it since day one.
Verified 5/14/15 Kama (Billings, Montana)

Thank You! :)
Verified 5/13/15 ellis & rose (billings, mt)

Pleasant experience from start to finish. Quick, professional service if needed.
Verified 5/11/15 robert & janet (billings, mt)

Staff is very knowledgeable and helpful. They take the time to get to know you and what would work best for you.
Verified 5/10/15 Gene (Columbus, Montana)

Very good service. Would recommend. Great quality time with kids.
Verified 5/7/15 ron (billings, mt)

Business professionalism, passionate about the products that you sell. Knowledge of products. No pressure to buy. Great people!
Verified 5/2/15 dorian & janet (shepherd, mt)

We are first time spa owners, I have called several times to make sure we are on track with our maintenance. Everyone answering the phone has been very helpful, making this a great experience!
Verified 4/27/15 cliff & bev (laurel, mt)

It was a good experience.
Verified 4/7/15 lew (billings, mt)

The quality of your product & the great customer service is what makes us tell everyone about your company. Thank you! This kind of thing is missing in today's businesses.
Verified 3/13/15 walt & terra (billings, mt)

Great Experience. Great Staff. Wonderful Product.
Verified 3/12/15 jim & priscilla (laurel, mt)

Friendly people, great prices and lots of hot tubs, many shapes and sizes. We sure like ours. Use it almost every day even when it's freezing out.
Verified 3/7/15 jan & betty (billings, mt)

Very happy with service
Verified 1/9/15 sam & beth (glasgow, mt)

Courteous, professional, nice people willing to go that "Extra Mile" to satisfy the customer!
Verified 12/14/14 al & claudia (forsyth, mt)

You guys are all about quality and personal service.
Verified 11/25/14 tom (billings, mt)

Courteous & Helpful
Verified 7/14/14 darwin & janice (blgs, mt)

:) Dom was sensitive to our budget.
Verified 7/9/14 kenny & denise (burlington, wy)

The fudge is delicious!! Thanks!!
Verified 6/27/14 jim & norma (terry, mt)

Thanks for the good fudge!
Verified 5/31/14 bud & anne (sidney, mt)

Love it! Excellent purchase. Fantastic customer service.
Verified 5/20/14 dave & betti (miles city, mt)

Thank you so much for the fudge. It is my very favorite! :)
Verified 1/31/14 kari (blgs, mt)

Quality product. Good after sale customer service
Verified 12/12/13 ron (nashua, mt)

You are Awesome! Love our Hot Tub! Thanks!
Verified 12/2/13 larry (blgs, mt)

Are you a customer of Montana Hot Spring Spas?
Write Your Own Review