100%

of recent customers
recommend this business
Jacuzzi Hot Tubs and Outdoor Living.

25552 El Paseo
Mission Viejo, CA 92691
Phone: 949-432-9330

Mission Viejo, CA
Don't succumb to the pressures of everyday life! Let our trained and knowledgeable backyard specialists at Jacuzzi Hot Tubs and Outdoor Living help melt away your worries with your very own hot tub or swim spa. Serving customers in Orange County with on-demand relaxation, there's nothing better than ending a hectic day with a soothing soak in an energy-efficient hot tub or swim spa. For fast-acting relief, try slowing down! We're one phone-call or click away!

From website to delivery, your satisfaction is our number one goal. Feel at ease while dealing with our friendly and efficient backyard specialists who'll take care of your every hot tub, swim spa, and patio need, to create a customized outdoor living space you can enjoy with your family and friends.

Need service on any Jacuzzi hot tub or swim spa? We carry parts, accessories and chemicals for your swim spa or hot tub. Contact us with any maintenance or service request. Jacuzzi Hot Tubs and Outdoor Living is open seven days a week and we are always happy to help!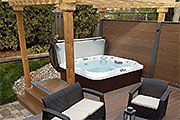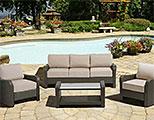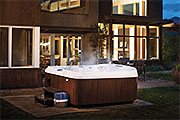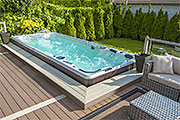 Business Profile of Jacuzzi Hot Tubs and Outdoor Living. - Mission Viejo, CA
Office Type:
• Sales & Service
• Delivery & Installation
Hours:
• Mon-Fri 10AM-7PM
• Sat 10AM-6PM
• Sun 10AM-4PM
Products:
• Hot Tubs
• Swim Spas
• Patio Furniture
• Infrared Saunas
View All...
Manufacturers:
• Jacuzzi
• HydroPool
• OVE
• American Fireglass
Service Areas:
• South Orange County
• Anaheim
• Newport Beach
• Santa Ana
View All...
Customer Reviews
Our experience was great, and very similar to those that we read online. The staff works as a team and show that they appreciate the business.
Verified Customer Bari & Michael (Laguna, CA)

Tim was awesome, very professional. So easy to work with and accomodating.
Verified 7/29/20 Mike & Sandy (San Clemente, CA)

Had a great experience. Time was helpful and sent electrician to set up when we had a communication glitch. Everyone was great!
Verified 4/18/20 Jill (Fountain Valley, CA)

Very surprised to get an onsite inspection PRIOR to making any type of sales commitment. James was VERY thorough and took measurements as we talked about delivery methods based on my site needs. NO PRESSURE!! I had to postpone delivery several times because of electrical delays. Store manager Tim Young VERY understanding and accommodating. Delivery team was prepared, and actually called to ask if it was okay to arrive early. Delivery and setup went smooth and was very professional. Nothing damaged in any way.
Verified 11/29/19 Roy (Fullerton, ca)

I purchased my Spa from Jacuzzi with the help of Brian, There was an issue with the spa but I was in good hands with the sale staff and received top notch customer service. Just for my troubles they gifted me with a box of brownies and a new bottle of chemicals. You don't get this kind of service anymore. thanks.
Verified 9/16/19 Teresa (Dana Point, CA)

Quality product at a good price. Good sales experience.
Verified 8/21/19 Mark (Orange, California)

Excellent experience from start to finish. Brian and Jacuzzi met our needs and expectations. HIghly recommend.
Verified 7/13/19 Jerry (Laguna Beach, California)

Would do biz again. Trying cleaning service contract in a few weeks. Already booked.
Verified 7/9/19 Darsi (Corona Del Mar, California)

Excellent company very happy we purchased from them !
Verified 6/22/19 Michael (San Clemente, California)

Have purchased from Jacuzzi before and was very satisfied. Good owner integrity
Verified 5/24/19 Lewis (Irvine, CA)

Brain Polanco and the team did a fantastic job for us with our new Jacuzzi J-480. They even helped get a crane to drop it into our backyard deck. Truly a 5 star experience from beginning to end.
Verified 5/10/19 David (Laguna Beach, CA)

We were not looking forward to the hassle of the salesman pressure but were pleasantly surprised that Jacuzzi doesn't do that. Our sales person, Brian, was awesome and knowledgeable as was the entire purchase and receiving process. Thank you!
Verified 3/29/19 Ed (Huntington Beach, California)

Easy transaction. Installation was very smooth for a difficult location.
Verified 2/26/19 Jim (Laguna Beach, CA)

James Schrage was professional, willing to plan the placement of the jacuzzi in a difficult location. We were impressed with his "can do" attitude, and fulfillment of commitments made during the sale.
Verified 2/26/19 Werner (Mission Viejo, CA)

Great experience in my purchasing process and during delivery. Thanks, Brian!
Verified 2/26/19 Steve & Lynn (San Clemente, CA)

There was not a display of the smaller swim spa that I purchased so I thought it would be the same experience as the one in the showroom. Only when it was delivered and set up that I found it was not the same experience as the one in the showroom. I wished they had a display of this lesser quality swim spa. So I was made to exchange with a jacuzzi since I can't get a refund only exchange . Not I have a jacuzzi that I haven't used. I really want to return the jacuzzi and get a refund and forget this whole experience altogether. Can management help me with this? Thank you
Verified 1/30/19 Alex (Santa Ana, CA)

The entire process went as smoothly as possible and Brian P. was fantastic to work with. He was very accommodating, informative and followed through to the very last detail.
Verified 10/20/18 The (Huntington Beach, California)

I think that Jacuzzi brand is the top quality in this category. Without a doubt the performance of the tub is top notch. We like the fact that has a big name behind it with great warranty as well. Very knowledgeable and friendly staff. Definitely recommend.
Verified 10/19/18 The (Laguna Niguel, California)

Service was terrific. Your team wanted my business and it showed.
Verified 10/18/18 Phillip (Laguna Beach, CA)

Knowledgeable salesperson and good follow-up.
Verified 9/29/18 DeLatorre (San Clemente, CA)

Great product.
Verified 8/11/18 Enrique Nunez (Laguna Niguel, CA)

Beautiful showroom and outstanding staff put an excellent face to the Jacuzzi product line. Great followthrough on commitments by dedicated folks.
Verified 7/28/18 Steve (Corona Del Mar, CA)

Bryan has done a great job. He took the time to explain everything to us and has taken the time to follow up with us to make sure we are happy with our tub😎
Verified 7/27/18 John (Huntington Beach, California)

My wife and I ,could not be more happy and satisfied. From the beginning to the end , Actually Jacuzzi became family👍
Verified 7/10/18 Scott and Lorraine (Santa Ana, California)

I generally don't take the time to to write reviews period. In this case i am making an exception. One week has passed since I purchased my new Jacuzzi. I have repeatedly been saying to all my friends that "I wish I had done this 30 plus years ago ( I am 77 ). Jacuzzi has added a great deal to my life... sooooo relaxing in the evening... sleep sooooo much improved (and I slept very well before the jacuzzi ) for the better. I put mine on my second story covered patio ( so don't worry about the second story concept ). I have a 50" tv that can be viewed easily from the tub. Life is good and better now. I strongly recommend Brain Polanco as a Competent and courteous sales person. He did and excellent job doing his job...in short he is an exceptional young man. As a bonus the dealership will listen to your best offer...so shoot your best shot as I did.
Verified 5/16/18 Paul (San Francisco, CA)

Are you a customer of Jacuzzi Hot Tubs and Outdoor Living.?
Write Your Own Review