99%

of recent customers
recommend this business
Hot Water Productions

2511 South Townsend Avenue
Montrose, CO 81401
Phone: 970-249-2566

Montrose, CO
Hot Water Productions has been serving Montrose, Telluride and all of Western Colorado since 1985, and are dedicated to providing you with the highest quality products and service you'll find anywhere. At our Montrose Colorado showroom we offer the largest selection of spas, hot tubs and saunas in Western Colorado.

Whether it be relaxing in one of our many Spas and Hot Tubs, enjoying a soothing Finnleo Sauna, we can help make your family gatherings a joy!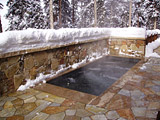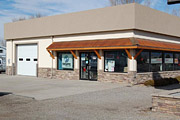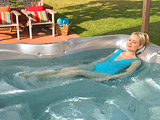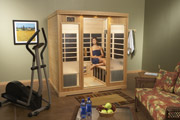 Business Profile of Hot Water Productions - Montrose, CO
Office Type:
• Sales & Service
• Installation
• Maintenance
Hours:
• Mon-Fri 9 AM-5:30 PM
• Sat 10 AM - 4 PM
• Sun Closed
History:
Established 1985
Inventory:
• Spas
• Hot Tubs
• Swim Spas
• Saunas
• Pre-owned Spas
• Water Treatment Systems
• Cover Lifter Systems
Manufacturers:
• Hot Spring Spas
• Hot Spot Hot Tubs
• Fantasy Spas
• Nespa Tiled Spas
• Finnleo Saunas
• CoverCradle
View All...
Serving Areas:
• Montrose
• Western Colorado
Customer Reviews
Awesome experience with Hot Water Productions. Zach was incredibly knowledgeable. They were able to give us a solid price on an in-stock model that allowed us to avoid the the lead times of a unit from the factory. We've loved the hot-tub! Thanks Zach!
Verified 11/10/22 Nick (Rico, CO)

They are super nice and friendly and helpful.
Verified 9/1/22 Monika (Montrose, CO)

Hot Water Productions were very easy to deal with and provided a great product.
Verified 8/17/22 Dave & Mandy (Montrose, CO)

Awesome team. Thanks
Verified 8/9/22 Ricky L (CEDAREDGE, Colorado)

Only negative is I did not receive the steps that were supposed to come with the Hot Tub at time of delivery and have yet to at this time, other than that everything was perfect.
Verified 6/8/22 Cameron (Montrose, CO)

Nick was great and they treated us very well. We live in Fruita- and we visited all the place in G.J. and we were not impressed. Hot Water Productions is awesome.
Verified 4/26/22 Tyler & Tiffany (Fruita, CO)

Excellent customer service for the last 20 years of two hot tub purchases. Thank you!
Verified 4/5/22 Dee & Karen (Montrose, CO)

Good service!! Good products!! Excellent employees!! Thank you!!
Verified 4/5/22 Rex & Denise (Montrose, CO)

I made the deal on a holiday and discovered I was out of checks for the account I wanted to use. Hot Water Productions wouldn't take my debit card, so I made a bank transfer to another account and wrote the check out of that. I asked them to hold the check long enough for the funds to transfer and for me to verify before they negotiated the check. That didn't happen, they negotiated the check the following day and it caused me some problems, I think it was inadvertent, but even though I left a voice message I never received any acknowledgment or apology. Otherwise, everything was good.,
Verified 3/12/22 Rod (Olathe, CO)

Knowledgeable staff and a great product. Service of our tub ahs always been accurate, reliable, and timely. Glad to have a valuable, local resource.
Verified 2/15/22 Bryce & Sarah (Montrose, CO)

The experience and the product have lived up to dream. They continue to provide great service and answer our questions.
Verified 1/27/22 Terry (Delta, CO)

Nick and the delivery crew were pleasant to deal with. Owner Paul was reasonable in negotiating about an electric panel, patient in explaining to me for my understanding.
Verified 7/7/21 Steven (Cedaredge, CO)

have been doing business with this company for 25 years, 4 purchases if memory serves.
Verified 3/19/21 Dr. Larry (Montrose, CO)

We have done business with Paul for 20 years and have always been very pleased with the professionalism of their sales and service. The only difficulty was this year as a result of the pandemic but they worked through that well. We only hope they can get enough product to have a productive business in spite of the challenging conditions because we would hate to see them suffer financially. Good luck. JIm
Verified 2/18/21 Jim & Suzy (Ophir, CO)

Overall, we are very satisfied with the service and the product. We are highly satisfied with the customer service, from start to finish. As far as the hot tub itself, the upside is that it is light, perfect for children, large enough to seat five but shallow enough for a 3-year old, and easy to maintain. We love the deep lounger on one side with the bench seat going the rest of the way around. The downside is that since we purchased a "plug and play" hot tub (110 volt, plugs into a standard outlet) the tub does not maintain heat the way you would expect when the cover is open. When we sit in it for more than 15-30 minutes, the temperature slowly goes down. If it is windy, we lose about 5-6 degrees in 45 minutes to an hour. Likely, we will eventually convert it to 220 eventually. Despite this, we are very pleased with our purchase and use it every single day!
Verified 6/22/20 Tracy (Hotchkiss, CO)

Excellent experience. Got us into the hot tub we wanted at a great price and made the delivery and setup easy. Thanks!
Verified 5/28/20 John (RIDGWAY, CO)

HotSprings makes high quality products.
Verified 2/10/19 Steve (Paonia, Colorado)

I came in to gather information on your tubs. After 20 minutes of looking and asking questions I wrote a check and was happy.
Verified 6/21/18 Jim (Lake City, Colorado)

Love the hot tub! However, it took a month and the water turning cloudy to finally figure it out. Read and re-read the manual so many times. Suggest more time taken with the customer to show how the controls/menus work. The installation went fine but the instructions after could use more time and instruction. The installers seemed to be in a hurry. All in all - good purchase.
Verified 3/20/18 Bob (Ridgway, CO)

Great and Friendly Service!
Verified 1/26/18 Duke & Kaye (Dolores, Colorado)

Paul was so knowledgeable. Also, thank you for filling out the registration card!
Verified 11/10/17 Dale & Laurie (Houston, Texas)

Very easy to do business with on all fronts. Product Selection, Purchase and Installation.
Verified 11/3/17 Jason (Cohasset, MA)

Friendly atmosphere with no pressure selling tactics. The product speaks for itself. The set-up crew was super helpful, friendly and made sure everything was working before leaving the location. We are completely satisfied with tub and service provided.
Verified 10/7/17 Sam & Jo Ann (Cedaredge, co)

Very knowledgeable, helpful and friendly staff who will answer all your questions.
Verified 10/7/17 Mike & Terri (Montrose, Colorado)

We purchased our hot tub on sale at a time when we were not ready to install (deck construction delayed). HWP kindly stored it for us for several months at no charge until we were ready. They coordinated the crane service to get it lifted to the upper floor deck and we now have a great addition to our home - a spa we use every day. Thanks!
Verified 12/6/16 Gary & Allison (Ridgway, co)

I am very glad to of made my purchase at the Montrose Store. This is a big $ investment and I know that they helped me find the right tub and the right price and very helpful on set up. They went above and beyond helping me.
Verified 9/26/15 Olie (Cedaredge, co)

Fantastic sales staff and the delivery personnel were outstanding in helping to get it set up just right.
Verified 7/14/15 John (Montrose, co)

From the moment we walked in the door we were impressed with the professionalism and patience provided to us. It was our first hot tub purchase and we wanted to make the right decision. We are extremely pleased with our new spa.
Verified 5/31/15 Jim & Sherry (Ridgway, co)

We were intrigued from the moment we walked in the door. It was a new experience for us, and Joe fulfilled that experience with ease from beginning to end with his likeable, friendly and personable demeanor. Any questions were answered quickly, and easily in the store or by making a quick phone call directly to him. We are looking forward to working with them and their maintenance crew as we travel down this new road with our new hot tub.
Verified 1/30/15 Phil & Sandy (Montrose, Co)

Our experience with the staff at Hot Water Productions was nothing short of great. Information was provided instantly and professionally. The tech that did the onsite set-up, Arno, was fabulous a gracious, knowledgeable, and beyond courteous service person. Thank You! Paul, Arno & Carlos.
Verified 1/10/15 Jerry & Lisa (Montrose, co)

As a customer since 2001, and purchaser of two Hot Springs spas from the Montrose store over that time, my experience is that the product quality, the sales transactions, the installation and the after-installation support have always been of the highest caliber. I have been extremely satisfied with my customer experience and would give Hot Water Productions my highest recommendation to anyone shopping for a spa.
Verified 1/9/15 Jim & Susan (Cedaredge, Co)

Hot Water Productions had a great selection and we found the perfect spa within five minutes of being in the showroom. We were given the specifications and delivery signed the paperwork and our new spa showed up a few days later just as we were promised. The whole process was simple, straightforward, and fun!
Verified 11/24/14 Nicholas (ridgway, CO - Colorado)

If a hot tub can be placed where ours was, you have to be the best in the business!
Verified 3/11/14 Kristine (Montrose, CO)

The staff at Hot Water Productions in Montrose are outstanding. They are terrific to work with and go out of their way to help.......even though we didn't purchase our tub at their store initially, we use them for supplies, etc. When we are ready to replace our current spa, we will do so with them as they are so great to work with.
Verified 2/13/14 Nancy (Grand Junction, Colorado)

Love the Jacuzzi!
Verified 11/29/13 Gig (Ridgway, CO)

Your great!
Verified 9/12/13 Rex & Denise (Montrose, Colorado)

Hot tub works great!
Verified 9/12/13 Bill (Gunnison, Colorado)

Thank you!
Verified 9/12/13 Russell (Delta, Colorado)

Set up and delivery was great. We were trained on using/operating and taking care of our spa cover.
Verified 9/12/13 Wayne (Delta, Colorado)

I LOVE my hot tub!!!
Verified 9/12/13 Christine (Montrose, Colorado)

We are very happy with our hot tub.
Verified 9/12/13 Mike (Montrose, Colorado)

Thanks again you all ROCK!!
Verified 9/12/13 Becky (Montrose, Colorado)

Are you a customer of Hot Water Productions?
Write Your Own Review