100%

of recent customers
recommend this business
Hot Tub Central.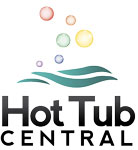 1770 Hooper Ave
Toms River, NJ 08753
Phone: 732-255-2200

Toms River, NJ
Looking for the best deals on hot tubs? Well, look no further! At Hot Tub Central, we understand how vital a hot tub can be to a person's overall lifestyle. They can help reduce symptoms of arthritis, help promote good sleeping patterns, reduce stress, ease aches and pains, and so much more! That's why we pride ourselves on offering high-quality, superior brands such as Sundance® Spas, at such reasonable prices. Not to mention the quality our customers receive when they invest in a Sundance® Spa! They can expect many, many years of an unbeatable hot tub experience, right in the comfort of their New Jersey backyard! And don't forget to ask us about our referral program!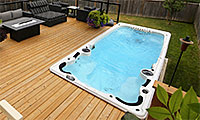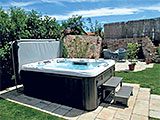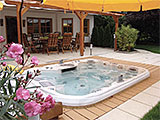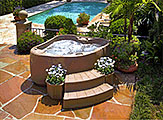 Business Profile of Hot Tub Central. - Toms River, NJ
Office Type:
• Sales & Service
• Installation
• Maintenance
Hours:
• M, T, TH, F 10AM-5PM
• WED by Appt. Only
• SAT 11AM-4PM
• SUN 12PM-4PM
Inventory:
• Hot Tubs
• Swim Spas
• Hot Tub Covers
View All...
Manufacturers:
• Sundance® Spas
• Dream Maker Spas
• Hydropool Swim Spas
View All...
Service Area:
• Toms River
• Brick
• Lakewood Township
• Manchester Township
• Berkeley
• Howell
• Barnegat Township
• and surrounding areas
Customer Reviews
I felt like I was doing business with a relative. Very professional and made the purchase very smooth. I would recommend purchasing from this store location.
Verified Customer Michael (Toms River, NJ)

Everyone at hot tub central is great. From Steve and his wife, to George and the other delivery guys. Great price, very knowledgeable and friendly. 10 out of 10.
Verified 8/9/19 (Brick, )

Ashley and the staff of hot tub center were very helpful in helping fix and repair and older hot tub. Ashley was very knowledgable and put in 100% extra effort to get the job done i would highly recommend them for service and sales
Verified 8/7/19 eric

Ashley was wonderful! She was so nice and patient with me since I knew NOTHING about hot tubs. She did a great job and I feel comfortable now with our you tub!
Verified 7/25/19 Christine (Brick, Nj)

Excellent job of the team thank you very much!
Verified 7/16/19 Jason (Tabernacle, Nj)

Ashely was very professional!
Verified 7/11/19 AJ

We are very happy with our new hot tub. There's a problem with the panel but Ashley came right out the next day and identified the problem and will replace it.
Verified 7/8/19 Don

Ashley who did our repairs on our Sundance Jacuzzi did a great job. When the first pump did not work she was on the phone with sundance for over an hour trying to get it to work and found out they sent a bad pump. She came back the following week and put the new one and our Jacuzzi has been running great. I highly recommend Hot Tube Central for your next Jacuzzi.
Verified 7/6/19 Denise (BROWNS MILLS, NJ)

Delivery incomplete, 7wks still no stereo system, plug release valve for draining tub defect. Still inoperable
Verified 6/20/19 Margaret (Toms River, New Jersey)

Best choice ever! Good selection and customer service. You will love yours too!
Verified 6/14/19 ROBERT (Cream Ridge, NJ)

Had a very good experience with Hot Tub Central. Staff was very knowledgeable and informative. I would highly recommend this establishment.
Verified 5/23/19 Margaret (Toms River, NJ)

We decided to get a hot tub and after shopping around we found Midia at Hot Tub Central. I could not be happier with the level of service, professionalism and the pricing that Midia and their team provided us. Midia guided me to the tub that would work best for my family and we selected a Bullfrog hot tub. We have spent more time in the hot tub than I would have thought as we go in almost every other day. I have a bad back and have found great relief from tired and ache back muscles. We purchased an aftermarket sanitization unit (ecosmarte) that utilizes no chemicals but which presented some difficulty in getting hooked up. This was not Hot Tub Central's responsibility but Ashley their service tech came out multiple times to make sure we got it hooked up correctly and assisted my guy to get it integrated with the hot tub system. The friendly and professional staff at Hot Tub Central went above and beyond to make my hot tub experience a very positive one. I would recommend them to anyone looking to get a spa.
Verified 4/29/19 Stephen (Lincroft, NEW JERSEY)

Staff has been wonderful!
Verified 3/29/19 Camille (Beachwood, NJ)

When we changed our minds about the lid, you came right away to ensure our satisfaction.
Verified 2/16/19 Stephen Sanders & Christine (Belmar, NJ)

Painless Purchase--Owner was helpful had all the answers and followed through with her promises.
Verified 2/11/19 Patricia (Lavallette, NJ)

For anyone interested in purchasing od servicing their Spa, Hot Tub Central exceeds your customer expectation. They are professional, knowledgeable, punctual,honest, passionate and their experience level exceeds anyone I ever dealt with. Strongly recommend to anyone. I am a lifelong customer to Hot Tub Central in Toms River. Five Stars.
Verified 1/7/19 (Manahawkin, New Jersey)

My hot tub was purchased in June of this year.(& we LOVE it) I called Midia to discuss moving it (& /setting it up) to a new location that we will be living at for a year before weather got any colder. She was able to do it the day after I called. The movers were timely & excellent. I can't wait for the water to heat up to start using it again.
Verified 12/5/18 MJ (Point pleasant Beach, NJ)

Amazing experience! No pressure. knowledgeable staff. Answered all questions, didn't feel obligated to purchase.
Verified 11/13/18 STEFANY (Toms River, NJ)

Very pleased with our hot tub purchase. Great customer service. So helpful.
Verified 11/9/18 ROBERT & JUNE (Toms River, NJ)

Had an old spa I wanted repaired. They walked me through the costs to repair and showed me a new spas which was delivered same day. knowledgeable people. Great value for the money.
Verified 10/30/18 rudy (toms river, NJ)

Very Professional and prompt. Highly recommended Media is the Best Thanks
Verified 10/30/18 Bryan (Point Pleasant, New Jersey)

Ashley is always awesome and does a great job
Verified 10/22/18 Doreen (Toms River, Nj)

Impressed and extremely satisfied is an understatement! The owner, Midia, was kind, friendly, patient, knowledgeable, and extremely helpful since I knew nothing about hot tubs. You can't beat the service and I will be a lifetime customer for those reasons. She even came to my house Labor Day weekend to hook up the hot tub and show me how to use and take care of it. I highly recommend this store if you are in the market for hot tubs. The service alone is impeccable! 
Verified 10/17/18 Robin (Toms River, NJ)

I purchased a Sundance in 1990; it worked great until Hurricane Sandy split it! Chose Hot Tub Central for quality, service, and price.
Verified 10/9/18 MARY JEAN (PT Pleasant Beach, NJ)

Strap on cover broken during installation & never repaired. Other than that, good experience.
Verified 10/9/18 ALISON & MARK (Manahawkin, NJ)

Nice product display in showroom. I am very satisfied with service after the sale.
Verified 10/4/18 DAN & JOAN (HAMILTON SQUARE, NJ)

Very professional and knew products very well. Didn't push us to buy.
Verified 9/29/18 DONNA & JOE (Dayton, NJ)

Our salesperson was honest, helpful, knowledgeable, and definitely influenced our purchase decision. Overall an Excellent Experience!
Verified 9/29/18 MARY ANN & JOHN (Brick, NJ)

This is one company that believes in service and customer satisfaction. The purchase of our hot tub was something out of our comfort zone. The entire staff made it a painless experience. BRAVO TO ALL OF THEM
Verified 9/25/18 Myron (Freehold, nj)

Hot Tub Central. responded:
"We thank you for choosing us for your purchase. It is our pleasure to know that you are enjoying your hot tub! Always call on us to anything you might need."



Love it!!! This is a high quality hot tub!!! The jets are therapeutic and the lights give great ambiance. Delivery very fast. The owner Midia is a great person and best professional. 😍😍😍 I and my husband are very pleased with our purchase so far. Highly recommended shopping with Hot Tub Central.
Verified 7/10/18 Fernanda

I have had a Sundance Hot tub for 10 years. I always dreaded the service piece of my tub. Recently, I called Brittany of Hot Tub Central. Her response to my service inquiry was immediate. She guided me thru the diagnosis and ordered the part immediately. Brittany set the service expectation and delivered big time. I am happy that I found a business that truly cares about their customers. I have three hot tub stores closer to my house near LBI, NJ, but I will drive to Toms River because the level of service is exceptional. If you are frustrated with your hot tub service provider... call Brittany.
Verified 7/2/18 Anthony (LBI, NJ)

It was a pleasure purchasing a new spa from Midia and her team including Dave for delivery and Ashley in getting us set up. They were extremely helpful, friendly and professional, we definitely recommend Hot Tub Central.
Verified 6/5/18 Sven

We always wanted a hot tub and almost bought one from Costco. After we did some research and visited some stores we were really confused until our visit to Hot Tub Central. We were greeted by Midia with a big welcoming smile and right away put us at ease. It was refreshing to finally talk to a person who wasn't trying to just sell us something. She took the time to answer all of our questions and listened to our family needs. The delivery was on time and they came to our home to make sure everything was done to our satisfaction and helped us understand everything about our new hot tub. Thank you and yes go there before you buy.
Verified 6/1/18 Vladimir

Midia, our salesperson and owner was terrific. Her pricing and sales business model were easy, informative and resulted in a quick sale. She also included a free lift, upgraded cover, Spa stairs and side mounted stainless steel grip railing for easy access. She came to our home to ensure the site was accessible to her crew and would be safe for us to place it on our deck. The delivery crew was experienced and worked hard to ensure all was correctly fitted including our top lift. Midia visited us after installation to ensure everything was done correctly and that we were pleased. She also gave us a short course on spa maintenance, water testing, and remedies of correcting water quality problems. She also provided us with a kit consisting of over 12 reagents to maintain our spa. All materials were high quality. We have been enjoying our Sundance tub nearly every night.
Verified 5/23/18 Eric & Joanne

Are you a customer of Hot Tub Central.?
Write Your Own Review