100%

of recent customers
recommend this business
Hot Spring Spas of Kansas City.

9136 Marshall Drive
Lenexa, KS 66215
Phone: 913-599-6700

Lenexa, KS
Hot Spring Spas of KC was established in 1997. Since then we have only carried the world's leading, most innovative and best-in-market products – Hot Spring Spas. Our company's goal is to "Make Everyday Better" for our customers through knowledgeable sales staff, trained service technicians and honesty.

Before you buy, our friendly and knowledgeable sales team will ensure that you are getting the hot tub that's the right fit for you. Each customer is treated as an individual with individual needs. We realize that no product is one-size-fits-all.

After you buy, our trained technicians, water care specialists, and customer service team provide the best post-purchase service in the industry. Our service goes beyond hot tubs. We can handle a variety of pool service needs from equipment replacement/repairs to weekly valet service. Our promise to you, our customers is; "Our relationship does not end when the product is purchased, that is when our relationship truly begins!".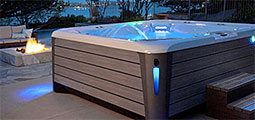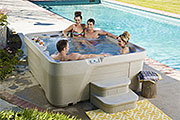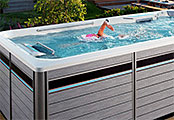 Business Profile of Hot Spring Spas of Kansas City. - Lenexa, KS
Office Type:
• Service & Sales
• Delivery & Installation
Hours:
• Mon-Fri 10am–6pm
• Sat 10am–3pm
• Sun 1pm–5pm
Inventory:
• New & Used Hot Tubs
• Swim Spas
• Cover Lifters
• Spa Supplies
• Chemicals
• Supplies
Manufacturers:
• Endless Pools
• FreeFlow
• HotSpring
• Leisure Concepts
• Baquacil
View All...
Serving Areas:
• Kansas City
• Olathe
• Overland Park
• Lees Summit
• Smithville
View All...
Customer Reviews
We appreciated the quality of service after we had our hot tub. They followed up to make sure we were happy!
Verified 12/13/19 ANDREW & CASSIE (St Joseph, MO)

Very nice staff. Awesome knowledge of product.
Verified 11/8/19 JACKIE (Emporia, KS)

This is our 3rd Hot Springs tub. They have all been very good and designed well for all season use.
Verified 11/8/19 CHARLES (Kansas City, MO)

Ryan was great. No pressure to buy at all.
Verified 11/6/19 GLENN & JACKIE (Emporia, KS)

We owned a hot tub about a month and it got struck by lightning. Hot Springs service was out within 3 days and got us running again. I can call and get advise when we need it. We were very satisfied with the quality of the spa.
Verified 11/4/19 KEITH & DEBBIE (WELLSVILLE, KS)

Good service. Product had good energy and efficiency.
Verified 11/2/19 MICHAEL & KRISTEN (Olathe, KS)

Good size of tubs. Had past experience with the dealer.
Verified 10/28/19 DARIN (LANSING, KS)

Great price and service.
Verified 10/26/19

Adam was most helpful in the purchase and after purchase setup as well as water quality trouble shooting! Delivery crew was professional!
Verified 10/12/19 JEFF & ALLISON (Kansas City, KS)

Our new hot tub leaked onto our carpet. Sales staff was apologetic and replaced the defective part immediately.
Verified 9/16/19 BILL SANTA (Stilwell, KS)

Adam was an awesome salesperson and took care of us through the entire process.
Verified 8/14/19 CHRIS (LENEXA, KS)

Great experience. Amazing hot tub. Great price and financing. Delivered to exact location and received help setting up! I would recommend to everyone!
Verified 8/14/19 TREVOR (Kansas City, MO)

Ryan, you were so great! You answered all my questions, encouraged me to research on my own. I did and was impressed. The sales process was so smooth! I love my hot tub!
Verified 8/14/19 JENNIFER (Overland Park, KS)

We were very happy with the entire process, we had in mind what we wanted already so when Adam sat with us and showed us different products it made it easy to chose. Adam was extremely personable and knowledgable and we trusted him with our decision making. He also came out once we had the tub filled to go over everything with us the first time, we appreciate that a lot! I would highly recommend Hot Spring Spas, it is the customer service when all is said and done, it is the most important thing in making any large purchase! They got it going on at the Olathe store!
Verified 8/9/19 Diane (Rich Hill, MO)

Chose you for your customer reviews. Quality product.
Verified 8/3/19 BRAD (Overland Park, KS)

Chose to do business with you because of our previous experience with Hot Springs Spas
Verified 7/26/19 KEITH & DEBBIE (WELLSVILLE, KS)

Quality product. Convenient location.
Verified 7/26/19 TERRY (LENEXA, KS)

Good product knowledge - Full service experience.
Verified 5/18/19 JENNIFER (Olathe, KS)

Quick availability
Verified 5/6/19 BEN (Lenexa, KS)

We absolutely love the tub. It's much improved over the one we had years ago.
Verified 4/29/19 JUDY & LEO (Paola, KS)

Delivered tub in pouring rain even though I asked them to reconsider. Got stuck in mud and left driveway covered in clay. Took all day to powerwash.
Verified 2/14/19 ROB (Village of Loch Lloyd, MO)

Good product and service.
Verified 1/31/19 TRENT & HEATHER (LAKE QUIVIRA, KS)

Saw your reviews. Also Ryan was fantastic.
Verified 1/23/19 TED (Lenexa, KS)

Chose Hotspring Sioux Falls because of your reviews. Ryan was great.
Verified 1/18/19 STEPHANIE (Kansas City, MO)

We LOVED the fact that no one was pushy. Very good at explaining ALL of the options. Let us decide. Very knowledgeable.
Verified 1/16/19 SUSIE & CLINT (OVERLAND PARK, KS)

I was not knowledgeable about chemical upkeep and was the only negative. When I called about green water, I was told how to fix it.
Verified 1/14/19 CINDY (KANSAS CITY, KS)

Great people, great spas! We've had ours for over 5 years and love it!
Verified 10/16/18 Patrick

We purchased our first hot tub from Hot Spring Spas a few months ago. I worked with Adam throughout the entire process and could not be happier. From walking in the door, to picking out the hot tub that was right for us (he was no-pressure - just wanted to make sure we got the right hot tub for us - which I really appreciated), to taking a test soak with my wife in the store (don't be shy!), throughout installation, to now - just coming in to get more chemicals every month or so Adam has been there every step of the way. Questions about delivery? Call Adam - he's on it. Questions about chemicals or water readings? Email Adam - he's on it. We wanted a shelf that would either stand next to or affix to the hot tub itself to hold drinks - guess what? I walked in one day and Adam took me into the supply garage and got me the perfect shelf that I attached onto the hot tub myself. The actual hot tub installation crew were quick and professional setting up the hot tub in the backyard - they even moved it about an inch near the end to make it PERFECT - a small thing but when you're putting something in that heavy I really appreciated them being patient with us and lining it up just right. Adam recommended an electrician that did the hard wire from the hot tub to the electric panel - the guy couldn't have been more thorough and professional and everything is working great. From my first step into the store my experience has been a positive one. I want to thank everyone for making this first hot tub purchase a smooth and stress-free experience.
Verified 9/21/18 Andy

Great place for all of your spa needs.
Verified 7/10/18 Tony

Fantastic shopping experience. We worked with Ryan who was extremely patient with us in answering all of our questions throughout the entire process from initially walking through the door, to installation questions and after taking delivery. Delivery of our Limelight Flash was quick and painless and everybody worked as a team. Each and every one of them made sure I was happy with every aspect of the delivery and set-up. After the sale service has been outstanding as well.
Verified 4/29/18 Matthew

It's in my nature to research every spa available. I also visited every local spa showroom. I knew right away that Hot Spring spas were going to be leading the pack in quality. What we didn't know is that they would also lead the pack in service. We worked with Ryan Romsland and he was so very patient in answering all of our questions as we are first time spa owners. Our install crew was top notch and so polite and courteous. The service we have received after install is amazing! Ryan even made a stop by our house to help us get everything up and running during our stressful move. We are Hot Spring spa owners for life!
Verified 2/17/18 Stacey

We purchased our spa about 6 months ago from Adam. I researched, read about, and looked at every spa in the Midwest and decided to purchase from Hot Springs Spas of KC. The deciding factors were the spa quality, their knowledge, and customer service. There is no doubt we could of bought cheaper spa, but its not always about saving money. We wanted someone we could call if we had questions, had a problem, or just needed advice on chemicals. We have called about all the latter and were not disappointed. The only regret my wife and I have was not buying a spa years ago. Thanks Guys!
Verified 1/14/18 Jeff

This was my experience buying and owning a hot tub and Adam made everything so simple, and even when the store wasn't open, he was available to ask questions. Great customer service and I'm very happy so far with the whole process, start to finish. I would highly recommend Adam and his team!
Verified 12/22/17 Nicole

Are you a customer of Hot Spring Spas of Kansas City.?
Write Your Own Review