100%

of recent customers
recommend this business
Explore USA RV Canton 05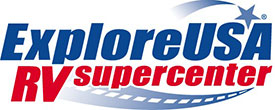 22719 IH 20
Wills Point, TX 75619
Phone: 903-865-1130

Wills Point, TX
Explore USA RV Supercenter offers a premier RV experience as a one-stop shop for all your RV needs. If you're considering purchasing a new RV, our inventory includes a wide selection of new and used models, as well as frequent specials offering discounted prices.

Our service center, staffed with highly experienced technicians, provides full service assistance for RVs and other towables, and can conduct any necessary maintenance or repairs.

We serve our customers with an honest approach to sales and timely service & support. Our goal is for you to enjoy your travel and build family memories that will last a lifetime!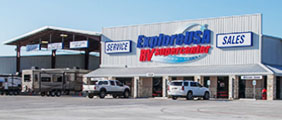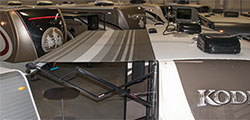 Business Profile of Explore USA RV Canton 05 - Wills Point, TX
Office Type:
Service & Sales
Hours:
• Mon-Fri 9AM-7PM
• Sat 9AM-6PM
• Sun 11AM-4PM
Service:
• Mon-Fri 8AM-5PM
• Closed 12-1PM for Lunch
• Sat-Sun Closed
Inventory:
• RVs
• Travel trailers
• Fifth wheels
• Toy haulers
Languages:
• English
• Spanish
Manufacturers:
• Heartland
• Palomino
• CrossRoads
• Dutchmen
• Redwood
• VanLeigh
Serving Areas:
• Canton
• Wills Point
• Cedar Grove
• Edgewood
• Myrtle Springs
• Wentworth
Customer Reviews
We are extremely UNHAPPY with the trailer we received. It was supposed to be a new trailer off the line but the condition it was in when we received it was closer to used. We were extremely HAPPY with our salesman, Jimmy. He was and has been awesome to work with.
Verified 5/9/18 Rick (Denison, Texas)

Great group of folks who we dealt with. From the sales person to the delivery crew.
Verified 5/7/18 Frank (Allen, Tx)

Brandon and the staff have been great, especially because we are first time owners. They have been patient. Thank you
Verified 4/7/18 Jerry (Rockwall, Tx)

We were very impressed at the RV show with salesman, Tim. He was very knowledgeable, honest, kind and extremely helpful. The financial guy-Matt was no games-upfront kind of person--very easy and stress free. At our training the day we picked up the RV, Justin was absolutely thorough, patient, and so willing to share his vast skills and workings of the RV --top to bottom. Carrie, who does the paperwork, was very sweet and made sure everything was perfect. We would not hesitate to recommend ExploreUSA. You will have a great experience. Wonderful people!
Verified 11/9/17 Kathleen and Calvin (Trenton, TX)

The sales staff was knowledgeable and friendly. I was a little disappointed in the trailer after I used it the first time. Small things that were not done when it was built makes me wonder about the big things that you can't see. I had to fix a lot of things on the travel trailer myself the first time I went camping. The final inspection of the trailer should be better done before it is signed off at the factory. All in all my wife and I like the trailer. Hopefully what is left to be fixed will be done right at the dealer when I take it back.
Verified 10/21/17 MICHAEL (CEDAR HILL, TX)

This is our second unit to purchase from Evan at Explorer. We had a great and very fun experience. Evan went above and beyond getting us into the right fit for our family. We absolutely love our new Fifth Wheel.
Verified 10/4/17 DAVID (CANTON, TX)

Professional sales personnel, very friendly and knowledgeable, extremely helpful, overall excellent and courteous staff.
Verified 10/4/17 DONALD (TERRELL, TX)

Coming from a similar field, I appreciate great customer service. Derick, our sales representative was fantastic to deal with and he listened to what we needed. He is top notch! Tracy, the GM, was honest and straight forward in the pricing & financing which allowed for a smooth transaction. Then at delivery Keri, Ricky and Even capped off an overall fabulous experience. I am also very grateful for Jason helping us get the accessories we needed during his lunch time. Everyone was extremely nice and professional. Thank you all & God bless you every one!!
Verified 10/4/17 JAMES (WHITEOAK, TX)

Very good experience. We love our new camper, and can't wait to start making memories . Every one was friendly . Thank you
Verified 10/4/17 ERNEST (ALBA, TX)

9/8/17: I really enjoyed the sales Tim provided and found it a pleasure to work with Explore USA. I am on the other hand having worry issues about a warranty issue that I HOPE the service is handling on my unit. I owned a Paint and Body shop as well as working for Ford Dealer for 27 years and I ALWAYS stressed to my service department manager that QSC was VERY important contact with updates to our customers. I reported an issue with my unit to your service, sent the required items requested, waited and after a week called your service back and they requested some more photo items, then the next day received email from your service they received and would file and after one week still no update. I had planed on calling again next week then received this email. I would REALLY like to know the status. I understand that in the service business it can all at once pile up. I am not upset and it is not a major issue, my concern is if and when I have an issue is this how it would be handled. Well said enough if you get the chance could you check with your service on my issue. I will be awaiting your response. Thanks, Richard Mabry<>< 903.262.8280
Verified 9/8/17 RICHARD (TYLER, TX)

Great to do business with! Tracy and Stephen great at what they do!
Verified 8/3/17 BARRETT (CLARKSVILLE, TX)

Are you a customer of Explore USA RV Canton 05?
Write Your Own Review