83%

of recent customers
recommend this business
Explore USA RV Alvin02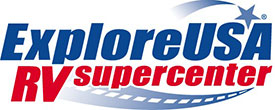 23538 West State Hwy. 6
Alvin, TX 77511
Phone: 855-351-5595

Houston, TX
Explore USA RV Supercenter offers a premier RV experience as a one-stop shop for all your RV needs. If you're considering purchasing a new RV, our inventory includes a wide selection of new and used models, as well as frequent specials offering discounted prices.

Our service center, staffed with highly experienced technicians, provides full service assistance for RVs and other towables, and can conduct any necessary maintenance or repairs.

We serve our customers with an honest approach to sales and timely service & support. Our goal is for you to enjoy your travel and build family memories that will last a lifetime!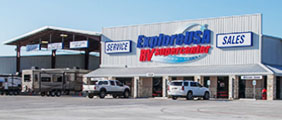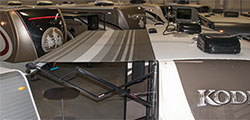 Business Profile of Explore USA RV Alvin02
Office Type:
Service & Sales
Hours:
• Mon-Fri 9AM-7PM
• Sat 9AM-6PM
• Sun 11AM-4PM
Service:
• Mon-Fri 8AM-5PM
• Closed 12-1PM for Lunch
• Sat-Sun Closed
Inventory:
• RVs
• Travel trailers
• Fifth wheels
• Toy haulers
Languages:
• English
• Spanish
Manufacturers:
• Heartland
• Palomino
• CrossRoads RV
• Dutchmen RV
• Redwood RV
• VanLeigh RV
Serving Areas:
• Houston
• Sugar Land
• Pasadena
• The Woodlands
• League City
• Baytown
Customer Reviews
Our salesman was amazing. The 3 week wait to get our camper is not. The 1 am text for a review is unacceptable.
Verified 8/7/18 ROBBY (BRAZORIA, TX)

Top notch outfit . Everyone I dealt with was polite and helpful beyond what was expected . Will buy another from them again.
Verified 8/7/18 BARTH (KATY, TX)

Initial sales followups were pushy and aggressive. Mixed information on product options and accessories.
Verified 7/16/18 Donnie (Freeport, TX)

Had to bring rv back after one use to address some warranty issues. Dewayne in service was able to get rv in and hopefully turned around so we can use again. The issues were in fabrication not with the dealership.
Verified 7/5/18 JAMES (SWEENY, TX)

Had to bring rv back after one use to address some warranty issues. Dewayne in service was able to get rv in and hopefully turned around so we can use again. The issues were in fabrication not with the dealership.
Verified 7/5/18 JAMES (SWEENY, TX)

The overall quality of the R22Rb was good. Outside is good, but the interior details lack an attention to detail. Cabinet doors hung crooked, latches not straight in alignment, rough edges, staples not completely inserted,
Verified 6/24/18 Stan (Bay City, TX)

I had "Mac" as my salesman. I came in for a camper that was listed at $25-something on their website. He told me that was a "cash only" price and if I wasn't paying cash, it was actually $34-something. That is quite the difference. I negotiated with him and we agreed that OUT THE DOOR I would only be paying $31,000. TOTAL. Out the door means that is it, including everything like tax title etc. I still ended up paying close to $34,000 in the end! He acted confused when i brought up the "out the door" agreement for $31,000. DURING the sales process my mother called to ask about a similar RV (as I had sent her pics of the one I wanted) and she was told by a different salesman that the price on the website IS the price. She asked him if it was cash only or something and he said no they don't do anything like that, the price online is the price. So we confronted Mac about this while I was there, he even talked to my mother on the phone and gave us both the run around and said that the other sales man was wrong and "shouldn't be answering the phones". My husband wanted the camper and told me to just get it, so I did. But then the next day another friend of mine called and spoke to a 3rd sales man who also said the price on the website IS THE PRICE. So basically we were lied to. DON'T TRUST THESE PEOPLE! Or at least don't go to MAC.
Verified 5/23/18 Leia (League City, TX)

We absolutely loved explore usa from our sales associate to the service department!
Verified 4/8/18 Jae and Chantelle (Hitchcock, Texas)

Very professional sales staff. Super clean offices. Great location.
Verified 4/8/18 Michael (Pasadena, Texas)

Professional Service
Verified 12/5/17 ADAM (BEAUMONT, TEXAS)

I received excellent service. The manager was prompt with supplying answers to my questions. The salesman was attentive to all our needs in buying an RV and the service department was assuring that all issues would be taken care of that was needed.
Verified 11/18/17 Adam (Beaumont, Texas)

Very good experience overall. Mr Landry was very knowledgeable with products and helpful in finding the one that was perfect for our family. The whole sale experience was great! The pickup was a bit of a mess. Paperwork was just given to sign (then finance papers were not even ours) The walk thru was confusing to first time buyers (do not believe the person had done one before), and the brake control to be put on our truck while paperwork was processed took extremely long time (the workers said they did not have access to power tools to get work done. We were at site longer than we were told to expect. But overall, we love our camper and look forward to vacations in the future. (We are living in camper while home is repaired due to Harvey Disaster and it has totally fit our needs!!!!!!!
Verified 10/17/17 Gaylen (Houston, TX)

We are first time RV owners. They are very helpful with everything and extremely patient with us.
Verified 7/31/17 Fage / Lisa Foster (Missouri City, TX)

We showed up and the same day we bought! Very easy transaction!
Verified 7/30/17 Jeromie

I am a price/value shopper and probably drove my sales rep, Brent Garrison crazy for over a month looking at and comparing RV's. He was patient and answered all my questions. I finally settled on one that was exactly what I wanted, and negotiated a very fair price. There was some miscommunication (partially my fault for not reminding Brent) on a particular add on feature that I needed. He discussed the problem with his GM and they made it right. Their willingness to work with me made all the difference in the world to me and my buying experience. I will recommend them to everyone interested in purchasing an RV and plan on being a repeat customer. This is how good business is done.
Verified 6/24/17 Carol

I purchased a Prowler Lynx at Explore USA in Alvin and have nothing but good things to say about the company and my purchase. My salesman, Michael Redmond, was very knowledgeable about the trailer and made the purchase very easy for us. After looking at new and used trailers extensively, we felt ExploreUSA had the best trailer for the price. Everything was explained to us before the purchase about when the trailer would be available. I was told there would be a 10 day wait which actually turned out to be 7. The pick-up initiation tour was performed by Jeremy, who really knew his stuff. Jeremy answered all our questions satisfactorily and made adjustments to my hitch to ensure the trailer was properly connected. I did have a couple of issues after I got the trailer home, a bent stove-top grill and slight leak with kitchen faucet. Both were barely noticeable and I can see why they weren't picked up during the trailer prep. Both of these issues were resolved quickly with the help of Jason Michaels and JT. Jason was a huge help and always made himself available to me even when I just "dropped in" to discuss the two trailer issues. I read the reviews I saw on Google before I went to the dealership, some great, some not so great. I was impressed that the General Manager Justin Massey actually addressed some the reviews with concern and made offers of possible resolutions. I made a point to ask Michael (Salesman) about the "not-so great" reviews and was satisfied with his candid and honest responses. Overall, I felt the dealership went out of their way to meet my needs and I won't hesitate to purchase from them again and refer them to anybody.
Verified 6/11/17 Daryl (Friendswood, TX)

Outstanding product line, great staff and excellent post-sale service. What more could you ask for? Our sales person Brent Landry took care of us like we were family. Justin Massey, the General Manager, sought us out, introduced himself and checked on the "deal" to ensure we were satisfied. A pleasure doing business with Explore RV. I've purchased previously from 4 other RV companies. They were good too but Explore RV truly knows how to treat customers.
Verified 5/5/17 Mike

I recently purchased a Redwood travel trailer from Explore USA in Alvin, Texas. My sales advisor, Brent Landry, was knowledgeable, attentive, and most of all, patient. He was willing to show me as many units as needed to find the perfect one for me. When I stepped into this particular Redwood it didn't seem okay. It wasn't just nice. It felt like home. It was two weeks later that I finally decided to make the purchase. I shopped other dealers. I took family by to see the Redwood. I went back alone to review what I might have missed before. All that time Brent was there to assist and answer questions. No pressure. No sales tactics. Two thumbs up for Brent Landry and Explore USA.
Verified 5/1/17 Carl

Are you a customer of Explore USA RV Alvin02?
Write Your Own Review