World Gym of Dallas, OR
887 Main St
Dallas, OR 97338
Phone: (503) 623-4440

Dallas, OR
World Gym of Dallas is a gym for everyone. We don't place importance on image, but rather on tailored fitness goals. Our members are a community of like-minded folks, not simply participants.

World Gym offers nearly 15,000 square feet dedicated to fitness activities, including a rock climbing wall, sauna, tanning beds, and a huge variety of fitness equipment. In addition to a broad selection of group classes, our individual personal trainers can help you with general fitness or specialty needs. Or, if you're a private person who prefers to work out alone, you'll find that our facility is laid out to maximize your privacy. Stop by and see first-hand how we can help you meet your fitness goals!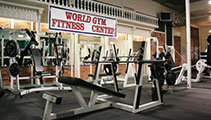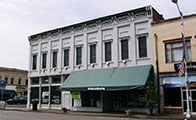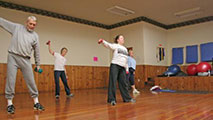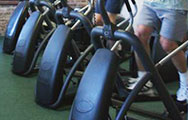 Business Profile of World Gym of Dallas, OR
Hours:
• Mon-Thu 8 AM - 8 PM
• Fri-Sat 930 AM - 530 PM
• 24 Hr Access for Members
Owners:
John & Jackie Lawson
Activities & Services:
• Personal Trainers
• Exercise Equipment
• Weights
• Climbing Wall
• Sauna
• Tanning Beds
• Group Classes
Classes:
• Zumba
• Spinning
• Pilates
• Yoga
• Dance Fit
• Gorilla Warfare
• SilverSneakers Classic
Customer Reviews
Love the atmosphere. Great place to work out!
Verified 11/11/17 Misty (Dallas, Or)

Just joined first day today. Great place,nice people,clean gym.
Verified 8/8/17 Barry (Monmouth, Oregon)

I love the 24hr. access. It fits my needs perfectly. The only actual complaint I have is that it appears that a lot of the younger members need to be reminded to rack their weights and pick up after themselves.
Verified 5/8/17 (dallas, or)

Love having the support of the staff and how friendly and attentive they are!
Verified 5/5/17 Alesha

Personally, World Gym is the best gym I have found in Polk County area. I started coming here as a college student since December 2016 through a Chemeketa college PE program. All the staff on board and the owner David with his wife and daughter are super nice, friendly, and helpful when you have a need advice or question about exercising or weight management stuff, etc. Every time I go in there the staff that work the front counter have a warm welcome and greeting and I always enjoy chatting with them when I'm on the main floor if theyre around. For a facility thats over 130 years old, this historic place is very well taken care of and the owner David has kept it in really good shape and the place has good workout equipment. Anyone who's wanting and/or searching for a gym to be sign up at or be in a program, I would highly recommend World Gym.
Verified 3/19/17 Malik

Easy access.
Verified 2/20/17 Sean

Never crowded. Mostly good equipment. 24/7 access. Convenient location.
Verified 1/13/17 Patricia

Good owner, good equipment and good people!
Verified 10/10/16 Nick

The owners and staff are helpful. If they don't know an exercise they look it up. I appreciate that I am shown a variety of exercises the correct way. The gym/showers are clean and neat. I feel that I am in the right place, encouraged, especially when I don't want to workout! Thanks WG, Dallas,OR.
Verified 4/27/16 Debbie

Great Gym! My first trip to this gym was in back in 2004. I particularly love the diversity and the constant upgrading of all of the equipment. Some of the equipment is so new I wasn't sure how it worked, but their extremely helpful staff is always eager to show the proper way to use each machine. The 24 hour access lets me workout on my schedule. No better Gym in all of Oregon!
Verified 5/22/15 Matthew

Great gym, great prices, great people, lots of passion :)
Verified 4/19/15 Steve

They have awesome staff and great classes. I would recommend it.
Verified 4/19/15 Vanessa

I have been a member of World Gym for awhile now. This last year they have really stepped it up. I love the Fit 212 classes and the teacher's Shae and Kylie are GREAT!!! Very spacious, equipment works, all around great gym.
Verified 9/16/14 Kami

The thing that i like most about World Gym Dallas, is the environment. It is not like the typical 24 hour gym, it is more of a family gym. Everyone is friendly and helpful! And the classes are AMAZING! There is definitely not a better place around!
Verified 9/11/14 Kylie

I love everything about this gym! The staff! The kick butt classes! And all the rooms for privacy! Truly something for everyone under one roof!
Verified 9/8/14 Megan L.

World Gym is a pretty great gym in Dallas. They have all the equipment and friendly staff you can find. They offer classes now like zumba, pilates, kickboxing and yoga. The only thing I'm not a fan of is their hours. They open and close at different time every day. Other than that this gym is number one in town!
Verified 3/17/12 Seth

Are you a customer of World Gym of Dallas, OR?
Write Your Own Review