100%

of recent customers
recommend this business
Chesapeake Spas
2806 Solomons Island Rd.
Edgewater, MD 21037
Phone: 800-974-8827

Edgewater, MD
Chesapeake Spas & Hot Tubs has been serving customers in Marilynd for nearly 30 years. In the early 80's we opened the doors of our first showroom, and since then we have grown to offer one of the largest selections of portable spas and leisure products. We offer the full product line of Hot Spring Spas, Hot Spot Spas, Weber & Napoleon Gas Grills, Big Green Eggs, Helo Saunas, Outdoor Furniture, Hammocks and more.

Our friendly sales staff have many years of experience in the spa industry, and their no-pressure approach will make your visit pleasant and educational. We can also come to your own home and help evaluate your choices on location and the models that would best suit you. Call or visit our store to learn more and see our new spas that are hot and ready!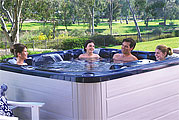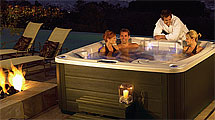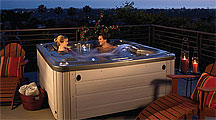 Customer Reviews
After years of struggling with my pool opening ,maintenance & closing the staff at Chesapeake Spas has simplified pool ownership. Through quality water testing and recomendations with Biogard products its simple to own a pool. Thank you Chesapeake Spas.
Verified 5/4/18 Ralph L (Edgewater, Maryland)

You had the product we were looking for and were willing to work with us to get it.
Verified 3/29/18 Ashley & Kristen

You guys are GREAT!
Verified 2/15/18 Marilyn

The delivery men cut the outside panel and inside shell of the spa. They blamed the factory. We were told they could easily fix/repair it - not exactly what we were expecting with a new spa. They twice came to our residence while we were not home - which I emailed/asked to please be called when they would arrive. Asked three times for products which were promised - told we could come out to pick up if it was more convenient. Very disappointed with the customer service!
Verified 12/18/17 (Odenton, MD)

My purchase was a great experience! I highly recommend the Hot Springs spa. We have had our spa for five years and still enjoy the quality! I did have a small problem and Brock took care of the warranty work immediately. Chesapeake spas has excellent customer service and even more importantly stand behind their product!
Verified 4/6/17 Cindy

Completely satisfied with entire experience. as a ret. veteran Dave treated us First Class. Brock also very helpful. Great Staff
Verified 9/6/16 Henry

Years in business was most important to us!
Verified 7/30/15 Tony and Stephanie (Severn, Maryland)

The entire experience was excellent.
Verified 12/23/14 Amanda (Fulton, MD)

Not only does Chesapeake Spas sell the best charcoal and gas grills with exceptional staff knowledge and customer service, but they also have the best selection of grilling accessories and supplies I've seen among similar stores in this region. They also have a very decent selection of outdoor accessories and decorative garden accents. The great prices allow me to pick up a few different things whenever I stop by.
Verified 8/23/14 Melvin (Edgewater, Maryland)

SALESPERSON VERY HELPFUL. DID NOT HAVE SPA WE WANTED AT ANNAPOLIS STORE BUT FOUND IT IN ANOTHER STORE.
Verified 8/6/14 TOM & CAROL (HOLLYWOOD, MD)

NO FOLLOW-UP TO SEE HOW DOING
Verified 8/6/14 RALPH (DAMERON, MD)

WE LOVE OUR HOT TUB
Verified 7/25/14 JEFF (LEONARDTOWN, MD)

THIS LATEST PURCHASE IS OUR 3RD JETSETTER AND WE LOVE IT. CONTROLS ON TOP ARE WONDERFUL.
Verified 7/25/14 Mark (PORT REPUBLIC, MD)

GREAT EXPERIENCE
Verified 7/25/14 TIM (ANNAPOLIS, MD)

THANKS FOR THE CANDY
Verified 7/25/14 PAULA (BOWIE, MD)

JUST GREAT
Verified 7/18/14 CHARLES (PASADENA, MD)

WE ARE THOROUGHLY ENJOYING THE HOT TUB. THANKS FOR THE CANDY,TOO.
Verified 7/11/14 MICHAEL (MANTEO, NC)

ATT IN ALL AREAS
Verified 7/3/14 STEVE (Arnold, MD)

HARRY WAS A PLEASURE TO WORK WITH. CLOSE TO MY HOME PLUS WIDE SELECTIONS I REALLY LIKE MY HOT TUB
Verified 7/3/14 VICTORIA (HARWOOD, MD)

REFERRAL FROM FRIEDN GOOD PRICE
Verified 7/3/14 KARIN (ANNAPOLIS, MD)

QUALITY/KNOWLEDGE PRICE
Verified 7/3/14 MIKE (LAUREL, MD)

PREVIOUS CUSTOMER
Verified 7/3/14 TREY (WEST RIVER, MD)

Thorough knowledge of products & options. Security of working with knowledgeable, reliable people.
Verified 7/3/14 Dona (Crofton, Maryland)

Knowledge of product Integrity of sales personnel Thanks for the fudge!
Verified 7/3/14 Steve (Arnold, MD)

RELIABILITY CUSTOM SERVICE
Verified 7/3/14 STEVE (Arnold, MD)

QUALITY STYLE
Verified 7/3/14 MARY (BELTSVILLE, MD)

GOOD PRIOR EXPERIENCE
Verified 7/3/14 TREY (WEST RIVER, MD)

Steve Davis was very professional and gave outstanding service. His product knowledge exceeded our expectations.
Verified 6/12/14 Michael (Owings, Md)

Friendly, informative service when you're making your decision and once you do buy, the installation was quick and professional. Always there to answer any questions that pop up about taking care of the tub afterward,too!
Verified 4/18/11 Amy

Longstanding Reputation - We are very happy with our hot tub. Thank you for working with us to find the right one!
Verified 2/23/10 Bryan (Odenton, MD)

Steve Davis was very professional and gave outstanding service. His product knowledge exceeded our expectations.
Verified 2/23/10 Michael (Owings, MD)

Are you a customer of Chesapeake Spas?
Write Your Own Review