100%

of recent customers
recommend this business
California Cooperage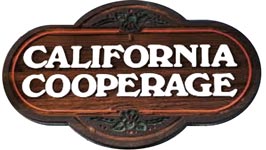 3035 Broad St.
San Luis Obispo, CA 93401
Phone: 805-544-3565

San Luis Obispo, CA
California Cooperage first opened its doors in 1974 as a redwood hot tub manufacturer providing tubs to central coast icons such as Sycamore Hot Springs. Since 1982, California Cooperage (aka California Spas and Hot Tubs) has been the Central Coast leader in retail sales and service of spas, billiards and game room furnishings. We service & repair Jacuzzi Hot tubs, MAAX spas and all Coleman spas built between 1983-2008.

We are family owned and operated, and we pride ourselves in customer satisfaction, service, quality products, honesty and integrity.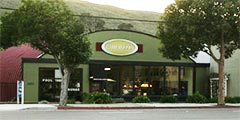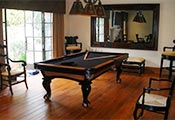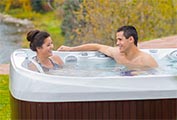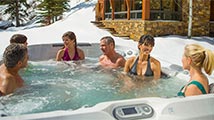 Customer Reviews
21 years of doing business with Cal Cooperage, and they never disappoint. They are honest, not pushy, and are reliable! This is the second spa we have bought from them, which says a lot about just how good they are. Paul and Scott, Mark -- all the kind of people you will want to deal with. Highest recommendation!
Verified 6/25/18 Beth (Creston, CA)

Extremely knowledgeable. Excellent customer service. Thanks for helping get the spa hot and bubbling.
Verified 6/3/17 Marty

They were helpful and worked with me in getting the pad and electric for the hot tub. They have been helpful after the sale when I have had questions about the chemicals.
Verified 12/21/16 (san luis obispo, ca)

This could not have been a better experience for us. I did a lot of research before buying this spa and visited several dealers and I am so glad I picked Cal Cooperage for this purchase. I recommend them highly. Scott and Paul are great to deal with.
Verified 9/3/16 Lanny (Templeton, ca)

Very willing to help us. Friendly. Would recommend to others.
Verified 5/1/16

Superb product knowledge & friendly sales environment.
Verified 5/1/16 Dan

Don't let the store fool you... Top quality products & salespeople.
Verified 5/1/16 Tom

Chose you for your long term reputation.
Verified 5/1/16

Knowledgeable salesperson. Well rated product.
Verified 5/1/16 Laurie & Steve

Price was right and the after sale service and help was excellent.
Verified 5/1/16 Tom

I always like doing business with local companies. Paul helped me decide on what I needed. Also, I am a big believer in "right time, right place." I had a good feeling about the place.
Verified 5/1/16 Bill

Chose to work with you because of your reviews.
Verified 5/1/16

Excellent service and knowledge, friendly local, professionally long term people & business. Great sale. Trustworthy & listened to our needs.
Verified 5/1/16 Marie & Michael

Chose to work with you for your reputation.
Verified 5/1/16 Rolando

Paul has been so helpful & patient, answering all questions that concerned me.
Verified 5/1/16 Martha

Waited 18 years for a tub. Got the best one! Best service! Best Price! Have already recommended you to others! Thank you for the Brownies!!
Verified 5/1/16

This is our second hot tub from California Cooperage in SLO. They are friendly and professional. They have dealt with the few SMALL problems that we've had with our tubs very quickly and very effectively.
Verified 5/13/15 Gary (Orcutt, CA)

This was the 4th spa store that I had visited in my quest to replace an old spa. The knowledge, professionalism, and courtesy of the salesman (Paul Hodgson), plus my knowledge of the product reputation made it easy to make my purchase from this store.
Verified 12/19/14 Robert (Santa Maria, Ca)

Are you a customer of California Cooperage?
Write Your Own Review