100%

of recent customers
recommend this business
Aquatic Spas

1757 North Nova Road, Unit 111
Holly Hill, FL 32117
Phone: 386-672-6019

Holly Hill, FL
At Aquatic Spas, our focus is on selling high quality hot tubs and spas along with the supplies you need to support them. These hot tubs are built to last with quality workmanship and features that add an extra level of enjoyment. We sell discounted spa and hot tub covers as a separate item and they are included in a complete package with every hot tub we sell. We also stock spa and hot tub supplies: all the products you need to keep your tub running well. We carry a full range of cleaning supplies, water filters, chemicals, and replacement parts, along with the knowledge of what is needed and how to best use them with your spa.

We've opened a new showroom in Holly Hill, Florida, with a display of fully functioning hot tubs so you can see them in action for yourself. Call 386-672-6019 and stop in for a look around.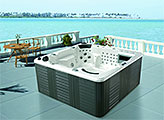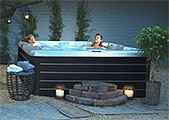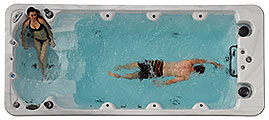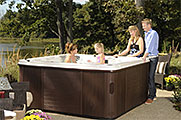 Business Profile of Aquatic Spas - Holly Hill, FL
Office Type:
• Service & Sales
• Installation
Hours:
• Mon-Fri 10AM-6PM
• Sat 9AM-4PM
• Sun Closed
Inventory:
• Hot Tubs
• Swim Spas
• Spa Supplies
• Hot Tub Covers
Manufacturers:
• American Whirlpool
• MAAX Spas
• PowerPool
• Viking Spas
Serving Areas:
• Daytona Beach
• Ormond Beach
• Port Orange
• Palm Coast
• Holly Hill
View All...
Customer Reviews
Jim and Nicole Carmany just opened their location for Hilton Head SC area and they delivered on everything they said they would and more. We are very satisfied with the product and with the service. The installation and followup instructions were great! American Whirlpool is a very user friendly product. Will be great hydrotherapy and the maintenance will be very easy.
Verified 11/28/19 Jim & Deb (Bluffton, SC)

It was a pleasure doing business with you from beginning to end of this purchase. You helped us to understand many things we did not know about spas and then you guided us to a successful purchase. Delivery and setup were quickly achieved and we are so very happy with the whole experience...we will (and have already!) recommended Aquatic to our friends. My wife says that she feels better physically over the last several days than she has in many years! Thanks!!!
Verified 2/7/20 Robert (Bluffton, SC)

Jim was excellent. He gave us a good price and explained everything about the 451 model.I had owned a hot tub up north and did not want another tub with blown insulation because it is very difficult to work on when a problem happens.This model has better insulation and much easier to work on. I also liked that Jim was the salesperson and also installed the tub in my home.He went out of his was to do a great installation job.My wife and I are very happy with the entire process. If you want a hot tub,talk to Jim he will take very good care of you. Russ
Verified 2/6/20 Russ (Bluffton, SC)

Great Experience Overall. Doug helped in overall spa education and selection of the correct spa for our needs Ordering and Delivery of the spa was excellent and we have thoroughly enjoyed using the spa this winter. Thank you Very Much !!
Verified 1/29/20 GEORGE (ORMOND BEACH, FL)

Shopping center needs an upgrade and someone needs to clean up the parking lot, etc. Doug was wonderful. Extremely helpful and knowledgeable about the products. Helped steer us to a model that met our needs. Very accommodating on delivery timing. Excellent installation and product training. Wonderful dealership!!
Verified 1/16/20 Merrick (Daytona Beach, FL)

Jim was so helpful, responsive and no pressure to buy. We loved all our interactions and our new hot tub!
Verified 1/15/20 Monica (Hilton Head Island, SC)

This is the very best customer service I have ever received!! What a great buying experience. Jim is a man of his word. He is always available and always does what he says he will do. This makes me feel really happy with my Spa purchase.
Verified 12/23/19 Jason (Rincon, GA)

I must say, Doug was very knowledgeable and very willing to answer all my questions. Actually came out twice to look over the situation.
Verified 11/19/19 Carol (Ormond Beach, FL)

They had exactly what I needed.
Verified 11/14/19 Jannal (Daytona Beach, Fl)

Doug was great
Verified 10/23/19 David

The "4" for the quality of the product is because I haven't used it long enough to make a decision.
Verified 9/18/19 Dave (Ormond Beach, Fl)

Quality product. Impressed with dealers relationship with development.
Verified 9/13/19 ED (Daytona Beach, Fl)

Knowledgeable owner.
Verified 8/26/19 Charlotte (Daytona Beach, FL)

Everyone at Aquatic Spas was extremely helpful. The prices of their spas were best in the area. They came installed it on time. They have some money saving tips. I bought the 8 person hot tub and use it almost everyday. I set the temp low 96 during these hot days and still enjoy the jets running on my sore body parts. Our family and friends enjoy relaxing in our spa. If you are going to get one please go to Aquatic Spas on Nova. George Steffensen
Verified 8/15/19 George (Daytona Beach, Fl)

Good price and quality
Verified 6/26/19 Bill (Palm Coast, FL)

Doug listened to what features were important to me in a spa then offered a couple of options and asked what he could do to gain my business.
Verified 5/15/19 Darlene (Daytona Beach, FL)

Good reviews and convenient location.
Verified 4/30/19 Sue (Ormond Beach, FL)

We love our spa and Doug and his team were awesome! Thanks for the great spa buying experience!
Verified 4/26/19 Barb (Daytona Beach, FL)

What an awesome buying experience! Doug was extremely professional and we will definitely recommend his business to our neighbors and friends! Thank you!!
Verified 3/29/19 Barb (Daytona Beach, FL)

Quality product
Verified 3/12/19 Jean (Daytona, FL)

Doug was a very knowledgeable sales person AND installer. He went out of his way to ensure we were satisfied with the installation and worked very hard to accomplish that.
Verified 3/6/19 Kathy (Palm Coast, FL)

Doug is always pleasant and helpful, great place to do business with.
Verified 3/5/19 Alan

Highly recommend! Prior to going to Aquatic, we went to another local dealer and we're dismayed. We walked into Aquatic Spas and knew right away that we were going to buy a spa there. Doug was not sales-pitchy and was also very professional. He knows his product, the electrical requirements, and the installation was perfect! We now have a great quality spa. Definitely a 10 out of 10 and five-star experience.
Verified 3/5/19 Anne (Port Orange, FL)

Fantastic and very dependable! Mrr. Carmany was extremely knowledgeable and helpful. He goes the extra mile to ensure you're satisfied. HIGHLY recommended and would do business with him and Aquatic Spas again!
Verified 2/28/19 Ed and Jeannie (Bluffton, SC)

Quality product at a fair price
Verified 2/26/19 Darren (Okatie, SC)

Only day 2 with the new type. And so far, so good.
Verified 2/21/19 Thomas (Ormond Beach, FL)

every step went great. love our new hot tub. Thanks to Doug and his staff.
Verified 2/9/19 George (Daytona Beach, FL)

every step went great. love our new hot tub. Thanks to Doug and his staff.
Verified 2/9/19 George (Daytona Beach, FL)

We are very happy with our 261 spa. Doug was very knowledgeable about the product and steered us in the right direction to purchase a spa that was right for us. Doug was also available via phone to answer my questions.
Verified 1/11/19 Walt (Palm Coast, FL)

Good service and price.
Verified 12/26/18 Lawrence (Port Orange, FL)

It was a pleasure to work with Doug and his sales staff at Aquatic Spas. They were very helpful in assisting us with our first spa purchase. Delivery and placement and hookup was very smooth. Doug explained how to work everything.
Verified 12/18/18 Jim (Ormond Beach, FL)

Doug sold us the spa on Friday (very knowledgeable), delivered it on Saturday. After setting it up there was a problem. Went back to the showroom, took the part out of display model and came back on Sunday.
Verified 12/15/18 Mike (Palm Coast, FL)

Salesman very knowledgeable of product. Quality product
Verified 12/12/18 Ellen (Port Orange, FL)

Doug sold us the spa on Friday, delivered it on Saturday and there was a problem. He went back to the showroom, took the part out of a display model on the floor and came back on Sunday. Now that's customer service!
Verified 12/6/18 Mike (Palm Coast, Florida)

We could not be happier with our new spa. Just wish we would have gotten a bigger one. Doug was fantastic and very knowledgeable. I highly recommend Aquatic Spas!!
Verified 11/21/18 Marcie (Palm Coast, FL)

Good price, size, and quality
Verified 11/15/18 Ricky (Palm Coast, FL.)

We are very happy with our hot tub. We have been using it almost every day since we purchased. Doug delivered our hot tub the very next day that we purchased it. He is a nice guy and very knowledgeable. We like to buy from a small business whenever possible.
Verified 11/15/18 Angela (NEW SMYRNA BEACH, FL)

Awesome experience from start to finish. Doug really knows his products
Verified 11/8/18 Walter (Daytona Beach, FL)

Couldn't be happier! My new spa is awesome and I enjoy getting out of bed everyday to go have a soak!! Sales team and delivery person were professional, courteous, and very knowledgeable!
Verified 11/5/18 Barbara (Deland, FL)

Doug was excellent to work with. He was very concerned about the delivery and installation. Doug even did a courtesy follow-up call to make sure everything was okay.
Verified 11/3/18 Patrick (Port Orange, FL)

Doug was great from the beginning and after the spa was delivered.
Verified 8/21/18 Larry (DeLand, FL)

Doug was a pleasure to do business with. Was very knowledgeable and courteous in all our dealing. Timely and prompt service would definitely do business with in the future.
Verified 8/20/18 Troy (Port Orange, FL)

Doug was very professional from the moment of introduction when my wife and I first went into his store and on to the delivery date of our spa. Doug knows his stuff and we appreciate him guiding us to the best unit for our needs. Thanks Doug!
Verified 8/7/18 Steven (Palm Coast, FL)

Thank you for making this process easy. You have been a great resource and extremely professional.
Verified 7/30/18 Gena (Palm Coast, FL)

Previously owned a Vita Spa and was very happy with it.
Verified 7/27/18 A

Quality product. Local business.
Verified 7/20/18 Kimberley (Ormond Beach, FL)

Doug is very knowledgeable and does a superior job from sales thru delivery
Verified 7/11/18 brian

Doug was outstanding to work with and very knowledgeable of product and install.
Verified 7/4/18 Charles (Palm Coast, FL)

I went looking for a spa for relaxing in and found it at Aquatic Spas on Nova road. Worked with Billy and Doug who helped me get an electrician, the install was perfect, thanks.
Verified 6/30/18 William (Ormond Beach, Florida)

great people who are very helpful and knowledgeable
Verified 6/27/18 Brian (Port Orange, FL)

Awesome service, Doug is fantastic, delivery was a little more complicated than anticipated, Got the job done, did not ask for any extra money, this is the place to do business. Doug is a man of his word. Could not be happier with purchase and service.
Verified 6/15/18 Earle (Ormond Beach, Florida)

Top quality product. Very professional. Jim followed through on everything he said. We'd definitely recommend this wonderful spa, and the dealer and salesman!!
Verified 6/4/18 Jill & Jim

From the first phone call to Jim and until the spa was set up and delivered was a smooth experience. Jim couldn't be more helpful and very knowledgeable about this great product. We are very happy we chose Aquatic Spas of FL and American Whirlpool!
Verified 5/14/18 Jill (Bluffton, South Carolina)

It was a pleasure doing business with Doug. He answered all questions and was very professional. We love it!!!
Verified 5/9/18 Michelle (Edgewater, FL)

Good product quality and sales experience.
Verified 4/25/18 Lynn (St. Augustine, Fl)

Chose you because of your customer reviews about service/delivery. Comfortable design. Stays hot w/out much electric. A lot of color choices. Great delivery and performance. No surprises. Thank you!
Verified 4/21/18 Len (Oak Hill, FL)

Aquatic Spa sold us our new hot tub. It was a perfect experience from start to finish. Doug told us the price included everything and it did that and more. Delivered on time, set up was flawless. Doug educated us and provided absolutely everything we needed or wanted. The tub is amazing and I couldnt recommend this company more.
Verified 1/30/18 Steve

We had our old spa for 20 years which just sat there and was never used. We found Doug and Aquatic Spas on Google and decided to check out new spas to see if that may be an option for us. After meeting Doug and seeing the vast selection including a fountain feature we decided to buy and have been in the spa every night since we received. We loved the entire experience and told our friend who also purchased and is waiting for hers to be delivered. Doug went above and beyond and we recommend him highly
Verified 8/22/17 Sheryl (DeLand, FL)

Doug is amazing!!!! So glad I did my research before hand. One stop shopping!!! With awesome service and delivery!!! If you are looking for quality products and service, I highly recommend seeing Doug at Aquatic pools and spas in Holly Hill, FL.
Verified 8/6/17 Teri

Ditto on the review posted. Doug has the best quality hot tubs at a good price. Outstanding customer service....he helps you make the right choice for you and doesn't try to push you to buy. We are thrilled with our purchase and definitely encourage anyone considering a hot tub to shop around and NOT purchase one until you visit Doug at Aquatic Spas...then you will see what we are talking about. Thanks Doug...we are thrilled with my Mother's Day present!
Verified 5/27/17 Lynn

We went Hot Tub Shopping last week and Aquatic Spa was the 1st place that we stopped. Doug (the owner) was extremely friendly and knowledgeable. There was no hard sell, but a lot of good information. We left and returned after shopping 4 other stores to buy a gorgeous Hot Tub at a very good price. Although we did find less expensive you get what you pay for. QUALITY. Hot Tub was delivered as promised yesterday. I highly recommend Aquatic Spa for their professionalism and service!!! He does offer Hot Tubs in a wide range of prices also.
Verified 4/23/17 Robert

Are you a customer of Aquatic Spas?
Write Your Own Review