100%

of recent customers
recommend this business
Tailored Living Serving Pittsburgh

300 Old Pond Rd. Ste. 206B
Bridgeville, PA 15017
Phone: (412) 514-5321

Bridgeville, PA
Tailored Living featuring PremierGarage is a family-owned and nationally supported company that helps simplify the lives of busy people. We design and install highly functional and attractive spaces including epoxy flooring, garage cabinetry as well as closets, home offices, murphy beds, utility spaces, and more. We are well-known for using the latest 3D design software to display what your finished storage solution will look like, and work closely with you through every step, from design and measuring to installing the final product.

For flooring projects, we use special tools designed to test for moisture and evaluate surface conditions, allowing us to choose materials that will bring many years of easy maintenance and good looks to your floor. Contact us for a free in-home consultation!

TAILORED LIVING'S HISTORY
The story of Tailored Living began in 2006 with the launch of Closet Tailors. Soon thereafter, Home Franchise Concepts acquired the PremierGarage brand and relaunched Closet Tailors under the new name of Tailored Living to better describe the brand as a whole home organization company.

Based in Orange County, CA, the visionaries behind Tailored Living are the same five friends and entrepreneurs who founded Budget Blinds in 1992. Over time, and by combining their industry experience and people skills, they grew Home Franchise Concepts and its family of brands into what it is today a leader in the home improvement services industry.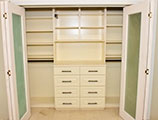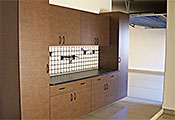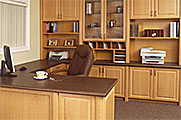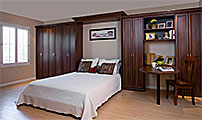 Business Profile of Tailored Living Serving Pittsburgh - Bridgeville, PA
Office Type:
Sales, Installation
Owners:
Rogerio and Tatiana Galante
Hours:
By Appointment
Manufacturers:
• Premier Garage
• Tailored Living
Inventory:
• Custom Cabinets
• Garage Cabinetry
• Closets
• Home Offices
• Murphy Beds
• Utility Spaces
Serving Areas:
• Pittsburgh
• South Fayette
• Mt Lebanon
• Upper Saint Clair
• Bridgeville
View All...
Customer Reviews
Cannot trust these people!!! They did not read the directions and did not install the tiles according to the manufactures directions, and they refuse to correct! Run! Beginning May 14, 2018 my garage floor has started to buckle and this company refuses to adjust the edge tiling so their is a gap to allow for expansion and contraction. This is complete negligence, and such a dis-service. I have a new floor that is now ruined!
Verified 5/18/18 Sandra (Pittsburgh, Pennsylvania)

Sales rep was extremely polite and knowledgeable. We also found the installers to be very proficient and helpful, especially in putting our appliances back.
Verified 12/20/17 Mark (BETHEL PARK, PENNSYLVANIA)

Rogerio and his team are very professional, efficient, and polite. Products have a great quality. Price is good. We are very happy with our new office, and with the garage floor. Highly recommended!
Verified 11/2/17 H.

Bob was very professional, friendly, and great to have in my house.
Verified 10/6/17 Debra (Carnegie, PA)

Worked hard to finish in time frame. Great Job!
Verified 10/6/17 Jennifer

Bob the installer was very courteous and did an excellent job. Very satisfied.
Verified 10/6/17 James

Excellent crew. Work together very well. Cares about final product. We absolutely love this floor! Very happy. Workmanship is excellent. Very organized and detailed. Thanks for a great job!
Verified 10/6/17 Brad

Bob is a master! He was able to install and provide my vision! He is an asset to your company.
Verified 8/18/17 Janet (Finleyville, Pennsylvania)

From start to finish everyone we met was very professional and we are very satisfied with the final product.
Verified 7/12/17 Ted and Tracee (Pittsburgh, Pennsylvania)

World Class service from start to finish! Price value is outstanding- installation crew was amazing- Kind/ Trustworthy and very professional! Highly recommend this company and service!
Verified 7/10/17 Maripat and Wurl (Sewickley, Pennsylvania)

Everyone was great!
Verified 7/10/17 John & Ann (Cranberry Twp, PA)

Salesman and workers were very friendly and polite. Work was done timely and looks great.
Verified 7/10/17 Shirley & Donald (Coraolpolis, PA)

Rogerio is the best, his team represents the company well.
Verified 5/31/17 Ed (Canonsburgh, PA)

We are thrilled with our custom garage - working with Rogerio, Tatiana and their team was a pleasure. Great people & a great product.
Verified 5/30/17 Tom (Wexford, PA)

The garage floor has only just been completed but it looks great. Rogerio and team were great to work with -- very responsive and professional.
Verified 5/14/17 Mark & Shelly (Wexford, PA)

Professional
Verified 4/17/17 Harold Ivery (Westland, PA)

Better than expected. Lots of organized space! Very pleased...
Verified 4/6/17 Carol (Murrysville, PA)

We found Rogerio and Bob to be honest and trust worthy. We were comfortable with them in our home. We know we will enjoy our new built-ins. They look great!
Verified 4/6/17 Pam (Canonsburg, PA)

Everyone did a great job! Outstanding work and a really good looking finished job. Helpful and hardworking, friendly and knowledgeable. I give them A+ and would high recommend them.
Verified 4/6/17 Robert & Helen (Moon Township, PA)

Rogerio & his team did an excellent job. Very nice people to work with. Loved the finished product. Our garage looks great!
Verified 4/6/17 Suzanne & Adnan (Wexford, PA)

Are you a customer of Tailored Living Serving Pittsburgh?
Write Your Own Review