100%

of recent customers
recommend this business
Spa-Warehouse.

6019 Olivas Park Dr. Suite A
Ventura, CA 93003
Phone: (805) 654-9000

Ventura, CA
We choose to carry PowerPool Swim Spas, Bullfrog Spas, and American Whirlpool Spas for the same reasons our customers choose them: revolutionary technology, quality construction, advanced hydrotherapy, and long-term ownership. Each of our spa brands are manufactured in the U.S. and made from components that are manufactured in the U.S. This means that these components have a known history and reputation, and are easy to repair or replace, if need be. Every component of our spas is a known quantity, as are the reputable companies that manufacture them. These spas have very strong warranties and we stand behind them with our service.

We have many spas in stock to select from in our showroom and warehouse. There are over 30 different American Whirlpool-made models and 18 Bullfrog Spas. We will help you to choose the spa that best fits your needs, from your chosen location to your personal hydrotherapy profile. We practice warehouse pricing in our showroom and in our actual warehouse next door. We purchase at a discount tier that allows us to offer you the best prices right from the start. Our price structure is very straightforward, and we offer fair prices for outstanding products.

We offer a no-cost on-site inspection to you prior to placing the order for your spa. We do this to determine accessibility for the delivery by our technician. In special cases, we assess whether a crane might be required to place your spa on delivery. We have diligent, careful and courteous delivery technicians that will install your spa at your site location. We will explain the maintenance process and usage of your new spa and answer all your questions.

Call or come to our showroom and see the spas for yourself. We welcome you to actually try the spas and swim spas out with your family. It's an important investment and it's a great idea to experience the spas for yourselves.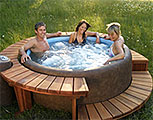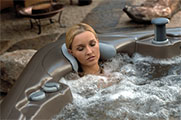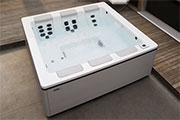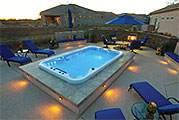 Business Profile of Spa-Warehouse. - Ventura, CA
Office Type:
• Sales & Service
• Delivery
Hours:
• Mon-Fri 10AM-6PM
• Sat 9AM -5PM
• Sun Closed
Products:
• Hot Tubs
• Swim Spas
• Portable Spas
• Liners
• Supplies
• Chemicals
Brands:
• American Whirlpool
• Bullfrog
• Softub
• Vita Spas
• Softcare
View All...
Serving Areas:
• Ventura
• Malibu
• Thousand Oaks
• Oxnard
• Agoura Hills
View All...
Customer Reviews
Jim is knowledgeable helpful and pleasant. I bought a soft tub from here about 10 years ago and have been going here for supplies and help since then. I've always gotten good service and called whenever I had an issue. They also have larger hot tubs now and prices are good, service is great.
Verified 1/25/18 Keith

Bought a softub there 16 years ago and it still works like new. Sprung two hose leaks because the plastic hose ends at the pump got hard and split but I just cut them back an inch to the soft stuff, used two new hose clamps for aesthetic reasons and it was good as new. Great product. Chemicals are expensive but a hot tub is a luxury item so I can't complain just like I can't gripe about the cost of owning my Benz. If you want something nice you pay the freight and shut up.
Verified 4/9/17 Lonnie

I wish I could give Ten stars! This is the only hot tub company anyone should consider if they what to get everything right the first time. Thank you for my Swim Spa Coastal Softub.
Verified 3/12/17 Victoria

Friendly and knowledgeable
Verified 2/27/17 Robert

Are you a customer of Spa-Warehouse.?
Write Your Own Review