94%

of recent customers
recommend this business
Marquis Spas - Beaverton

8775 SW Cascade Ave. Suite A6
Beaverton, OR 97008
Phone: (503) 684-6110

See our other locations:
Beaverton, OR
At Marquis Company Stores, our goal is to enhance our customers' lives by providing quality, value-based products in a pleasant shopping environment. You can feel comfortable knowing our customer satisfaction guarantee and price-match policy helps ensure every purchase you make at Marquis will be your best decision. The friendly staff at Marquis Company Stores are experts in the hot tub field and can offer tips, advice, and an unmatched base of knowledge. At Marquis Company Stores, we are employee-owned, which means everyone has a vested interest in the quality and service that you receive. Our hot tubs are proudly manufactured in Oregon by fellow employee-owners, and it really shows when you see the quality, fit, and finish of the spas we produce. We encourage you to stop in to one of our stores and see the Marquis difference.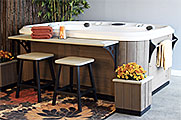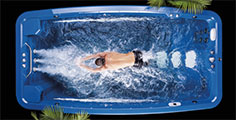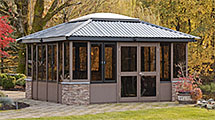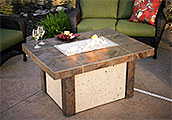 Business Profile of Marquis Spas - Beaverton
Office Type:
Service & Sales
Hours:
• Mon-Fri 10am-6pm
• Sat 10am-6pm
• Sun 11am-5pm
Inventory:
• Hot Tubs
• Swim Spas
• Gazebos
• Outdoor Fire Tables
Manufacturers:
• Marquis
• Outdoor GreatRoom Co.
• Visscher
Serving Areas:
• Portland
• Salem
• Vancouver
• Beaverton
• Hillsboro
• Lake Oswego
View All...
Customer Reviews
Great experiences with customer service here. Calls returned promptly, appointments met and they stand by their product.
Verified 12/5/16 Michael (West Linn, OR)

The entire Marquis Spas team has been incredibly helpful, knowledgeable and supportive over the 12 years since we purchased our Oregon-made hot tub from them. From sales, parts and repairs, we always feel supported and appreciate the professional, "customer-first" service we receive. We have learned the best way for them to help us is to provide the most information possible when we have a maintenance question (pictures, notes of symptoms, etc). I recommend Marquis of Beaverton without hesitation.
Verified 11/29/16 Betty (North Plains, OR)

We went hot tub shopping today replacing our 20 year old buddy. I must say I spoke to sales people at three different businesses and all were very nice and helpful. Dean at Marquis has been in the industry for a long time and was very knowledgeable and informative. The product is in our view superior to other products out there. We are excited to get our new tub, I just wish it was being delivered tonight with hot water in it!
Verified 11/6/16 Janice (Manzanita, OR)

We purchased a Marquis Spa six years ago when we built our new home. The jets had a manufacturing defect that began to show up the first year. The folks at Marquis have been very easy to work with to replace these jets as they failed. I appreciate a company that stands behind their product and takes care of their customer. I also appreciate the 10% off that I receive as a customer for maintenance supplies.
Verified 4/26/15

Have a 2008 Marquis Rendezvous model. Works excellent and I've had zero problems over the last 7 years of ownership. Great company and great product!
Verified 4/26/15 Zak

Always helpful and great hot tubs!!!! I would recommend them to anyone in search of one.
Verified 3/28/15 Tony

We use the Frog Refresh Kit and it works great, just change them out as directed and the hot tub stays clean. We drain the water about every 4 months.. Store is always very helpful with questions.
Verified 2/26/15 Drissana

THANKS FOR THE FUDGE!
Verified 6/12/07 JED (DAMASCUS, OR)

THE LEAD DELIVERY PERSON DID A GREAT JOB.
Verified 5/22/07 ROBERT (SHERWOOD, OR)

WE ARE VERY IMPRESSED WITH SALES PEOPLE AND DELIVERY CREW
Verified 5/22/07 JEAN & DENIS (ALOHA, OR)

THANK YOU NOEL FOR ALL OF THE HELP!
Verified 4/17/07 MARTIN & KAREN (NEWBERG, OR)

THE STAFF IN SALEM WAS GREAT WITH MY MANY QUESTIONS! THEY ALWAYS ANSWERED AND HELPED!
Verified 4/17/07 BRAD (MCMINNVILLE, OR)

AS A NEW SPA OWNER, I REALLY APPRECIATE JIMS HELP. HE EVEN OFFERED UP HIS CEL # ON HIS DAYS OFF
Verified 4/17/07 KEVIN & CYNTHIA (PORTLAND, OR)

Are you a customer of Marquis Spas - Beaverton?
Write Your Own Review