95%

of recent customers
recommend this business
Mustang Homes and Land

1405 N University Avenue
Lubbock , TX 79415
Phone: 806-765-6331

Lubbock , TX
Mustang Homes and Land has been serving the South Plains, TX, area since 1969. With an A+ rating from the Better Business Bureau, we are your best source for Skyline, Schult, Fleetwood, Platinum Cottages, CAVCO and Clayton Manufactured/Modular homes. We have Land and Land/Home Packages available as well, and can also build you a Custom Home.

Our experienced sales staff, great selections of <400 to >3000 sq-ft manufactured and modular homes, competitive financing sources available to you, proper state inspected installation, and full time staff service personnel are all great reasons to visit Mustang Homes and Land.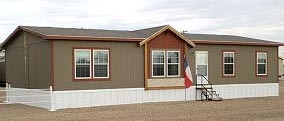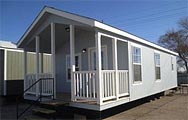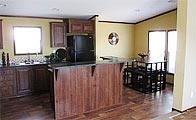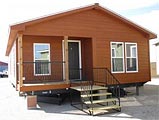 Customer Reviews
Everyone was nice & helpful. We did not feel pressured or stranded - very pleasant experience! We LOVE our home!!
Verified 8/7/17 Dusty &

Mustang Homes & Land packaged the perfect house for me. The quality is high and the price is low.
Verified 7/28/17 Janet (Lubbock, Texas)

Lied about everything, it's a piece of crap
Verified 7/4/17 Jimmy (Brownfield, Texas)

Sandy was awesome to work with. Didn't show us homes above our budget . Prompt on getting back to us and always made sure we understood everything. She made for a pleasant experience.
Verified 12/7/16 Laura

Low pressure sale.
Verified 11/18/15 Paul (Shallowater, TX)

Great experience with Mustang Homes. Very friendly and helpful. Only thing I would add is the people you hire, just pick up trash at home. Would recommend to others!!!
Verified 11/14/15 Jimmy (Carlsbad, NM)

As a senior (77 years) my wife and I truly appreciated all the time that was given to us by Mustang in explaining all details concerning the sale and setting up the home for us.
Verified 11/12/15 Billy (Slaton, TX)

Everyone is super nice and helpful.
Verified 11/3/15 Linda (Lorenzo, TX)

The people are great. They never pushed our business aside. Very kind.
Verified 10/29/15 Paz (Slaton, TX)

Thanks for your courtesy and assistance in buying my new home. Also, thanks for the brownies! Yummm!
Verified 10/28/15 Tommie (Lubbock, TX)

Mustang homes is the place where you find the lowest prices and best quality homes.
Verified 10/23/15 Edgar (Lubbock, TX)

Good quality and friendly.
Verified 8/3/15 Ross & Pat (Portales, NM)

Excellent service and quality.
Verified 6/11/15 Jesus (LOVINGTON, NM)

Friendly Staff.
Verified 5/4/15 Shawna (Gail, TX)

Great sales service. The thank you gift made us want to do business with you again. Thank you!!!
Verified 12/22/14 Trevor (Dalhart, TX)

It was a great starter home for our family.
Verified 12/4/14 Alberto (Lamesa, TX)

I was satisfied in every department! Friendly and knowledgeable. Thanks!
Verified 11/25/14 Howard & Dolores (Snyder, TX)

Your team has facilitated our buying experience and you have been very courteous, diligent, and concerned with our NEEDS! Thank you VERY MUCH!!! Thank you for the brownies - they were delicious!
Verified 10/11/14 Rolando (Lubbock, TX)

Are you a customer of Mustang Homes and Land?
Write Your Own Review