100%

of recent customers
recommend this business
HotSpring Spas of Dayton

6100 Wilmington Pike
Dayton, OH 45459
Phone: 937-848-3366

Dayton, OH
Hot Spring Spa of Dayton is the premier Hot Spring Spas, FreeFlow Spas, Hot Spot Spas, and Finnleo Saunas Dealer in Dayton, OH. We sell and service new, used hot tubs, portable spas, saunas and accessories. We offer the best the selection of hot tubs at the best prices!

Since its inception, service has been more than just a word, it's an underlying philosophy of the company. At Hot Spring Spa of Dayton, the purchase of a spa is just the start of a wonderful relationship that continues long after the sale and delivery of a spa. That is why over 70% of all spas sold at Hot Spring Spa of Dayton are due to referrals.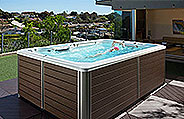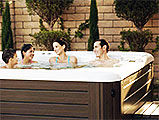 Business Profile of HotSpring Spas of Dayton
Office Type:
Sales & Service
Owner:
George Dalhamer
Hours:
• Mon-Fri 11am-8pm
• Sat 10am-6pm
• Sun 12-5pm
Inventory:
• New & Used Hot Tubs
• Portable Spas
• Swim Spas
• Traditional Saunas
• Infrared Saunas
• Steam Showers/Rooms
• Accessories
Manufacturers:
• Hot Spring
• FreeFlow
• Hot Spot
• Finnleo
• Endless Pools
Serving Areas:
• Dayton
• Centerville
• Springboro
• Miamisburg
• Fairborn
• Springfield
View All...
Customer Reviews
We purchased a like new trade in Hot Springs spa to replace an older hot tub. What a difference! We are totally satisfied and have never had any issues with the Hot Springs spa. Kathy is fantastic and really helped us with our selection. The installers were on time and very friendly and efficient. I'll never own another brand but Hot Springs and my business will be with the Dayton team. The best!
Verified 6/3/19 Vance (Maineville, Ohio)

Shopped three other places before choosing you. Kathy in sales was very courteous and honest. Liked being able to try out the tub we chose.
Verified 11/14/18 Jean (Centerville, OH)

Courteous staff. I was treated very well and felt my time was worth something.
Verified 11/2/18 Lisa (Oregonia, OH)

Liked reliability and features of the spa.
Verified 10/3/18 Jennifer (Laura, OH)

Our experience with Kathy teaching us about hot tub spas was wonderful! We basically had no idea what we wanted or needed! She helped us with no pressure sales and simply explained everything from start to finish. Kathy genuinely seems to love what she does and loves to help people.
Verified 9/30/18 Eric (Troy, OH)

My husband and I purchased a hot tub a couple years back. We were never pressured, we also came back and bought a sauna. Every time we called and talked with Kathy. We ran into her at the Darke County Fair where we were greeted with a hug. She just called today to let us know about the specials they were having. She always works the best deals for us, and never once do we feel pressured. She's always professional and she's a joy to work with!!
Verified 9/24/18 Britt & Angi (Farmersville, Ohio)

Chose you on a recommendation from friends. Good value and price.
Verified 9/18/18 Greg (Xenia, OH)

Kathy made the whole process easy and no-stress on such a big purchase. Thank you!
Verified 9/17/18 Dianna (Kettering, OH)

We had a great experience from start to finish! Good knowledge of product and service after.
Verified 9/12/18 David (Xenia, OH)

Fred was a great & knowledgeable salesman. Thanks!
Verified 9/12/18 Zach

Hot Springs was not the first place we visited when shopping for a hot tub, but after a few minutes in the store, we knew it would be the last. We were just very comfortable with the entire experience and we were not disappointed with any aspect. Sales, delivery, and follow up have all been top notch.
Verified 9/11/18 Jeffrey S (Dayton, OH)

I've been a customer for 20 plus years. Awesome service.
Verified 9/10/18 Jerry (Centerville, OH)

Hot Springs Spas of Dayton is a small business, not a chain store, with a beautiful selection and quality of products. I am very satisfied with my Hot Springs Spas tub. It has been the best investment we have made for our family. We enjoy taking a break and relaxing in our hot tub on a regular basis. If I had to do it all over again, I would choose a Hot Springs tub every time!
Verified 9/8/18 Stephanie

Salesperson told us things that weren't exactly true, should never over promise & undersell/deliver! Delivery personnel could not give great instruction as we had to wait for electrician to come install new box. :(
Verified 9/7/18 Michael (Kettering, OH)

Impressed with sales staff & very happy with service department.
Verified 9/6/18 Tom (Greenville, OH)

Quality product. Good selection.
Verified 9/6/18 Marty (Dayton, OH)

Fred was very helpful and not pushy. We would recommend him to our friends.
Verified 9/4/18 Rosemary (Kettering, OH)

Decided to buy from you because of your reputation.
Verified 9/4/18 Richard (Waynesville, OH)

Kathy was fantastic! Explained all the do's and don't do. The installers were put to the test here in the little area they had to work in. And they were great!
Verified 8/15/18 Vicki (Troy, OH)

I bought at dayton home show. asked and payed when I was ready. felt good about, buy and living with my spa.
Verified 8/14/18 Dave (Trotwood, OH)

Very Professional Stand Behind The Product!!
Verified 8/14/18 Neil (Bativia, OH)

Kathy took the time to make sure I was getting a hot tub that needed not just the biggest I had in my budget. She asked what we wanted for not how much we wanted to spend. Very professional and really personable. I will return when the time comes for an upgrade.
Verified 8/14/18 Mike (Tipp City, OH)

Kathy Koebel and the rest of the Dayton team have been great. Always available for the simplest of questions in guiding a buy decision and follow up care education. No pressure. Wet tests. A definite stop if you're even thinking of spa
Verified 8/13/18 Mark (Tipp City, OH)

Kathy and all the delivery crew, which were three men (I don't remember their names) along with Kent, the service guy were outstanding.
Verified 8/13/18 Earl (Xenia, OH)

The delivery personnel could not get out of here quicker, they had no interest in showing me how to maintain my new spa, very disappointed
Verified 8/13/18 Tony (South Charleston, OH)

Staff was wonderful start to finish. Also helped with maintenance questions well after installation. We use it daily and love every minute.
Verified 8/13/18 Ben (Centerville, OH)

BECKY comes to my house and performs a monthly service to my hot tub. She does a excellent job and answers any questions. Very efficient and professional. I couldn't ask for better service.
Verified 7/27/18 JIM (Tipp City, OH)

I will write another review after we receive our spa, however, I wanted to thank Fred McGhee for his professionalism, and excellent assistance. He is just fantastic and made the experience easy and enjoyable.
Verified 4/3/18 Angela (Springboro, OH)

The process of purchasing a spa can be overwhelming if one does not have experience or knowledge. Fred Mcghee helped me select the best product for my budget, space and health needs. The staff is polite, friendly and very helpful with any questions or concerns. I was so impressed with the genuine personal service; which is rare these days. I am very satisfied with all aspects of my purchase. Hot Springs Spa provides excellent service and offers a variety of high quality products.
Verified 5/26/17 (Xenia, Ohio)

The staff has been thoroughly helpful and patient while we try to work out water issues for my spa. Would definitely recommend.
Verified 5/3/17 Kathy

Thanks for taking me in for my warranty issues, as for my current dealer did not have parts in stock and would delay the repairs for another week to the week of already being down. Hot Springs Spa must know they have a great dealer. I will buy chemicals, accessories, and next hot tub way in the future, from your store. You deserve the business.
Verified 5/3/17 Pat

This dealer is phenomenal! This was our second spa purchase but our first Hot Spring Spa. We had some minor issues with a tub that we had less than a year which is uncommon for the brand but George and Shelly and all of their staff went ABOVE and BEYOND to make us happy! They spent a lot of time with us and brought us a new replacement spa with many extras for our troubles at no additional charge to us. We love our Grandee and are so happy with the way they treated us. The true test of service is when things go slightly upside down and the way Hot Spring Spa of Dayton handles problems when they do happen makes them a step above the rest. For that we are very happy customers and are confident we bought the best from the best. If you're in the market for a spa your investment in leisure is best spent here! Thank you Hot Spring Spa of Dayton!!!
Verified 6/5/16 Lloyd

These guys have serviced my second owner tub since it was new. When I decided to troubleshoot a problem with my 12 year old tub they offered advice to assist me in fixing my Hot Springs Hot tub. Awesome Folks, Great product! Thanks Keith! There's no better way to spend a winter day, than sitting outside in your personal Hot Spring!
Verified 3/21/16 David (Middletown, OH)

Hot Spring Spa of Dayton equals great hot tubs sold by great people. My wife and I purchased two hot tubs in the last 10 years. We would still have the first tub if it wasn't for having to sell due to a move out of the country. Ask for Kathy...she is extremely knowledgeable on the various models and pleasure to do business with!!
Verified 4/27/15 Dale & Julie

Hot Spring of Dayton has been great to work with. Started with my first Tiger River hot tub 20 years ago, that one lasted me 15 years. Upgraded to a Hot Springs tub 5 years ago and love it. Great people great service.
Verified 7/14/13 Jeff

Are you a customer of HotSpring Spas of Dayton?
Write Your Own Review