100%

of recent customers
recommend this business
American Homes

4550 HWY 31 West
Tyler, TX 75709
Phone: 903-533-9525

Tyler, TX
American Homes of Tyler, TX, has been in business since 1988 offering a home-buying experience like none other for our customers in East Texas. With an A+ rating from the BBB, we are your local source for manufactured and modular homes from leading companies such as Clayton, Schult, Champion and Athens Homes. Have a custom home on your mind? We also offer custom modular homes starting at $49/sq-foot.

Our experienced staff, large selection of on-lot properties including manufactured and modular homes, and competitive financing sources are all great reasons to visit American Homes Tyler today!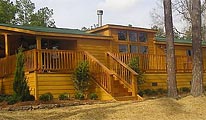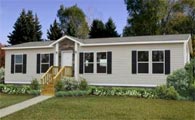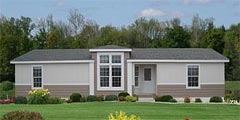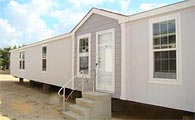 Business Profile of American Homes - Tyler, TX
| | |
| --- | --- |
| Office Type: | Sales |
| Owners: | John & Janet Carl |
| History: | In business since 1988 |
Hours:
• Mon-Thur 9 AM - 6 PM
• Fri & Sat 9 AM - 5 PM
• Sunday By Appointment
Inventory:
• Modular Homes
• Manufactured Homes
Serving Areas:
East Texas
Manufacturers:
• Clayton
• Schult
• Champion
• Tru
• Redman
Customer Reviews
Our Sales Lady. Elizabeth Bonnette took the time to listen to us. She was also very helpful and patient to work with us from the beginning to the end. They do more than the other home sales do and they don't push you. American Home's lets you do your own picking and if there is anything else to add or subtract from any kind of home they will do it.I highly recommend American Home's above anyone else. Sincerely Tim and Marie
Verified 5/22/17 Timothy & Marie

Extremely friendly staff! Gave me all the information I needed and made the home buying experience very easy. The homes are absolutely beautiful!
Verified 4/27/17 Steve

Friendly and promptly responds.
Verified 2/4/17 Geraldine

John,Janet and Samantha were great to us. Helped with all our needs and got our house closed. We will refer everyone we can!
Verified 12/15/16 Chris & Ashley

I was amazed that they worked so hard to get me in my home! Thanks to everyone at American Homes!
Verified 12/4/16 Vivian

I had problems with financing my home, but the sales people got on the phone with my mortgage company and argued my case for me and I was approved. They went above & beyond! Love my new home & American Homes. They were always there for me!
Verified 12/4/16 Vivian

Kevin Gardner was so easy to work with.I love my new home in Texas.Thank you very much, Helen Duff
Verified 11/14/16 Helen

Kevin was amazing.He made purchasing so easy.He helped my deicide the right one for me. I love my new home. Thanks you American Homes!Be sure to ask for Kevin
Verified 11/14/16 Helen

Kevin was amazing. He made purchasing so easy. He helped me decide on the right home for me. I love my new home. Thank you American Homes! Be sure to ask for Kevin.
Verified 11/11/16 Helen (Lindale, Tx)

Made to fill welcome and appreciated as a customer from the first visit. Elizabeth was my salesperson and she is very knowledgeable and friendly. I am pleased with my purchase.
Verified 10/28/15 Loretta (Tenn. Colony, Tx.)

John Carl runs a top notch business. They offer quality homes and are very friendly and professional. Great financing.
Verified 10/10/15 Stephen & Nancy

Right from the start, I was very impressed with American Homes. Kevin Gardner was friendly and excellently prepared. I immediately knew I was in the right place; my questions were answered promptly and he helped direct me to what I was hoping for in a home. The rest of the home buying process continued like this and everyone I talked to was very helpful. During the customization of our order, Kevin went above and beyond to make sure we got everything we wanted for our home. The manufacturing process was speedy and we were kept informed along the way as to its progression. John and Kevin were genuine people and wanted the best for us. And American Homes provided the best. Our home is exactly what we were hoping for and we are thankful for such a quick, easy and wonderful home buying experience. I will recommend American Homes to anyone!!
Verified 10/23/14 Nate & Tracy (Lindale, TX)

Loved their staff and quality of their homes.
Verified 7/16/14 Peter

Took care of my service issues very quickly.
Verified 7/16/14 Elaine

Kevin was a very nice and patient salesperson.
Verified 7/16/14 Shirley

Everyone at American Homes was very nice to us. Great company.
Verified 7/16/14 Cristina

They take care of the service after the sale.
Verified 7/16/14 Larry

Final service was outstanding.
Verified 7/16/14 Rick & Rosie

We enjoyed the way they do business. Very friendly and no high pressure.
Verified 7/16/14 David (Troup, Tx)

Allen Breedlove was my salesperson and he was very helpful.
Verified 7/16/14 Cristina

Allen and John were very knowledgeable and did everything they said they would. I have recommended people and will continue to do so.
Verified 7/16/14 Wendy

American Homes is a wonderful place to purchase a home. Allen Breedlove did a great job helping us get our new home. John Carl was wonderful as well. We are enjoying our new home
Verified 7/16/14 Dane (Gilmer, Texas)

We bought our retirement home from American Homes in 2013 and have just finished our first year in it. Buying from American Homes started us off with two benefits that were not available from any other home dealer.(1) John Carl, the owner and (2) Billy Van Ryswyk, our salesman. In addition to being a couple of nice guys, they were (and I know still are): Businessmen who cared about the sale of a well constructed home to us. Committed to standing behind us whenever problems came up this past year. Knowledgeable & respected enough to get the room layout changes we wanted done by the factory. Never afraid to say they didnt know an answer to a question and never too busy to find the answer. Either immediately available or very quick to return our calls and emails. If you are about to spend tens of thousands on a home, dont overlook the importance of who will be selling the home to you. Its been my experience that almost 100% of salesmen will be your best friend before the sale. Find someone you can trust afterwards. Thankfully, we did! Randy & Jan Rothrock
Verified 7/14/14 Randy (Troup, TX)

Are you a customer of American Homes?
Write Your Own Review